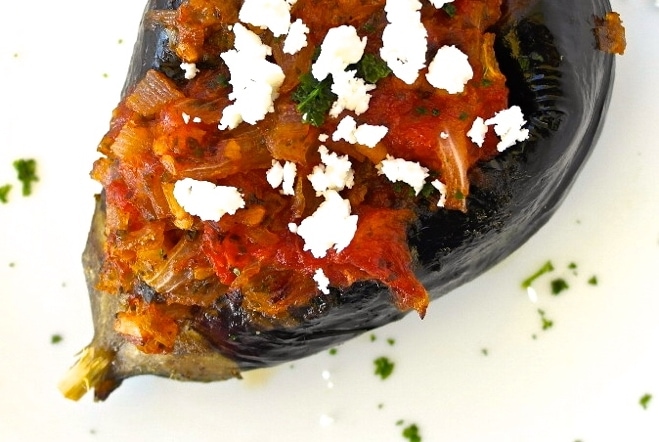 I'm back in Athens after a vacation on the beautiful island of Kythera here in Greece (you can check some of the  yummy things I ate on instagram). Now Kythera is known for its eggplant, and although I was able to eat plenty of melitzanosalata (eggplant dip), it seemed that whenever I wanted to order stuffed eggplant-known as melitzanes imam, they had always run out. So, back at home I made it.
Now, this dish is known to be Turkish, but it is very popular in Greece as well, as in other areas of the Mediterranean and the Balkans. It is considered a lathero (a category of Greek dishes that are usually vegetarian and cooked in olive oil and tomato) and tastes better the next day.
The original version calls for frying the eggplant. In this recipe I baked the eggplant, it does make it a little lighter on the stomach.
This dish is better when you use narrow longish eggplants, but using the regular eggplant can work, but you may need to cut the eggplant in half instead of using it whole if it is too wide.
Nutritionally, what can I say? We have the eggplant which is a great source of soluble fiber, the kind that lowers cholesterol and controls your blood sugar levels. Eggplant is also rich in heart protective antioxidants.
Along with the onion, tomato and olive oil, once again we have a super-dish full of fiber, good fats and antioxidants and it's vegan. Of course being Greek we eat it with feta, but even without it, it is delicious.
There are several ways to make this dish, some recipes cook everything together, others cook it on the stovetop, I chose the roasting method and cooking the onions first.
Mediterranean Eggplant stuffed with Fresh Tomato and Onion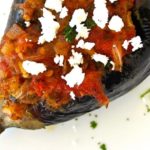 Cook Time:
1
hour
50
minutes
Total Time:
2
hours
5
minutes
Slow Roasted Eggplant stuffed with a tasty mix of onion and fresh tomato, drizzled with olive oil.
Print Recipe
Pin Recipe
Ingredients
Instructions
Preheat oven at 400 degrees Fahrenheit (200 degrees Celsius).

Wash the eggplant. Remove most of the stem. Peel parts of the eggplant lengthwise all around so that you have a striped eggplant. Make deep slits on the peel parts lengthwise.

Place eggplant in a pan, drizzle with a bit of olive oil and sprinkle with salt and pepper and roast for about 1 hour.

In the meantime start on the onion mixture. Sauté the chopped onion in a pan with 1/3 cup olive oil until soft. Add the chopped garlic, tomato, parsley and sugar and ½ cup water and simmer for about 15-20 minutes minutes. Add additional water if needed. When the mixture is ready it should not be watery.

Once the eggplant is ready, open one of slits and stuff with the onion mixture. Do this with all the eggplant and place in the pan. Drizzle with olive oil. Add a bit of water at the base of the pan, roast for about 30 minutes.

Remove from the oven. Serve warm or at room temperature with feta.
DID YOU MAKE THIS RECIPE?
Leave a comment or share on instagram and mention @greekdiet
Photo by Elena Paravantes