For this easy and delicious sheet pan fish recipe, sole fillets are baked with the flavorful Greek ladolemono dressing and herbs.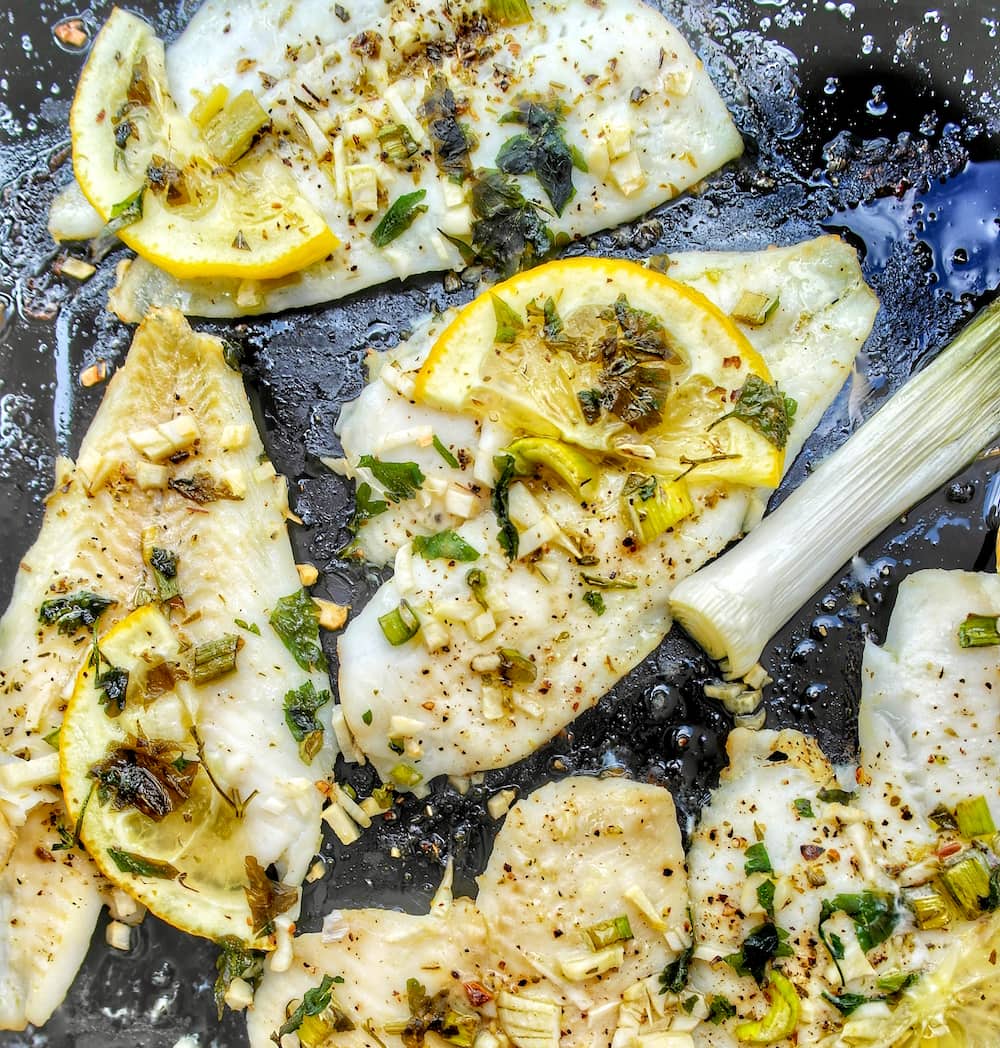 Fish plays an important role in the Mediterranean diet, but you don't have to it eat all the time. I like to add small fatty fish as often as possible such as sardines and anchovies, fresh or preserved. Sometimes I'll also include frozen fish. Fish fillets are an easy way to get some more fish in the diet. I'll either bake them with tomatoes and onion like in this cod recipe or do a lemony dish such as the one I'm sharing today.
Ladolemono Dressing Recipe
Fish and lemon are a perfect match. In Greece, fish is always served with plenty of lemon. And when ordering a grilled fish, it will be served with the tasty ladolemono sauce.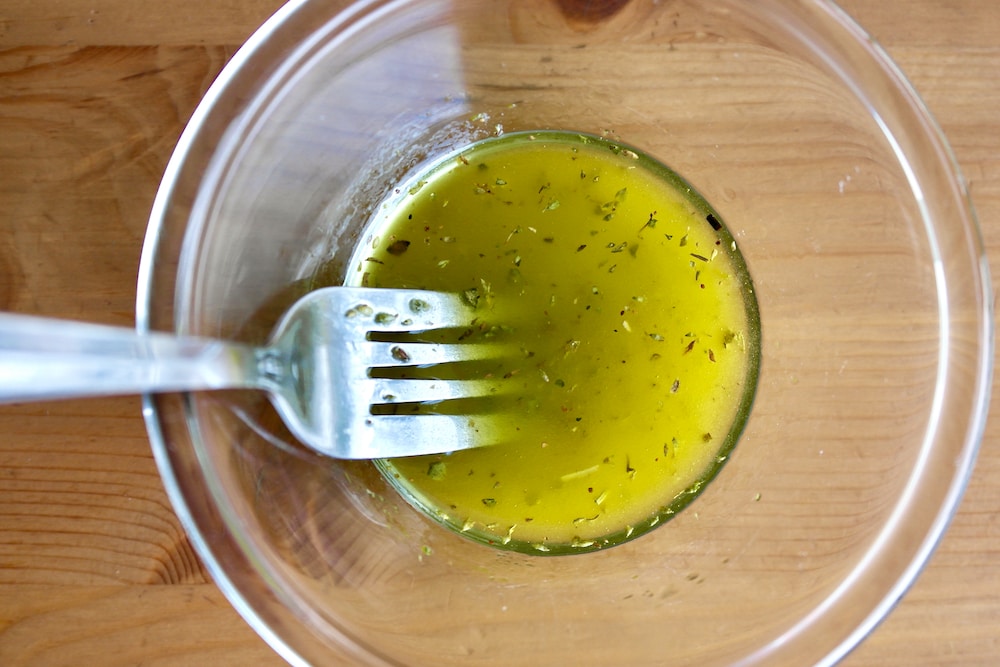 The word ladolemono comes from the Greek words "Ladi" which means olive oil and "lemoni" which mean lemon. Ladolemono is a thick dressing that is made with lemon, olive oil, a touch of salt and sometimes oregano. It is simply delicious when poured over fish.
The average ratio is 3 parts olive oil to 1 part fresh lemon juice. I add a pinch of salt and oregano. I like adding a bit more oregano for the flavor.
It is important that you use a good extra virgin olive oil and fresh lemon juice.
The authentic Greek ladolemono does not contain garlic or mustard as I have seen in some of the recipes online. Especially if you are going to add it to fish, you want very simple, clean flavors.
Mix the ingredients in a small bowl, I mix rapidly with a fork until the sauce thickens. You can also place the ingredients in a jar and shake until thick.
How to Make the Best Baked Fish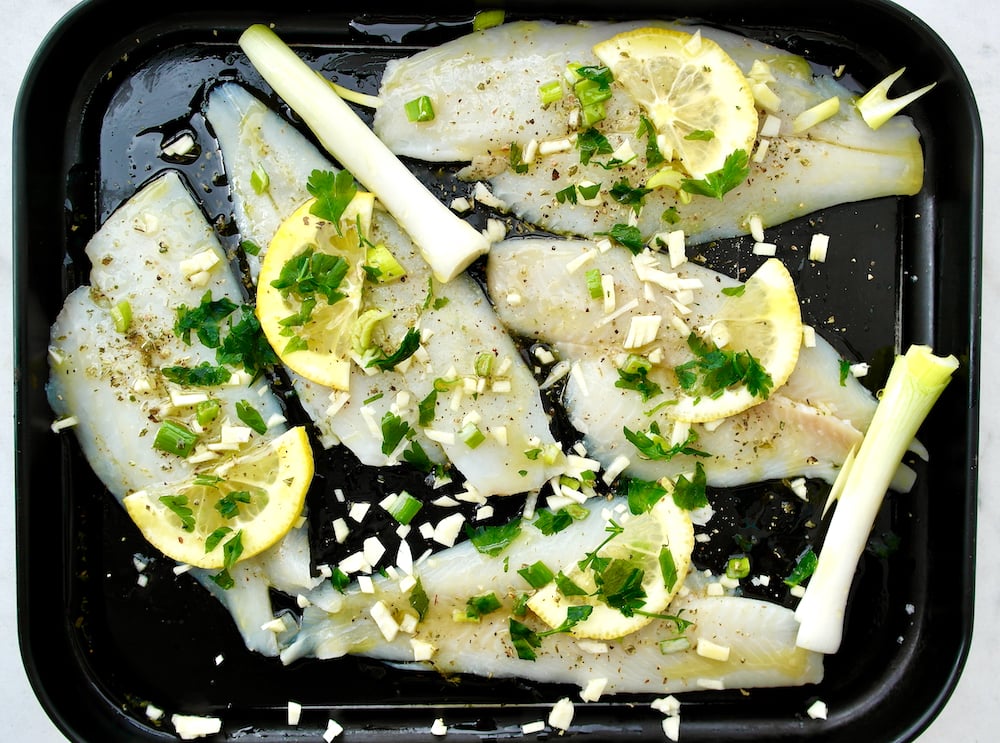 This technique works for almost any type of fish fillet.
First you want to prepare all your ingredients. For this dish I used spring onion (both green and white parts), chopped garlic, parsley and lemon slices.
Then you assemble all your ingredients on the pan.
Then you add your dressing, make sure all the pieces of fish and herbs are coated, and you also want to save some of the dressing to serve once the fish is baked.
Finally, you want to make sure you don't overcook the fish. Depending on the thickness you want to adjust the baking time. For this particular size I baked for about 15 minutes. If you are not sure, check the temperature of the fish, it should be 145 F (62 C).
What to Serve with Baked Fish
Here is Greece the typical accompaniment is either boiled greens (horta) or a green salad or steamed zucchini and carrots.
Mediterranean Baked Sole with Greek Ladolemono Dressing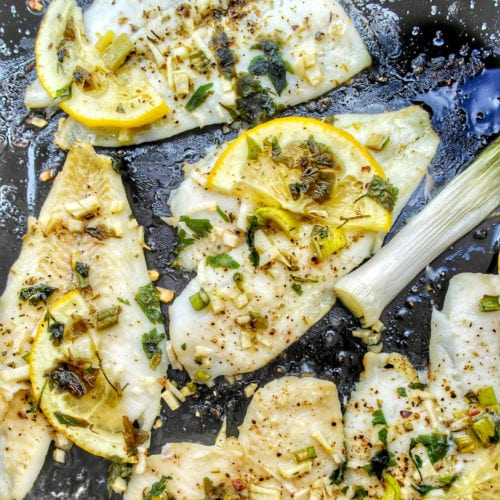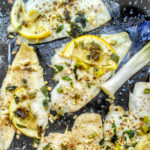 For this easy and delicious one pan fish recipe, sole fillets are baked with the flavorful Greek ladolemono dressing and herbs.
Print Recipe
Pin Recipe
Ingredients
For the ladolemono dressing
For the fish
1

pound (

1/2 kg

)

sole fillets about 10 thin ones

salt and pepper to season fish

4

garlic cloves finely chopped

2

spring onions

green part chopped, white part sliced length wise in half

¼

cup

chopped fresh parsley

½

lemon thinly sliced
Instructions
For the ladolemono dressing
In a small bowl, whisk together lemon juice, olive oil, and a pinch of salt until it thickens. Stir in the oregano. Set aside

3 tbsp

for serving.
For the fish
Preheat oven at 350 F (180 C)

Pat the fish fillets dry and season with a bit of salt and pepper.

Place the fillets on a lightly oiled baking pan. Sprinkle over the fish the chopped spring onion and chopped garlic. Place the white parts of the spring onion in the pan, next to the fish. Pour the ladolemono dressing on top of the fish, make sure the garlic and onions are also coated. Place the lemon slices in top of the fish. Sprinkle with

2 tbsp

chopped parsley.

Bake for 10-15 minutes, until opaque. Do not overcook.

Remove the fish fillets from the oven, drizzle with the saved ladolemono and garnish with

1-2 tbsp

chopped parsley.

Serve with lightly boiled greens or a leafy salad.
DID YOU MAKE THIS RECIPE?
Leave a comment or share on instagram and mention @greekdiet
---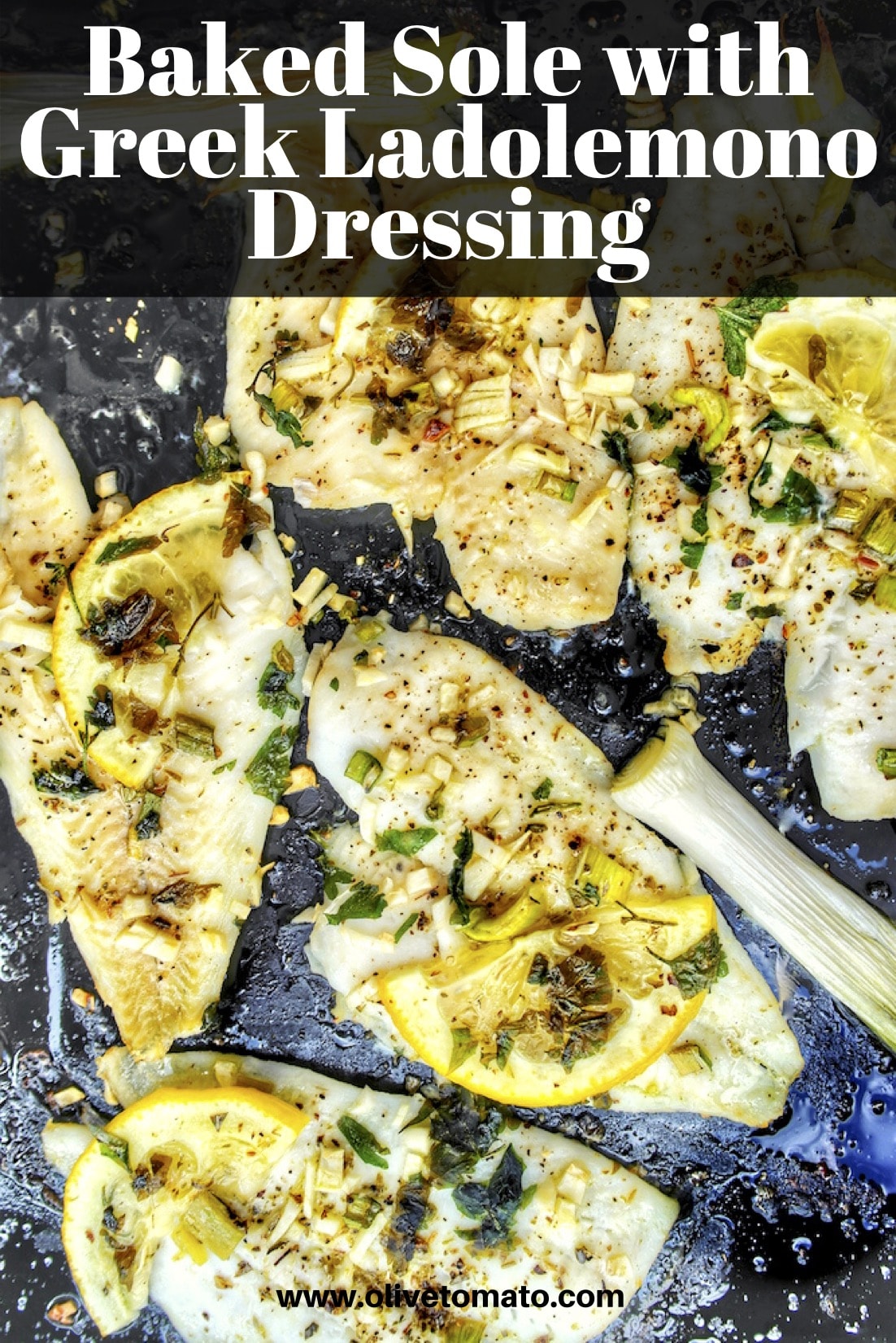 Photos by Elena Paravantes © All Rights Reserved