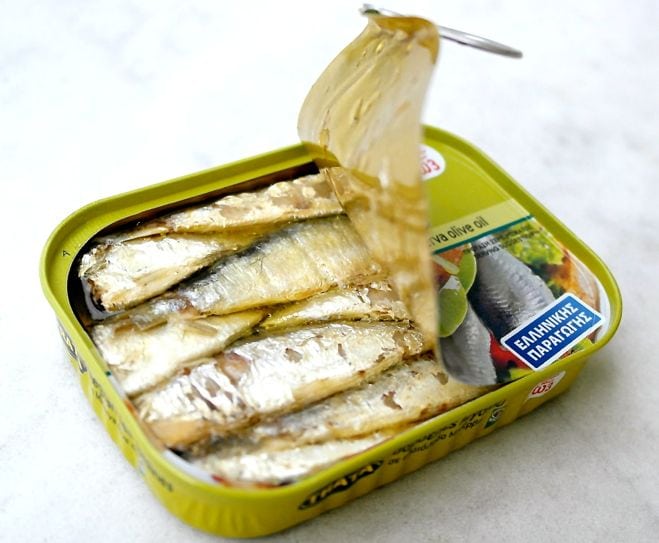 When we talk about the Mediterranean diet, one of the foods that comes to mind are fish. It is recommended that we eat fish at least twice a week. The reality is that many of us do not eat fish even once a week.
Why? Well I can think of a few reasons: many of us think that it is a lot of work, we never prepare fish at home and because really it is not part of our weekly routine. In reality, fresh fish are easily cooked at home as long as someone cleans them for you. But I'll talk about that another time. I have a much easier idea to propose. Yes, canned fish.
While Greeks prize fish and it is part of their traditional Mediterranean diet, it is not in the way you think. Once again the Mediterranean diet carries with it this romanticized version of what was consumed. So, let me explain. The Mediterraneans do not eat tons of fresh fish every day. Greeks consumed small fish like sardines and anchovies and especially the Greeks that lived in the mountainous regions did not even eat fresh fish as often as we think. They often ate cured or marinated fish and again consumed it as a side dish. A fine example of this is eating marinated sardines along with a bowl of lentil soup. Those who lived near the coast had easier access to fresh fish, while those who lived in mountainous areas bought their fish from the fishmonger who would come once or twice a week in summer, less often in the winter, if at all.
The point is that you do not need to look for expensive fresh fish to follow a Mediterranean diet, even the Mediterraneans did not do that.
Here's is what you can do:
Buy canned sardines and anchovies. Stop considering canned fish a poor mans food, they are rich…rich in essential fatty acids
While you can add them to other foods, enjoying them as a side with the vegetables as the main course is the most simple way to consume them.
Look for sardine or anchovies packed in olive oil. Sometimes I add a few drops of vinegar or lemon and some oregano.
Serve them along beans such as lentils and chickpeas, it is a very typical combination here in Greece.
Heat them along with some tomato and onion and a bit of olive oil.
Make a

spread

 and serve on toast.
Enjoy them on piece of toasted bread along with tomato, greens like arugula and a sprinkle of pepper.
Add them to pasta, my favorite being puttanesca.
With just 3 ounces (about 100 gms) twice a week you get the recommended omega-3 fatty acids dose you need. Remember omega-3 fatty acids are essential fatty acids, that means our body needs them to function. But they also appear to protect the heart and from various other chronic diseases. In the westernized diet, we get too little of them unfortunately.
So go ahead and buy those canned fish, don't be embarrassed, you're actually being smart. It's a perfectly respectable way to get fish in your diet, especially if you have no access to fresh fish or just hate the idea of cooking fish at home.
Photo by Elena Paravantes