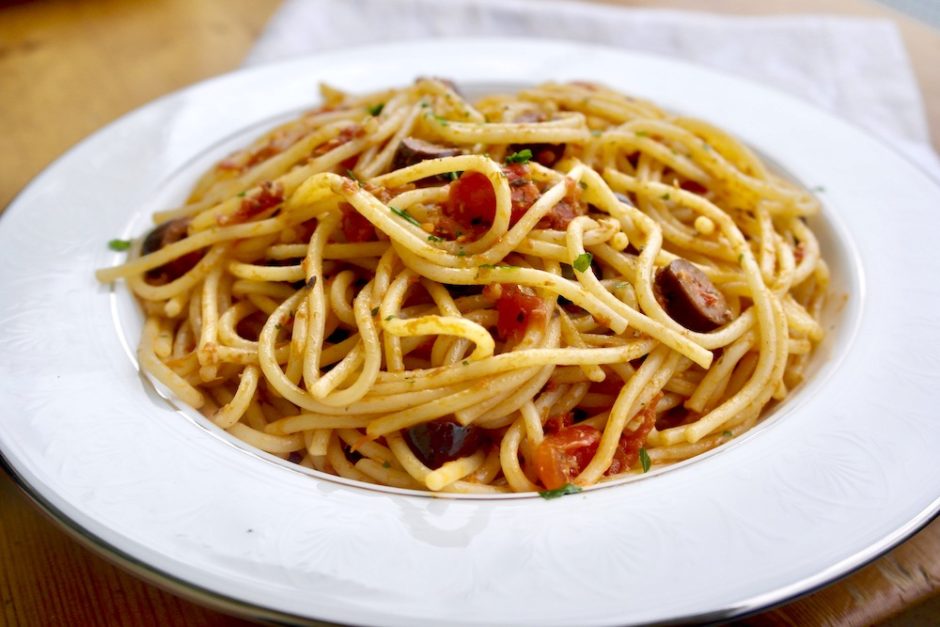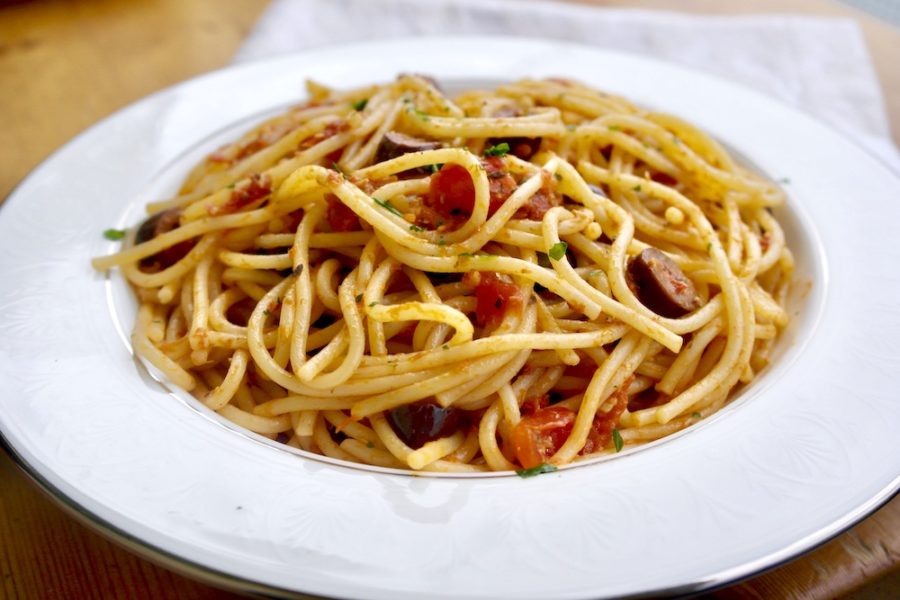 Pasta and starches generally are part of the Mediterranean diet, that does not mean jumbo servings of pasta with creamy sauces, but pasta with mainly vegetable based sauces. Everyone can enjoy a moderate amount of pasta and still maintain their weight or blood sugar levels. However, the reality is that we are eating too many starches and not enough vegetables and fish. Well, this dish comes to the rescue: puttanesca sauce combines all the quintessential Mediterranean diet ingredients: tomato, olives, capers, garlic and anchovies (Lazio version). These are cooked in a small amount of olive oil and the sauce is then combined with pasta.
The tomatoes along with the garlic will give you a good dose of antioxidants, while the anchovies provide protein and the good omega-3 fatty acids balancing out the carbs you are getting from the pasta. This is also a great way to get some of those fatty fish in your diet and it is easy since you can use canned anchovies. Now most Italian recipes require about 3 ounces of uncooked pasta per person, I would recommend consuming more of the sauce and less of the pasta (which is how I like it anyway). That way you get much more of the good stuff and less of the carbs, (in the recipe the amount of pasta in relation to the sauce is only a suggestion, you can use more or less).
Not only is this healthy, it is also simple, as you are pretty much cooking with ready-to-use non-perishable ingredients. And it is quick: you basically sauté the ingredients a bit, boil the pasta and you are done. So keep these ingredients in your pantry and you can make a nice, hearty and healthy meal in no time. And yes my kids loved this and ate all of it.
As for the name, yes there are a lot of stories regarding how this pasta got its name, maybe it was served in brothels, others say the colors in the sauce represented the colors of clothes prostitutes wore and other stories attribute the name of the sauce to several people including an Italian architect, a painter and a cook and not related at all to brothels. No one knows for sure, but we do know that this is delicious.
Spaghetti alla Puttanesca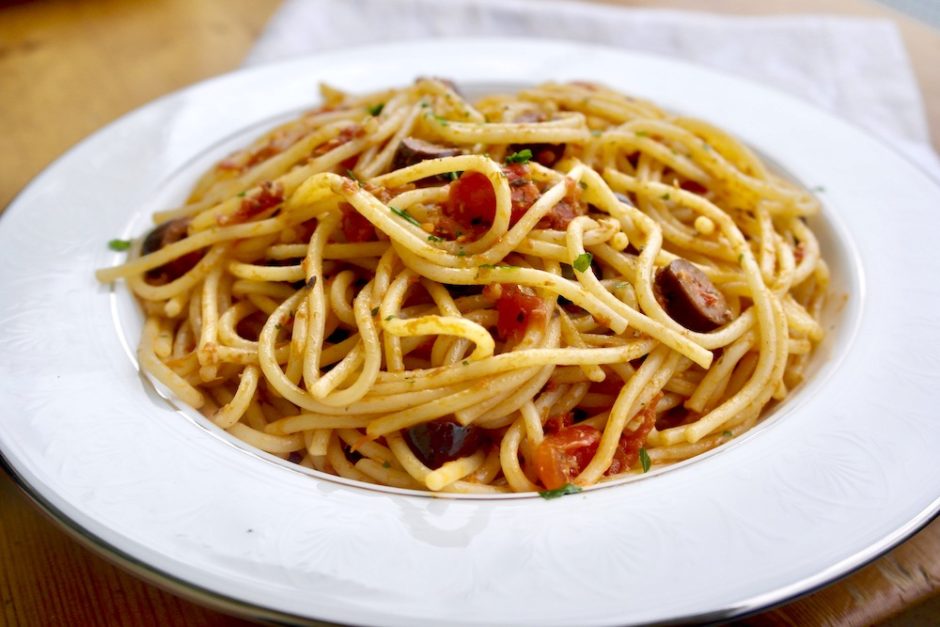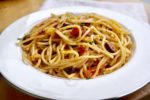 This traditional and delicious Italian pasta dish combines the classic Mediterranean ingredients: tomato, olives, capers, garlic and anchovies
Print Recipe
Pin Recipe
Ingredients
5

ounces (

150 g

)

uncooked spaghetti

14

ounces (

400 g

)

chopped tomatoes

4

tbsp

kalamata olives

sliced

2

tablespoons

capers

1

ounce (

30 g

)

canned anchovies

1

clove

minced garlic

1 ½

tablespoons

olive oil

Parsley

Salt/Pepper

Pepper flakes
Instructions
Prepare all your ingredients (cut, mince etc.)

Heat the olive oil and sauté the garlic for about ½ a minute. Add the anchovies and sauté until the anchovies have melted together about 3-5 minutes.

Add the tomatoes and let the sauce simmer/sauté for about 5 minutes more.

Add the olives and the capers and pepper flakes and cook for another 5-10 minutes. Add salt to taste.

Once you have boiled the pasta, drain the spaghetti saving 1-2 tablespoons of the water, and put pasta back into the pot.

Add the sauce; mix well and heat for a few minutes. Sprinkle with some chopped parsley and serve.
DID YOU MAKE THIS RECIPE?
Leave a comment or share on instagram and mention @greekdiet
Photos by Elena Paravantes © All Rights Reserved