This bright and fresh chickpea-sardine salad is complemented with tomatoes, cucumber and olives offering a lot of flavor plus a good dose of omega-3 fatty acids.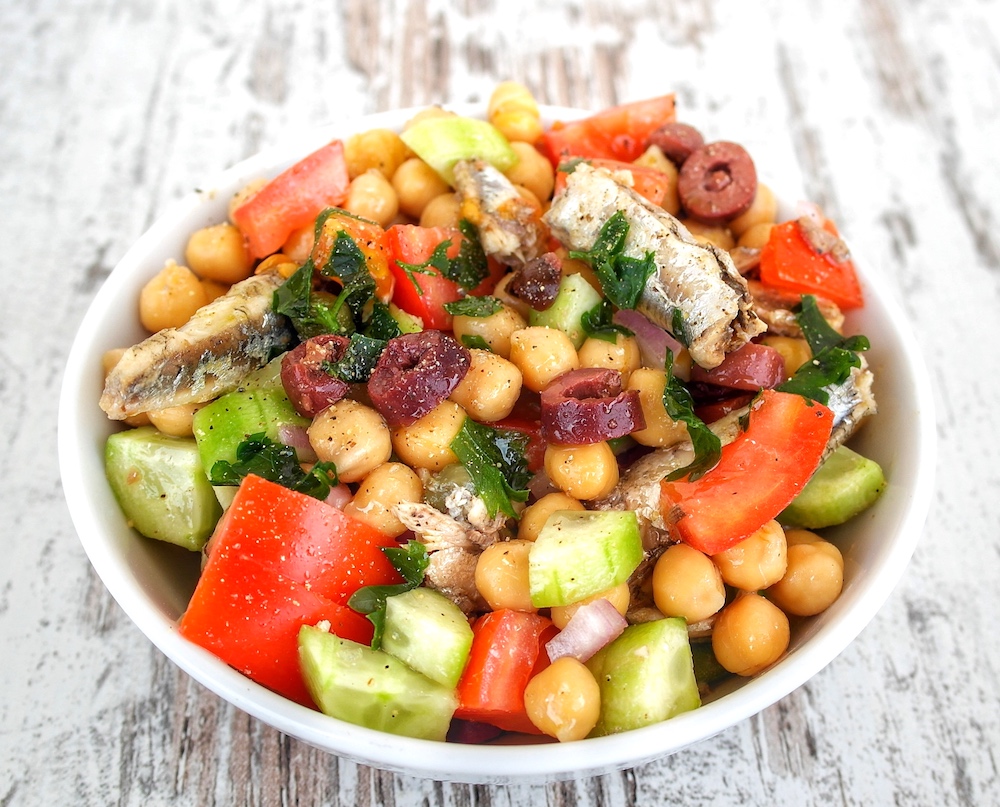 For this honestly scrumptious recipe, I combined canned sardines, chickpeas and fresh vegetables including tomatoes and cucumbers. In traditional Greek cuisine it is common to combine small fish with beans, a great combination of textures and flavors plus what a nutritional powerhouse! It truly is a feel-good recipe rich in omega-3 fatty acids, fiber, vitamins and minerals.
Those good fats omega-3 fatty acids are so important to our health, our appearance and our mood. We know that if we are not getting enough omega-3's our skin can become dry, we may be accumulating more fat around our waist and it doesn't help our mood either. I know many of us have trouble getting that good fish fat in our diet regularly, so I'll be including easy recipes that can help out. And you can also check out this article for moure sources: Get More Fish in Your Diet. It's Easy
How to Choose the Best Canned Sardines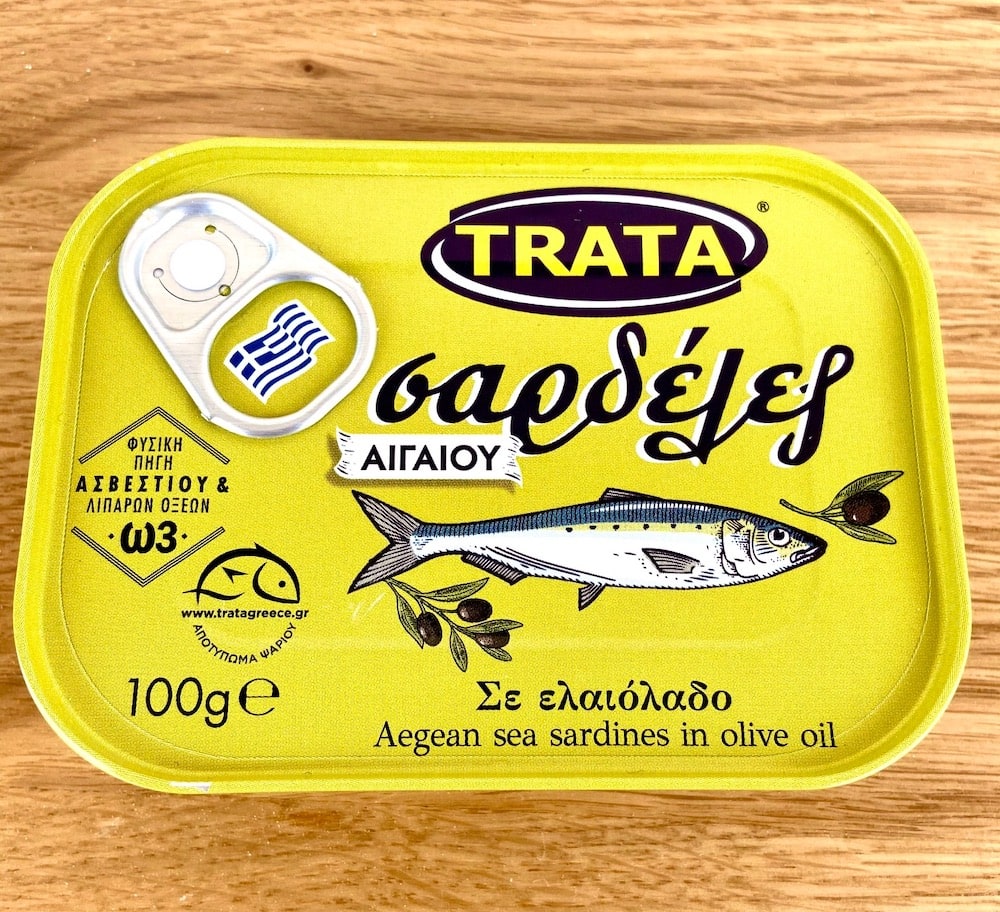 In my opinion the humble sardine is one of the best fish one can have. I've read in numerous places that you either love them or hate them, but I believe it's all about how you serve them. Fresh grilled sardines are wonderful dressed with some olive oil and lemon. Canned sardines are also great as long as you know how prepare them.
Sardines have two characteristics that set them apart: First they are fatty fish rich in omega-3 fatty acids and second, they are very low in mercury.
It should be noted that the process of canning does not destroy omega-3 fatty acids.
When buying canned sardines, I buy the ones canned in olive oil, the olive oil seals in the flavor making them tastier. You also want to use some of the olive oil in the can as some of the omega-3 can migrate in the olive oil they are canned in. That's another reason you want sardines canned in olive oil as you will be using that oil in your salad. Therefore, you don't want to buy them canned in vegetable and seed oils that provide no benefits.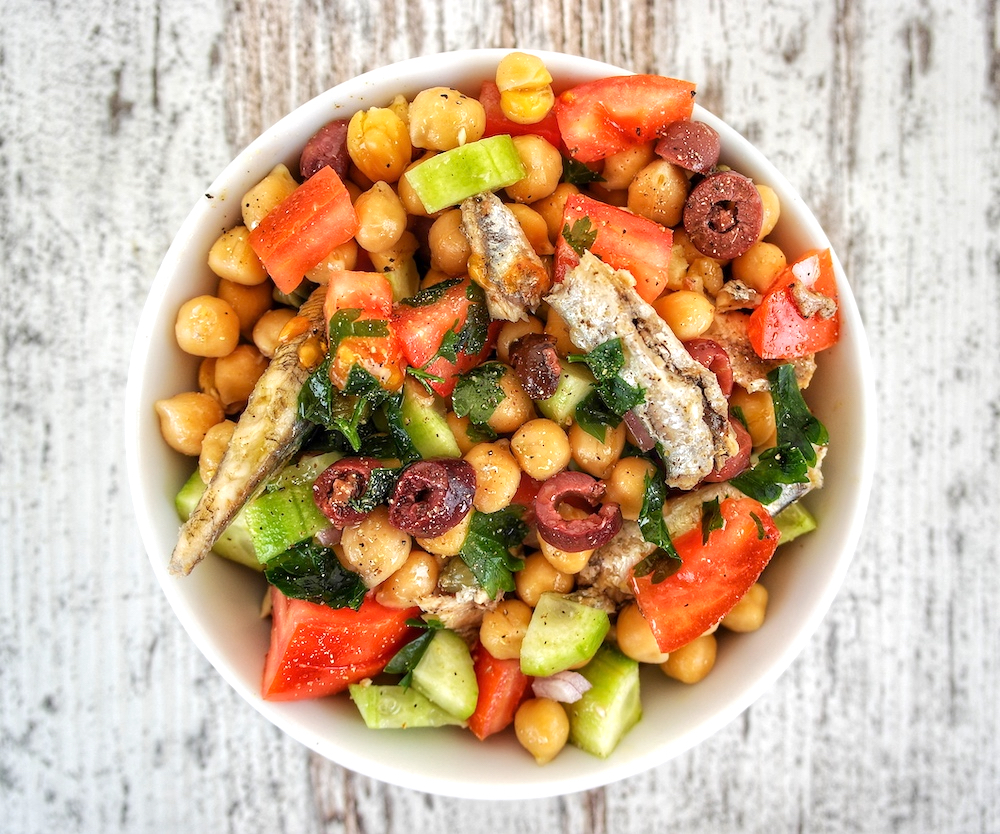 You also want to use sardines with the skin and bones as they contain much more calcium (almost 4 times more). Don't worry you won't notice the bones as they are soft.
For this recipe I used 3 ounces (about 100 g) which provided me with 100% of my daily requirements in omega-3 fatty acids and over 50% of my calcium requirements.
5 Minute Mediterranean Salad with Sardines and Chickpeas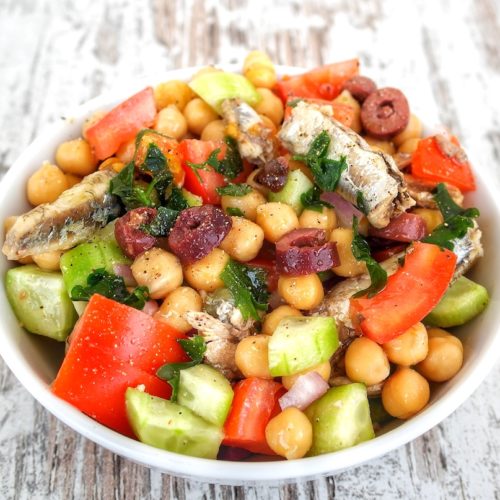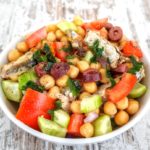 This bright and fresh Chickpea-Sardine Salad is complemented with tomatoes, cucumber and olives offering a lot of flavor plus a good dose ofomega-3 fatty acids.
Print Recipe
Pin Recipe
Ingredients
1

medium tomato chopped

1

small cucumber peeled and chopped in cubes

½

small onion finely chopped

½

cup

boiled chickpeas

canned or from dry

3

Kalamata olives pitted and sliced

2

teaspoons

capers

3

ounce (

100

g)

canned sardines in olive oil

do not drain

1-2

tablespoons

chopped fresh parsley

1-2

teaspoons

extra virgin olive oil for drizzling

1 ½

tablespoon

fresh lemon juice
Instructions
Mix the first 6 ingredients in a medium bowl.

Add the sardines carefully, do not crush them or smash them. Add the lemon juice and gently toss, some sardines will break in smaller pieces.

Sprinkle with parsley and drizzle with

1-2

teaspoons olive oil (as needed depending on how much you used from the canned sardines).

Finish with some fresh ground pepper before serving.
DID YOU MAKE THIS RECIPE?
Leave a comment or share on instagram and mention @greekdiet
---
PIN IT AND SAVE FOR LATER!