Tsoureki, the traditional Greek Easter bread is soft, tender, lightly sweet and so aromatic. What sets it apart are the spices and aromatics.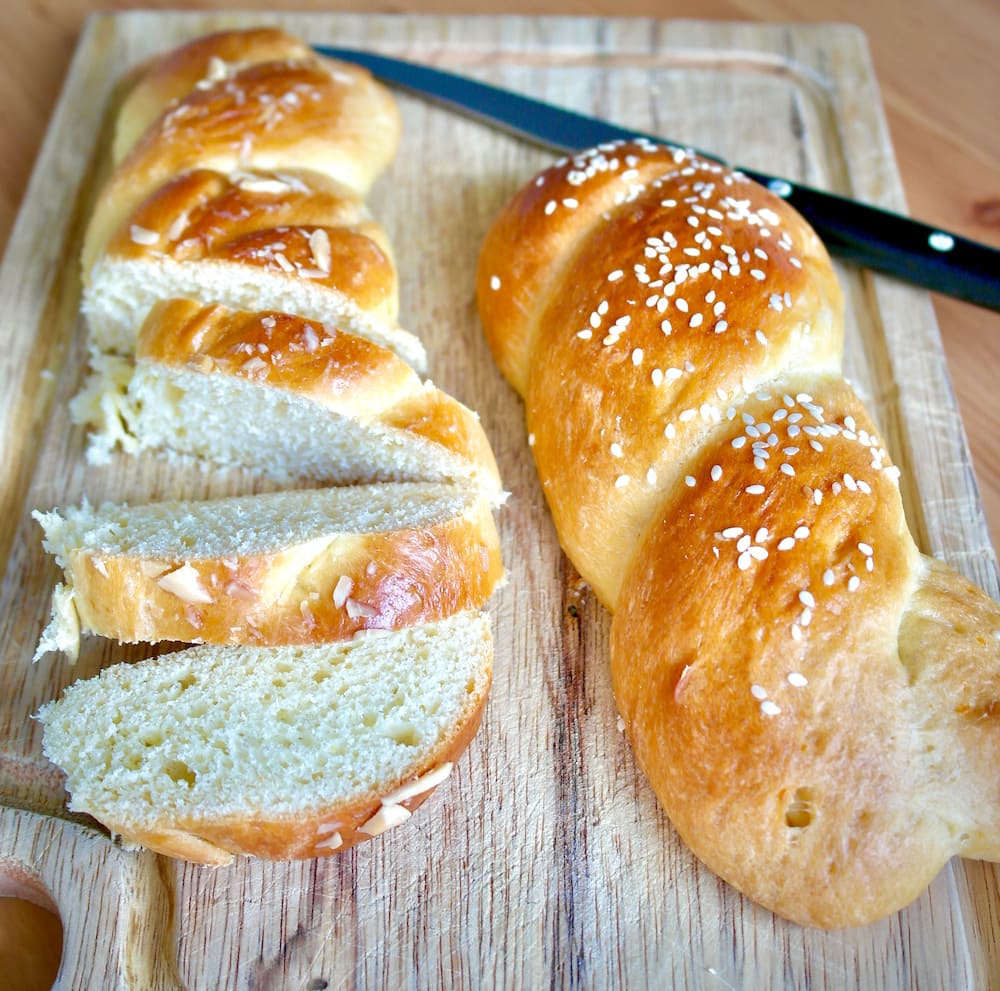 Ahh the tsoureki! This is a sweet bread made traditionally for Easter (but really you can have it as a treat year-round). It is soft, tender, lightly sweet and so aromatic! It is made with eggs, milk and butter plus the secret aromatic ingredients. These ingredients are celebratory ingredients to be enjoyed after the 40-day period of fasting where animal products were avoided.
One can say it has some similarities with brioche and challah, but what sets it apart are the 2 spices and aromatics added to it: namely mastiha and mahleb as well as orange zest. These give it the unique Greek taste that is tsoureki! I provide some links below to find these spices.
Super Easy Tsoureki Recipe
Tsoureki can be intimidating. The yeast, the kneading, the shape. I have tried and tested many tsoureki recipes. This one is by far one of the most reliable and foolproof recipes. It is straightforward and delicious. For ease the dough is kneaded with a dough hook on my mixer and the key here is the multiple risings of the dough. I can't explain the joy I get when I see the dough rise! The texture is light, fluffy and "stringy". I preferred to make small simple ones twisted into braids, rather than the large ones.
What is Mastiha and Mahleb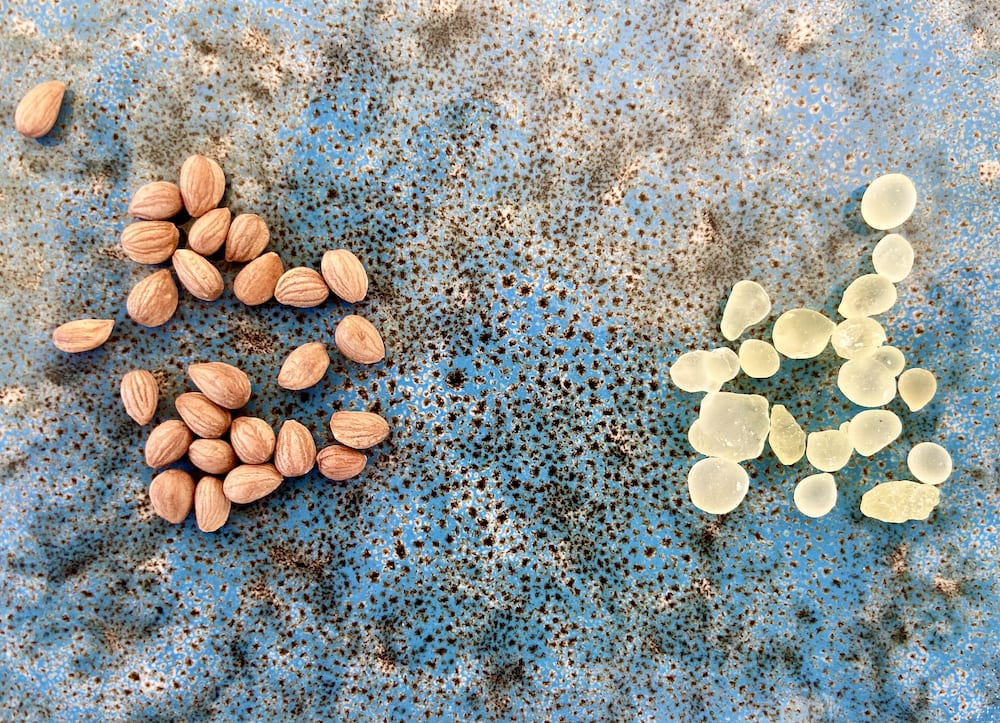 These are 2 spices that are necessary when making tsoureki.
Mastiha is basically resin from the mastiha trees and appears in drops (see photo). While these mastiha trees may grow in other areas in the Mediterranean and produce resin, only the Chios trees produce the mastiha "tears" that have the characteristic aroma (a combination of pine and cedar), and health benefits. You can learn more about mastiha here >> Chios Mastiha: A very special Greek ingredient
Mahleb is an aromatic spice derived from the seeds of a type of cherry tree. Its flavor has hints of bitter almond and cherry.
How to Make Tsoureki
I'm showing here the main steps with photos to get an idea of what your dough should look like. It would be ideal to weigh all the ingredients. I have provided both metric and imperial measurements.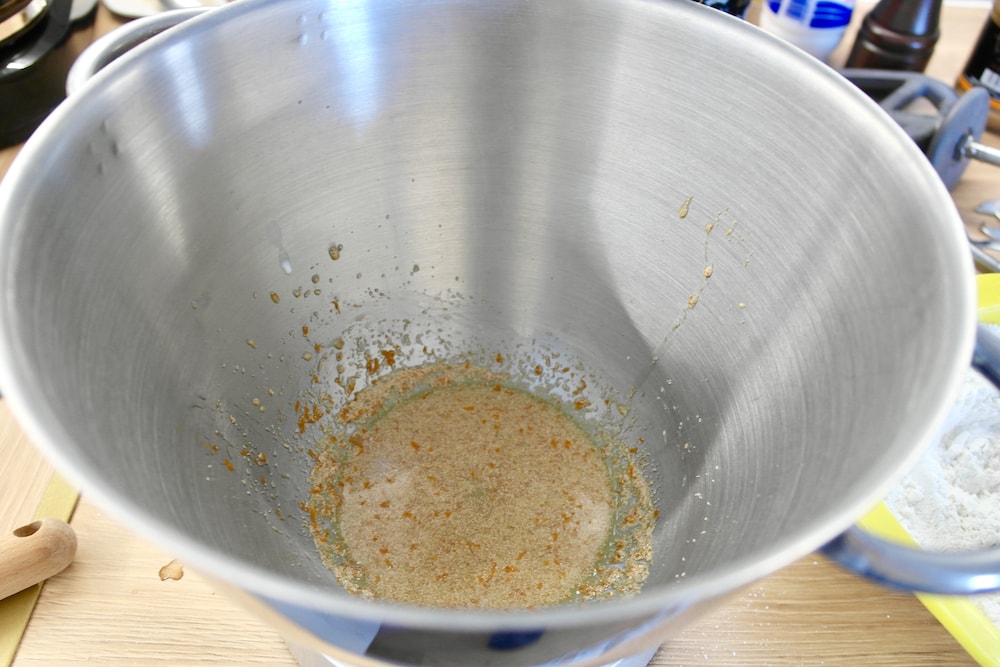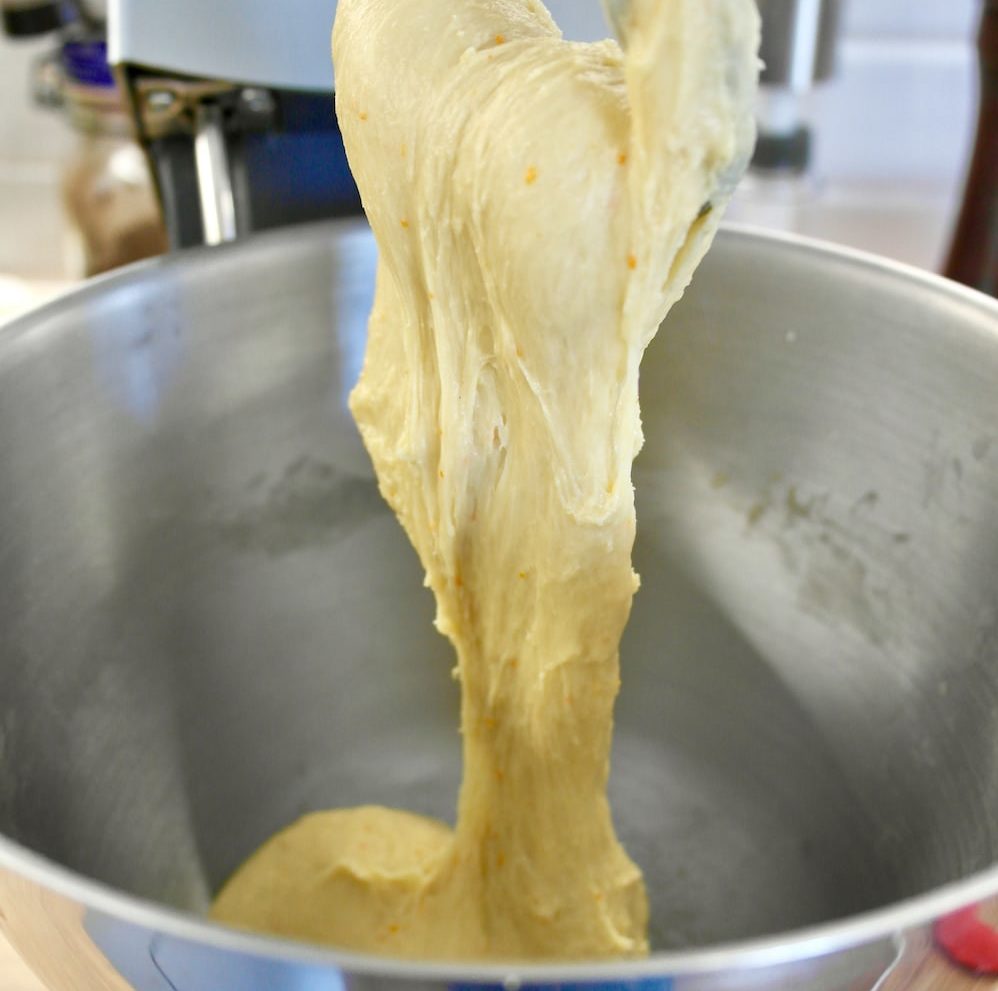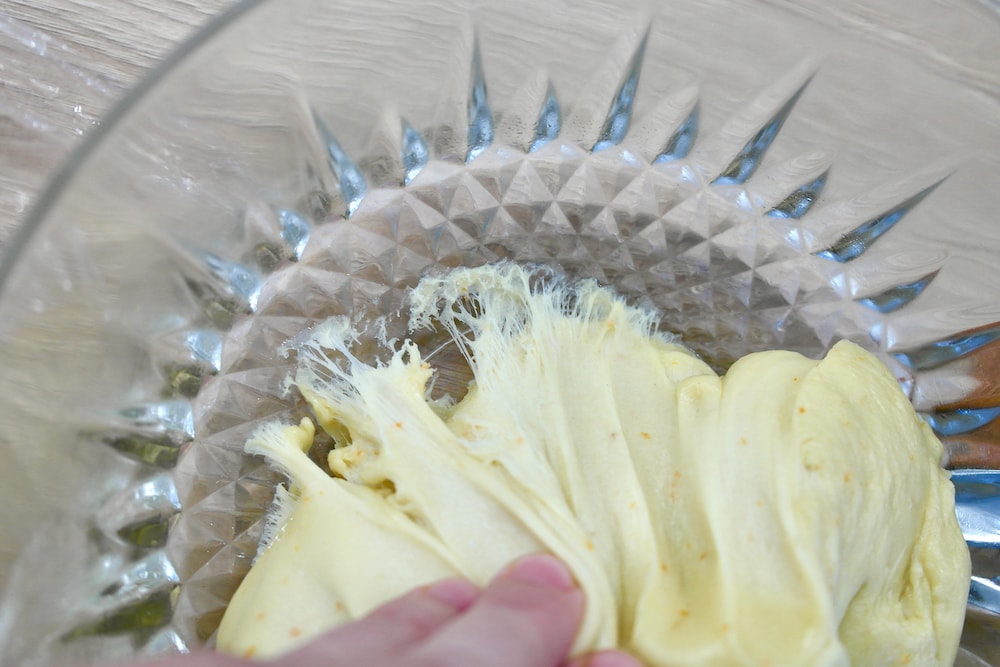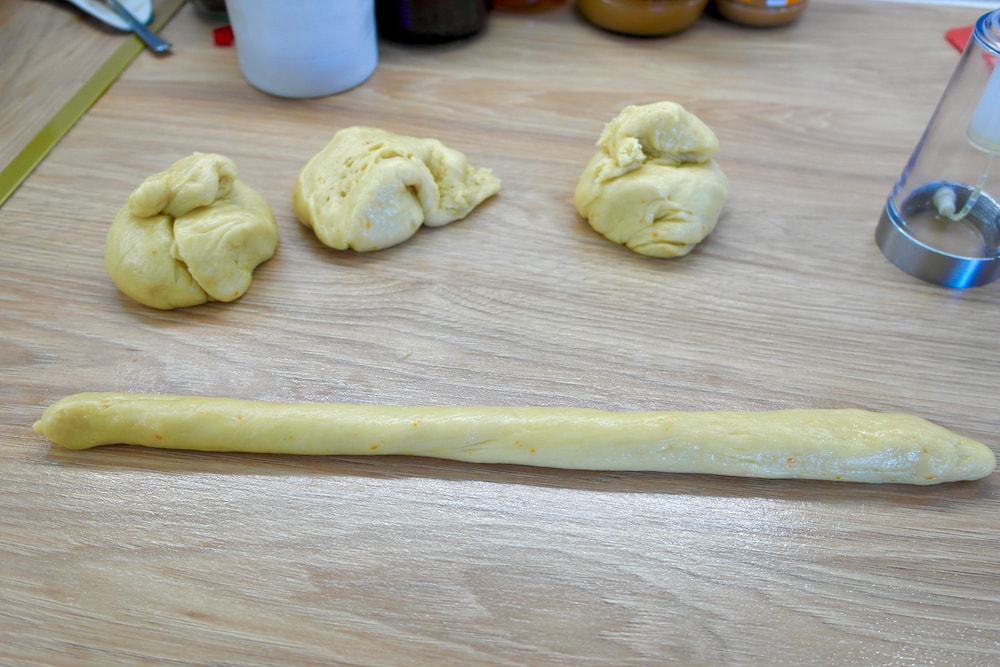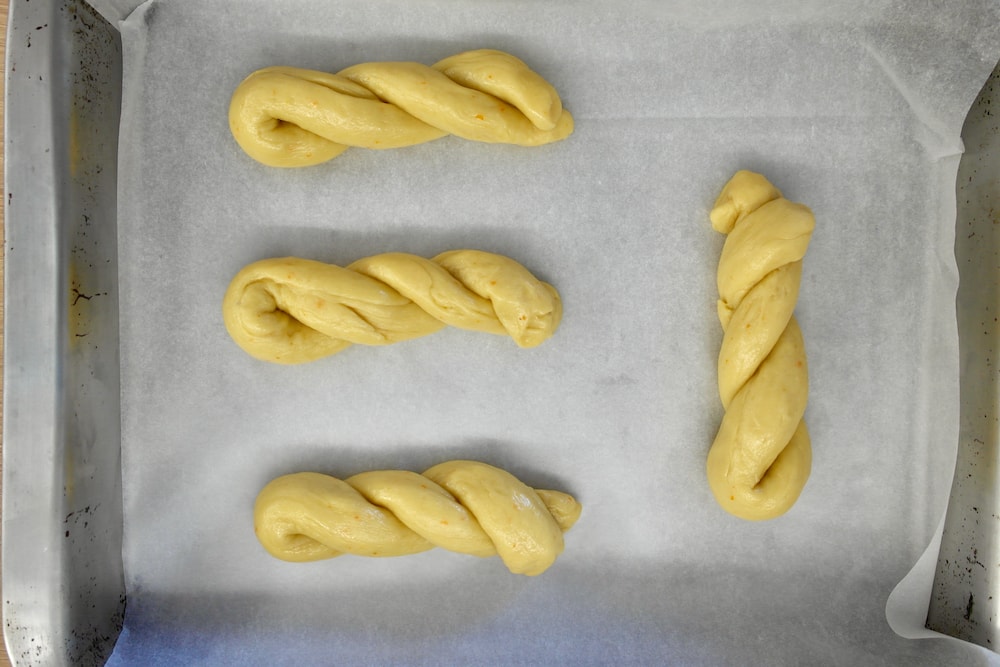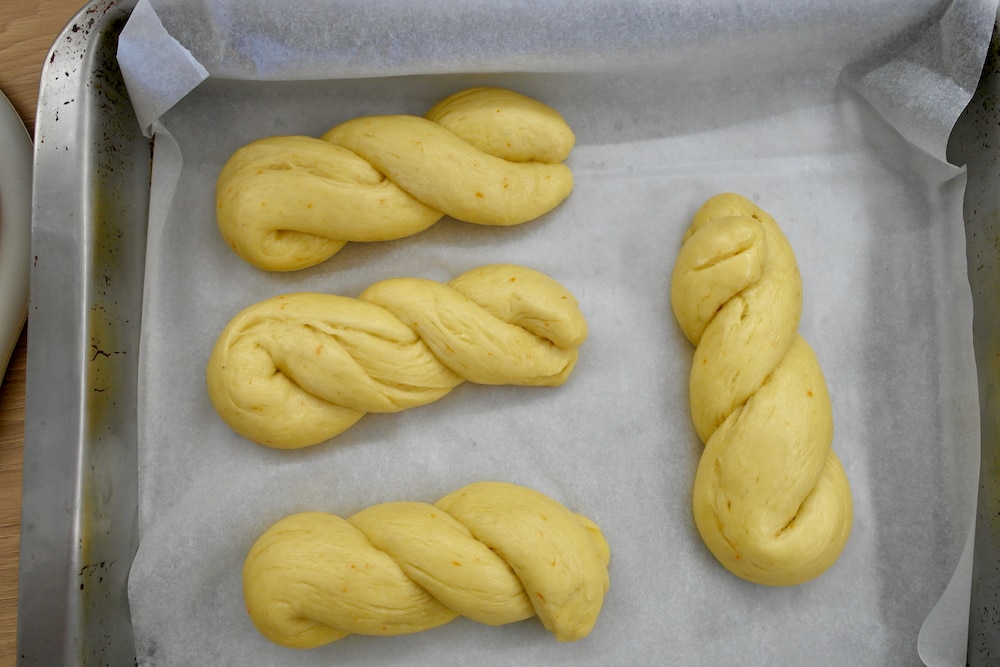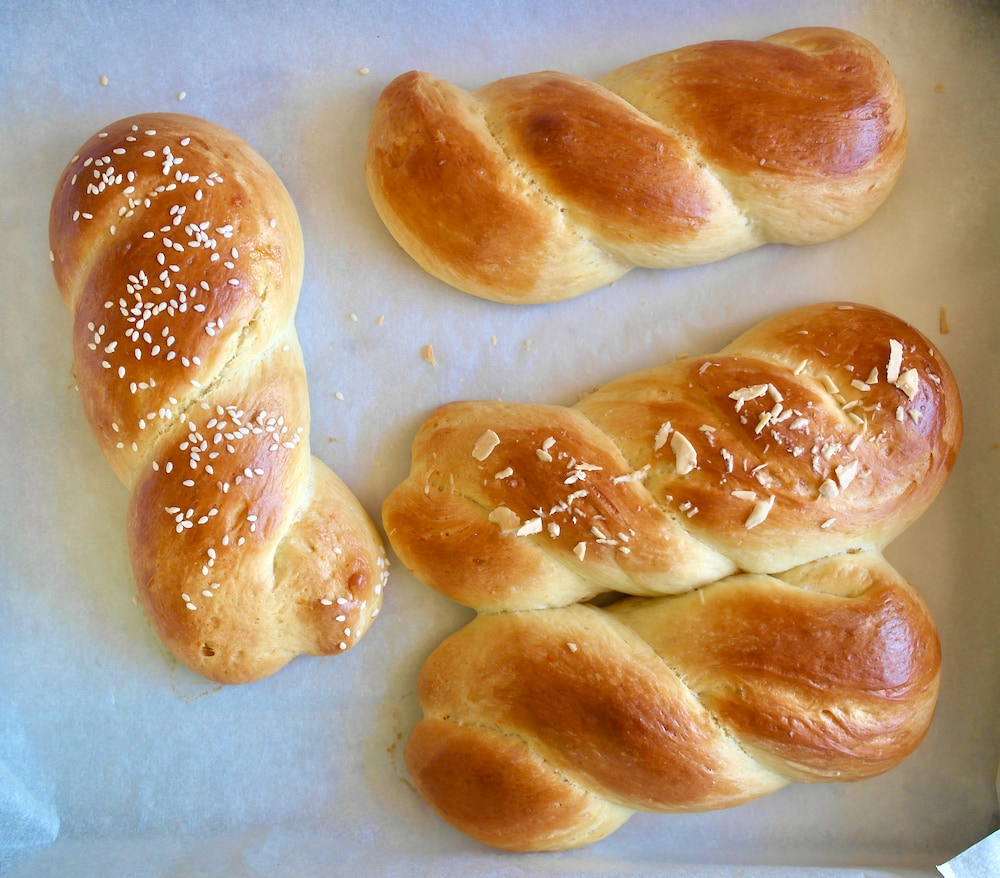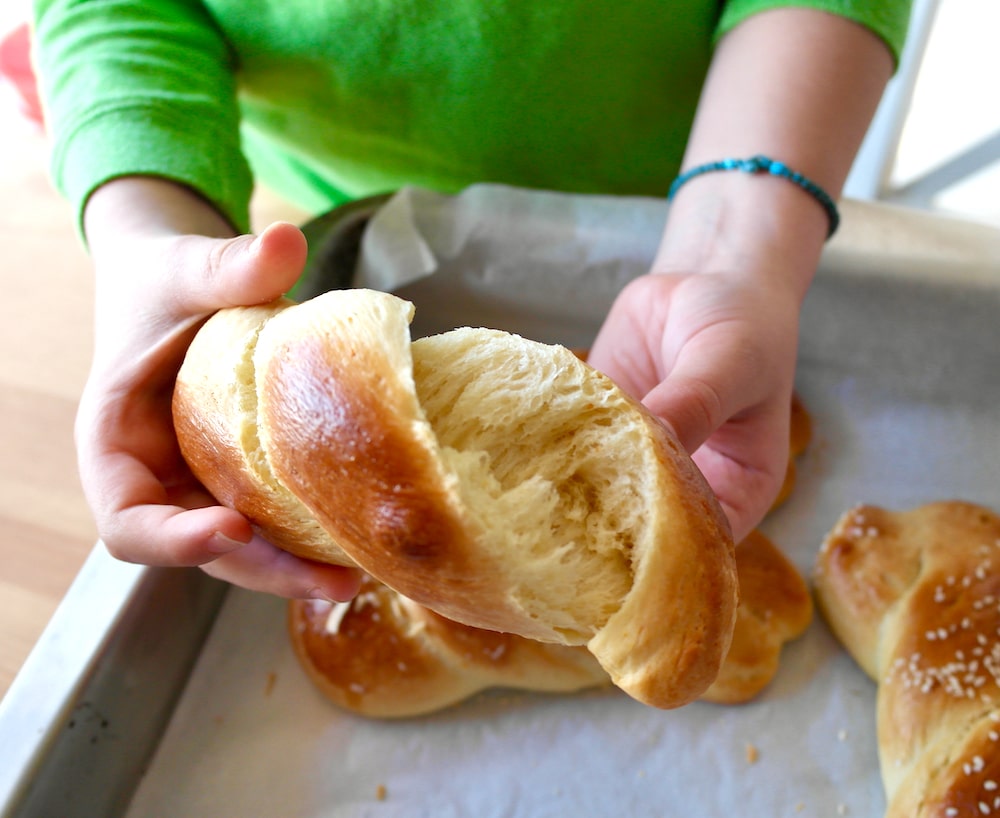 How to Eat Tsoureki
In my opinion there is nothing better than a piece of tsoureki with your morning coffee. You can also serve it with butter or jam or Nutella. And if you have a lot of leftovers, you can always make it into French toast.
How Long Does Tsoureki Last
Tsoureki can last 4-5 days. Wrap it in plastic wrap and place it in a ziplock bag in room temperature. You can also freeze it.
Tsoureki- Sweet Greek Easter Bread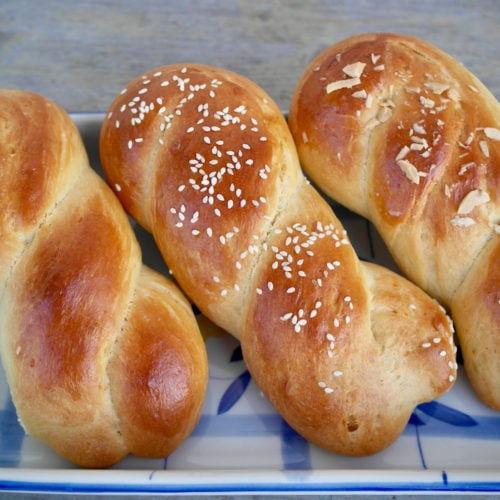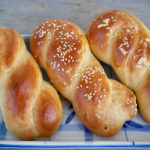 The traditional Greek Easter bread that is soft, tender, lightly sweet and so aromatic. What sets it apart are the secret spices and aromatics.
Servings:
4
small tsoureki
Print Recipe
Pin Recipe
Ingredients
1 ½

tsp

(4.5 g)

dry yeast

Orange zest from 1 orange

50

g (

1.8 oz about 6 1/3 tbsp)

granulated white sugar

60

ml (

2 oz

)

milk warm

(not hot)

1/8

tsp

ground mastiha

1/8

tsp

ground mahleb

250

g (

8.8 oz or 2 cups

)

all-purpose flour

2

small eggs or one extra large

1/3

tsp

fine salt

75

g (

2.6 oz

)

butter cold and cubed
For the egg wash
1

small egg

1

tsp

sugar

2

tbsp

water
To sprinkle
Slivered almonds and or sesame for sprinkling
Instructions
Line a baking sheet with parchment paper.

In the mixer bowl add half of the sugar, the dry yeast, orange zest and warm milk. Mix by hand with a whisk and set aside for 10 minutes so that the yeast will be activated.

In a food processor add the other half of the sugar, the mahleb and mastiha and process until all combined. If you are not using ground mahleb and mastiha crush them first with a mortar and pestle.

In a separate bowl mix the flour with the sugar/spices mixture and add to the yeast mixture. Mix with the hook for a couple of minutes on medium to high.

Add the eggs and continue mixing with the hook, lower the speed and add the salt and butter pieces. Increase the speed and knead for 10-15 minutes or until dough is stretchy and stringy. It will be soft and unstick from the bowl. Do not add additional flour. Add some olive oil to your fingers if dough is sticking a bit to your hands.

In a lightly greased bowl, place the dough and cover with plastic wrap. Let it sit in a warm place for 1 ½ hour.

Remove the dough from the bowl and separate it in 4 equal pieces (weigh them if necessary). Add some olive oil to your fingers if dough is sticking a bit to your hands. Roll out each piece in a cord about 13 inches long, fold in half to twist into a large braid. Place on the prepared baking sheet. Do this with the rest of the pieces.

Cover the pan with plastic wrap and place the pan in a warm place for about 2 hours.

Preheat oven at 340 F (170 C)

In a small bowl, mix 1 egg, 1 tsp sugar and 2 tablespoons water. Brush the mixture over each tsoureki. Sprinkle with slivered almonds or sesame seeds.

Bake for about 20 -30 minutes until the tsoureki is golden-brown.

Remove from oven, let it sit for 10 minutes. Serve warm or at room temperature.
DID YOU MAKE THIS RECIPE?
Leave a comment or share on instagram and mention @greekdiet
---
PIN IT AND SAVE IT FOR LATER!