Greece is the birthplace of the Mediterranean diet but also blessed with mild weather producing flavorful vegetables, fruit and of course olive oil. Characterized by fresh ingredients and simple and clean flavors, Greek dishes and products are flavorful and satisfying. Here are my top 21 iconic Greek foods that you should try now!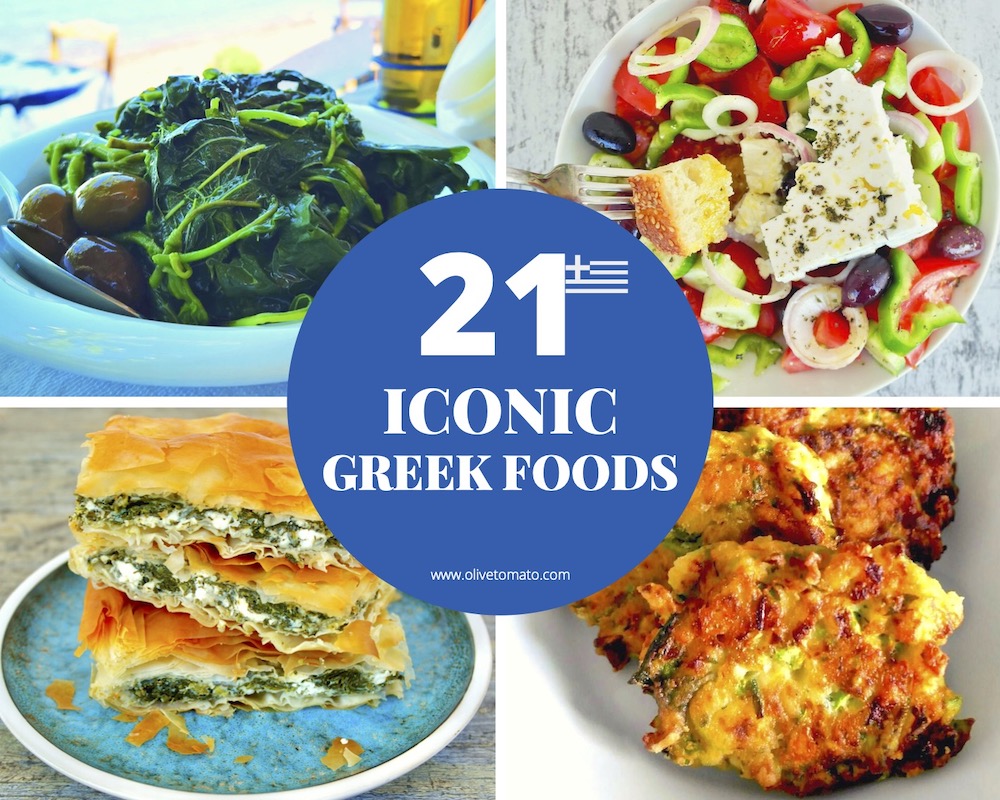 1. Spanakopita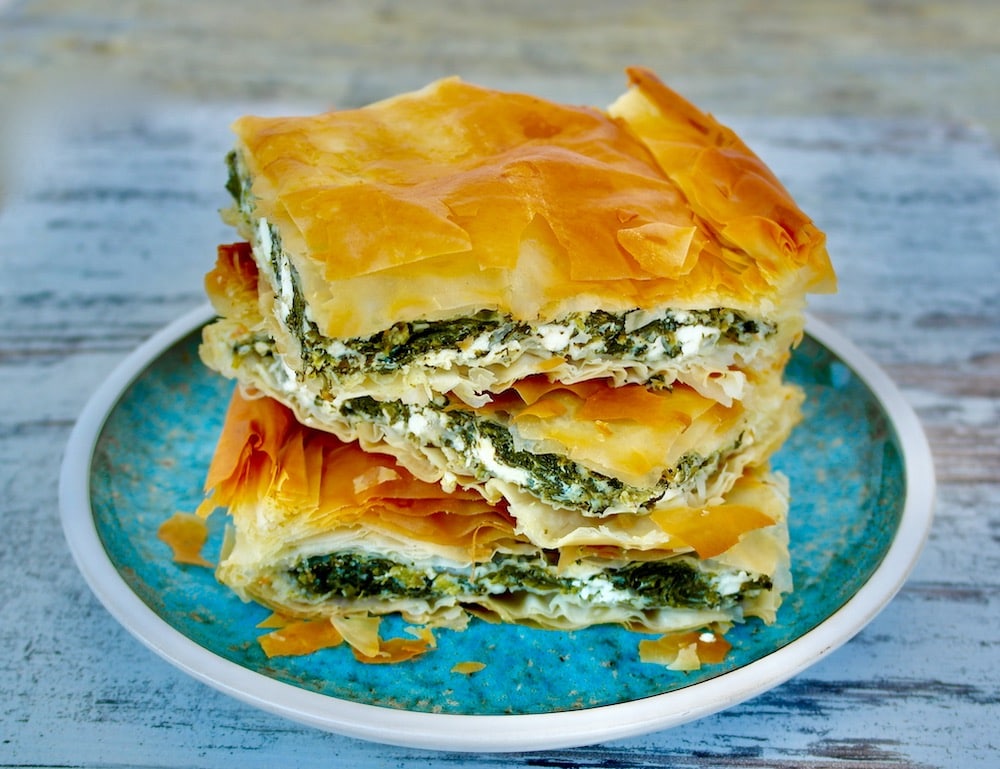 The famous spanakopita. Spinach cooked with herbs and feta cheese covered with crunchy phyllo. It is a favorite appetizer, meal, and snack not only in Greece but around the globe.
Click here for my mother's recipe >> Authentic Greek Spanakopita – Spinach and Feta Pie
2. Greek Salad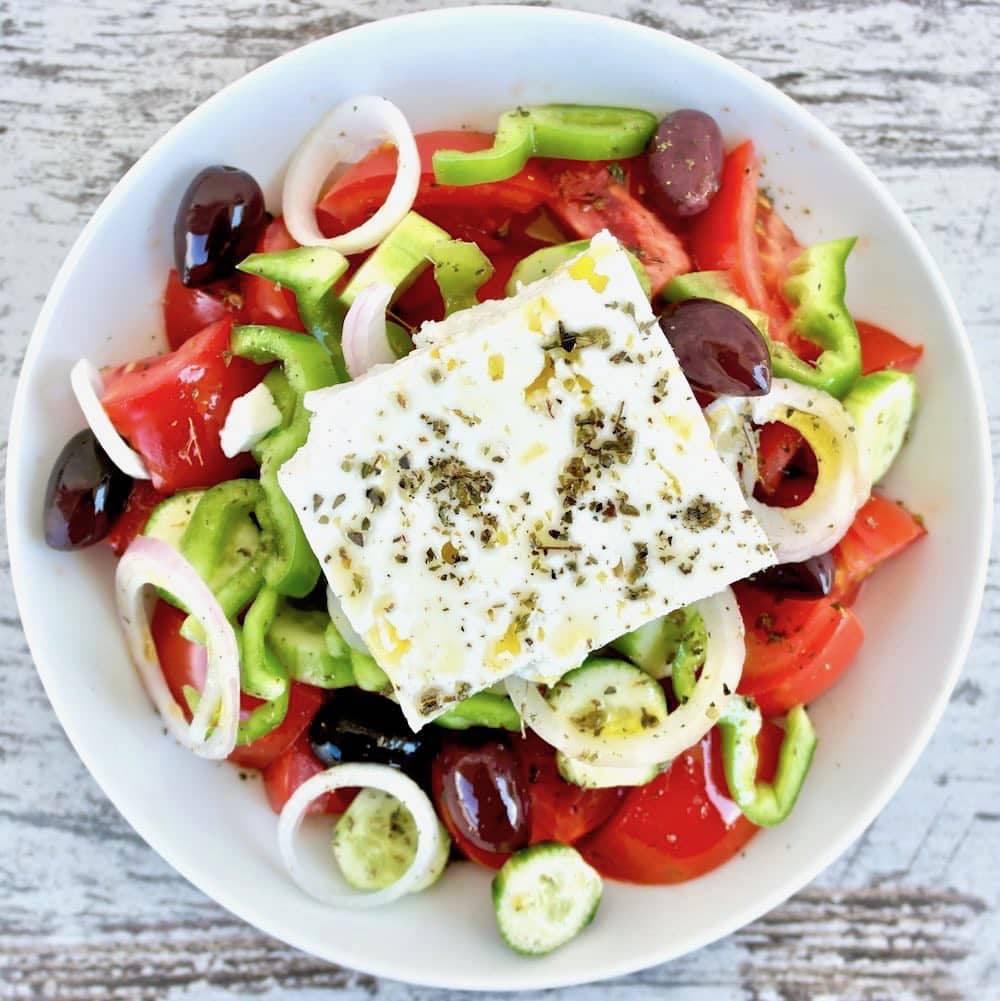 Juicy red tomatoes, crisp cucumber, sharp onion, olive oil and of course feta. The one and only famous authentic Greek Salad also known as Village Salad and in Greek: Horiatiki.
Click here for the authentic Greek Salad Recipe >> The Best Authentic Greek Salad
3. Tzatziki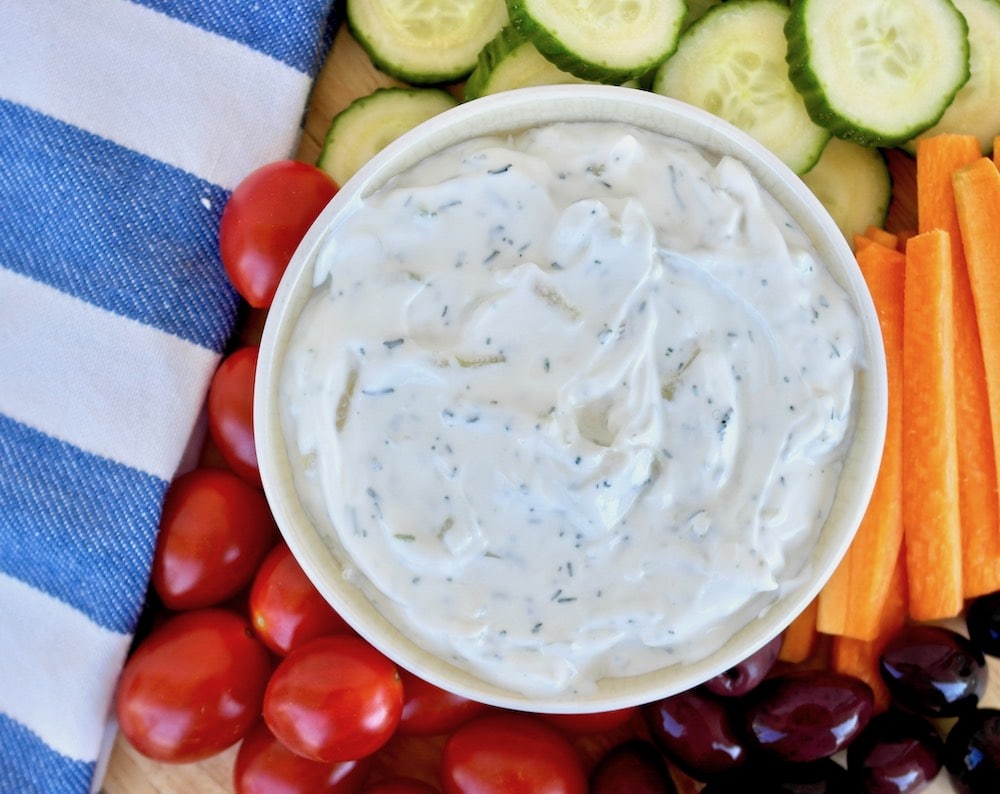 Who doesn't love tzatziki, creamy, spicy with cool cucumber and garlic, this dip is delicious and addictive!
Click here for the authentic tzatziki recipe >> Authentic Tzatziki – Greek Garlic Yogurt Dip
4. Roasted Lamb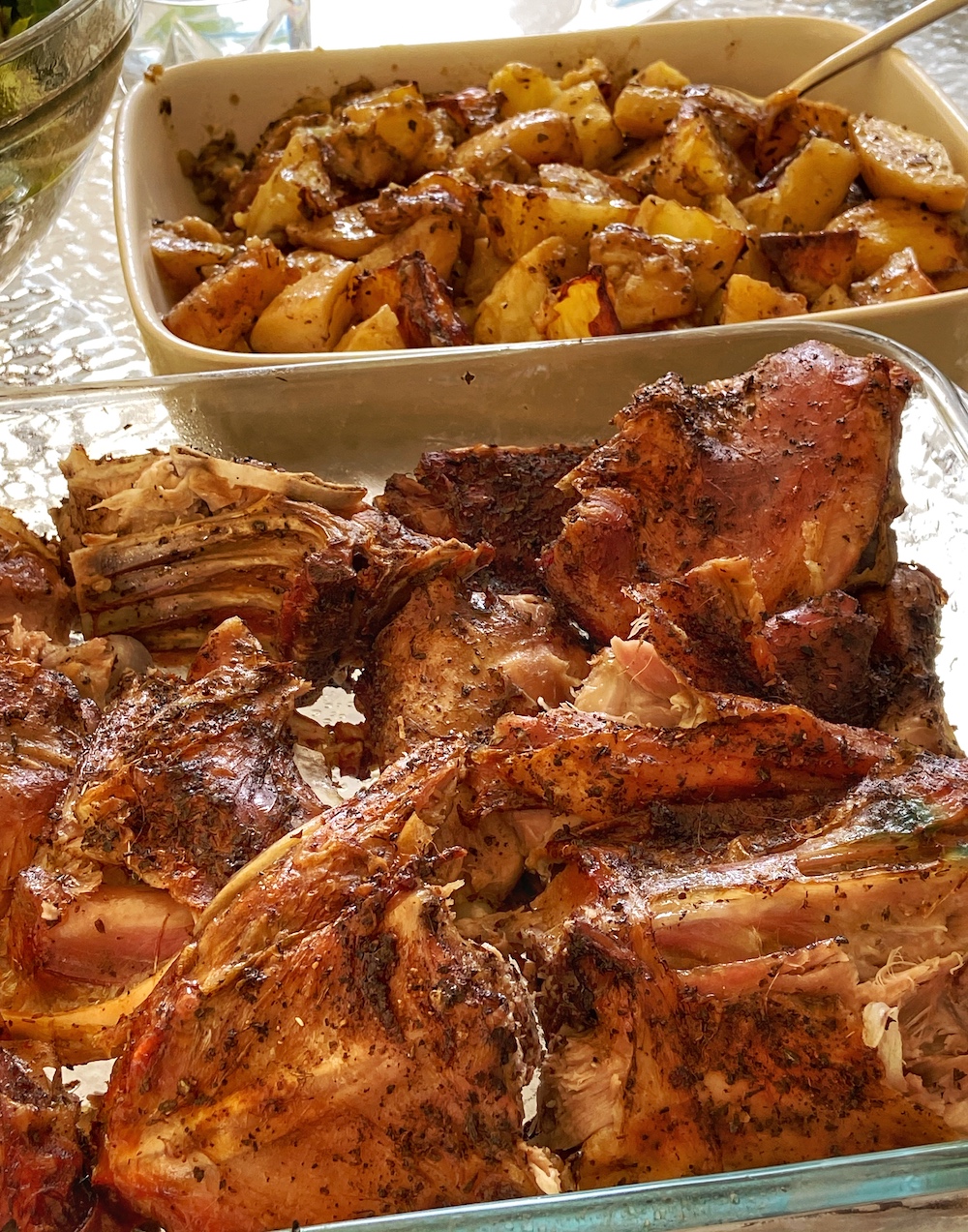 Lamb is for celebrations in Greece: Easter, Weddings, Christmas, you name it. The lambs in Greece are prized, but you need to know how to roast them right! Recipe coming soon!
---
5. Feta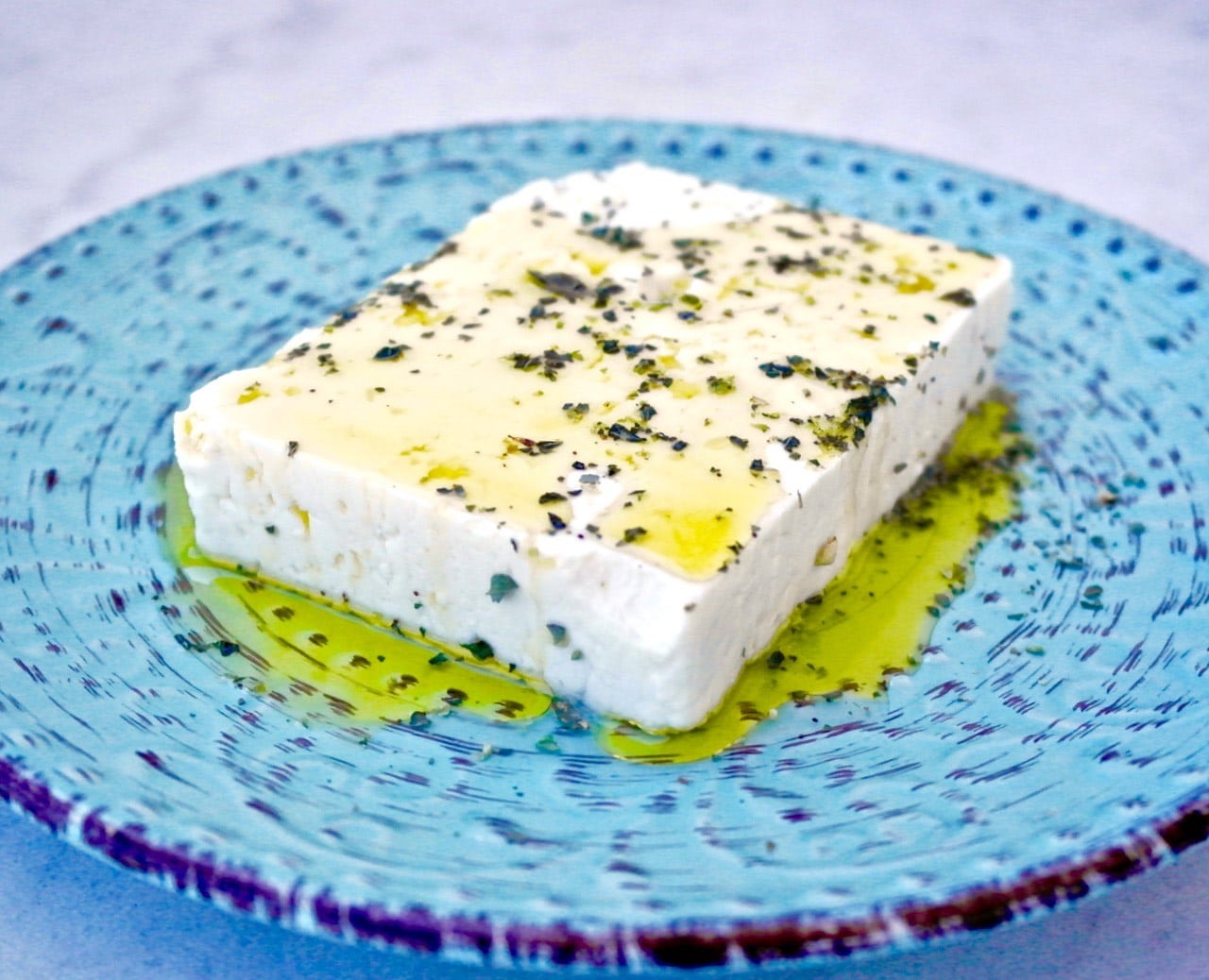 The quintessential Greek cheese. Yes, there are many imitators but there is only one feta. Feta has a tangy, rich and slightly salty flavor. Feta is a brined cheese (it is placed in a brine solution) that is made either only from sheep's milk or a combination of sheep and goat milk. It is aged in the brine minimally 2 months, but the good feta will be aged 12 months.
Click here for feta ideas >> 19 Delicious Ways to Use Feta Cheese
---
6. Extra Virgin Olive Oil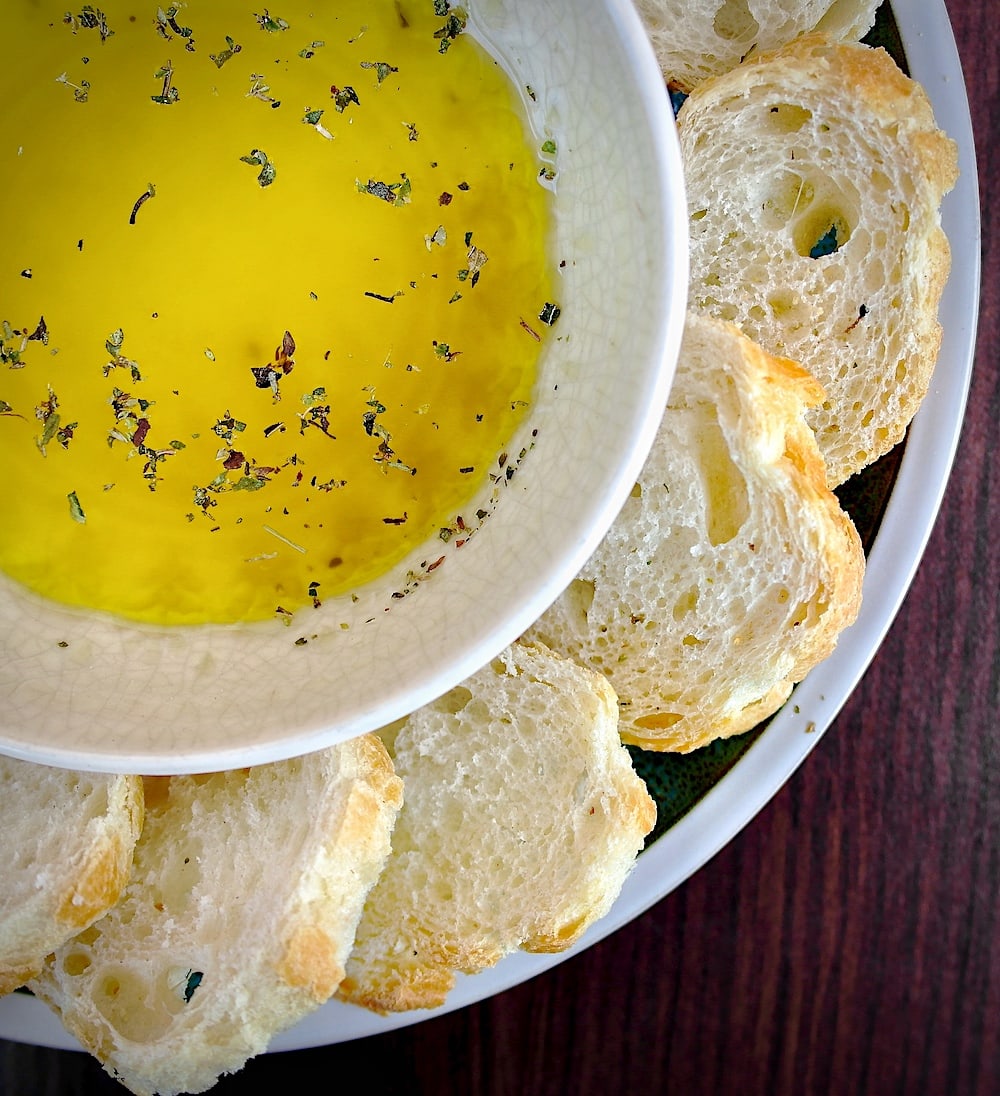 Greece enjoys a reputation for producing high quality olive oil. As much as 80% of Greek olive oil is extra virgin, the highest share in the Mediterranean. Did you know that Greeks are highest consumers of olive oil (per person) in the world. Olive oil is a deep-rooted component of Greek life. Greeks actually do all their cooking with olive oil sautéing, roasting, frying and baking with it. There is even a whole category of foods called lathera which comes from the Greek word for olive oil: lathi. The term literally means "the olive oil ones" and is mainly vegetables cooked in olive oil.
Click here for ideas on how to use olive oil >> 7 Delicious Ways to Use Olive Oil
---
7. Horta (Greens)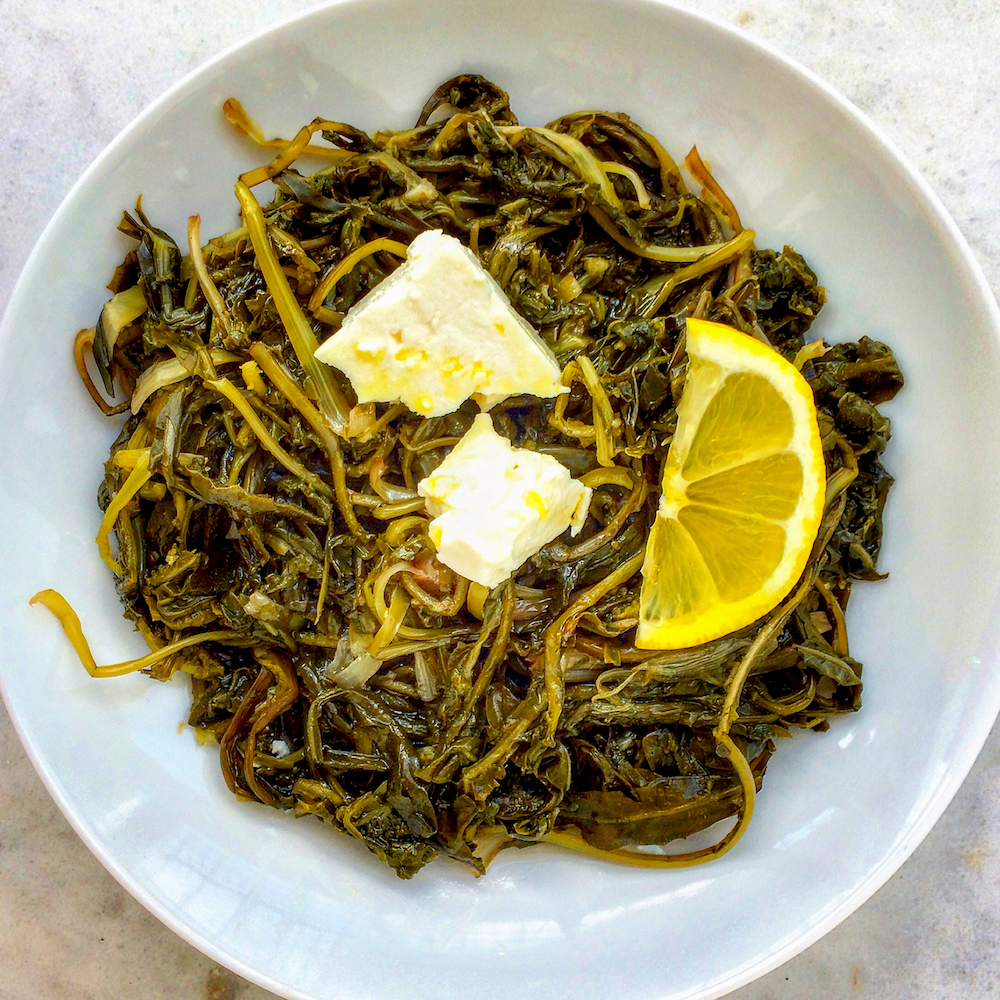 The secret of the Greek diet. Horta are basically greens and usually wild greens. They are cooked and served with olive oil and lemon or in salads and may be accompanied with feta and bread. And like many Greek-somethings, yes, my mother and grandmother used to pick the dandelions also known as weeds to everybody else from our backyard and boil them and eat them.
Click here for tips to get more greens >> 5 Greek Ways To Get Greens in Your Diet
---
8. Greek Yogurt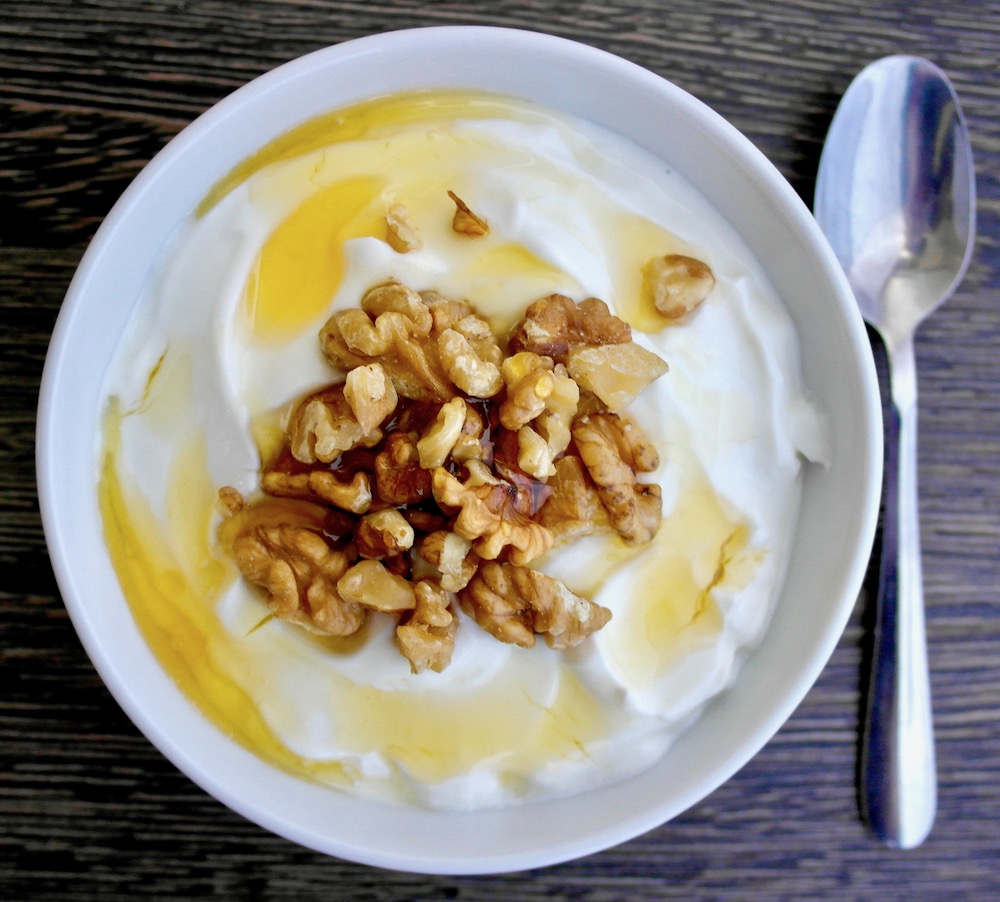 Everybody knows the famous Greek yogurt, right? Naturally strained yogurt that is thick and creamy. Did you know though that the real authentic Greek yogurt is non-strained sheep's milk yogurt.
Click here for delicious Greek yogurt ideas >> 23 Interesting and Easy Ways to Eat Greek Yogurt
---
9. Kolokithokeftedes (Zucchini and feta fritters)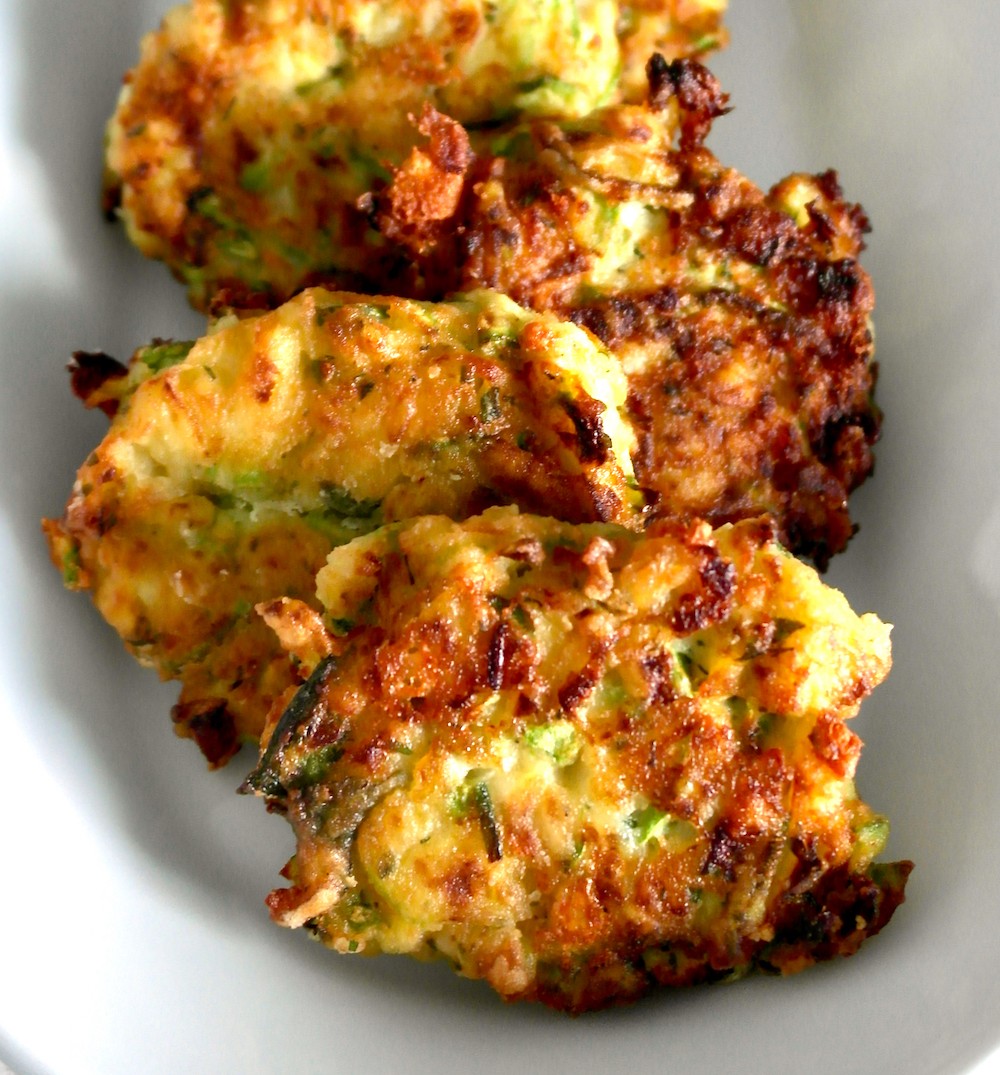 Leave it to the Greeks to make zucchini craveable. These unbelievably delicious traditional Greek zucchini patties are made with plenty of herbs and feta and are so easy to make.
Click here for the recipe>>Greek Zucchini Patties with Feta and Herbs – Kolokithokeftedes
---
10. Gigantes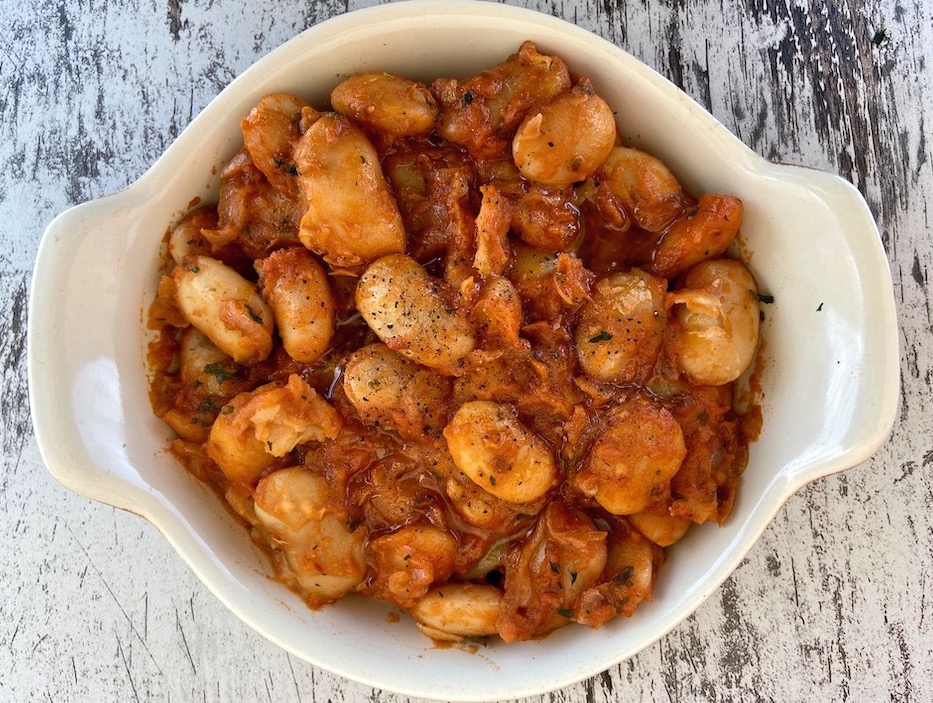 Luscious, tender baked beans in a tomato-herb sauce. A traditional Greek dish bursting with flavor and nutrients.
Get the recipe here >> Gigantes Plaki – Tender Greek Roasted Beans in Tomato Sauce
---
11. Spanakorizo (Spinach Rice)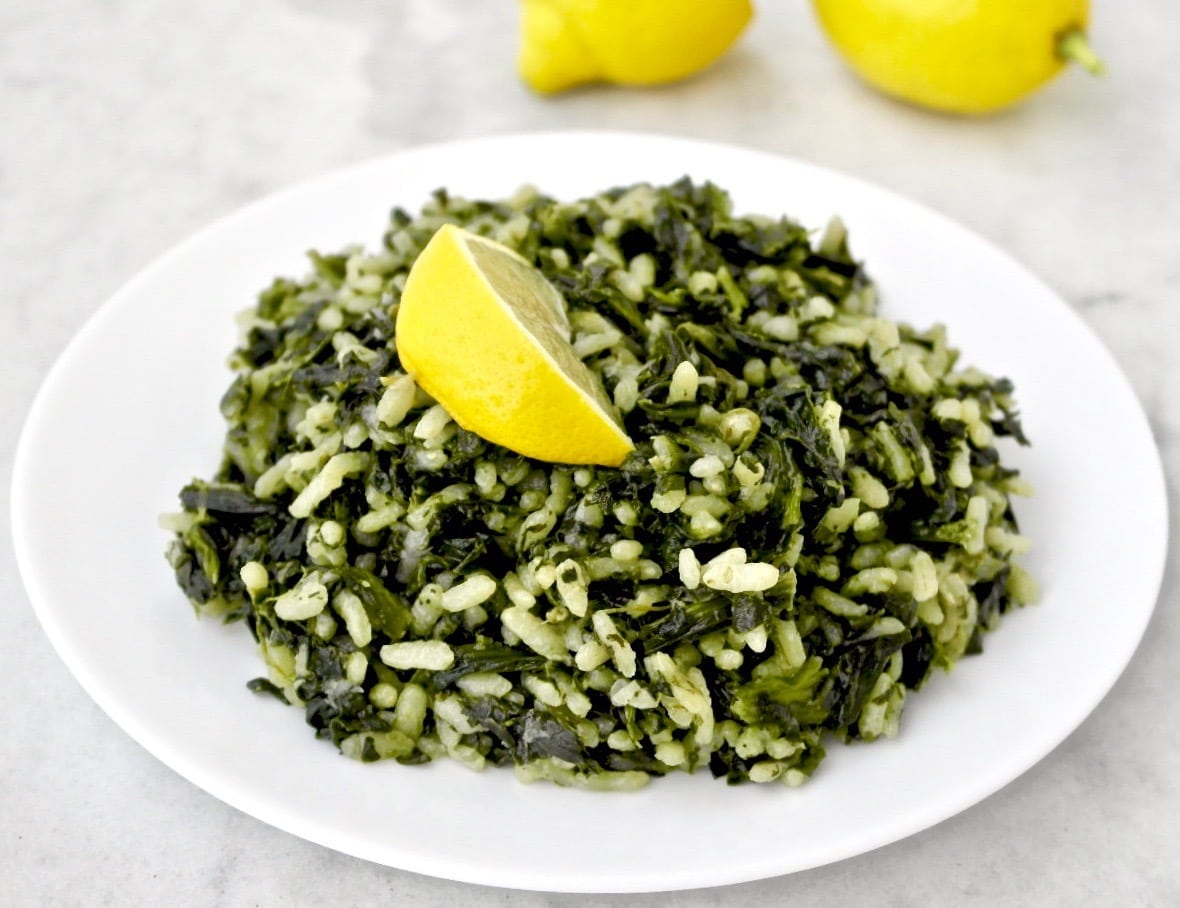 This is the most poular recipe on my website, and it's no supriose, it is delicious! A winter staple in most Greek home: It is soft and creamy, served with plenty of lemon juice, a bit of olive oil and of course feta.
Click for the spanakorizo recipe >> Greek Spinach and Rice – Spanakorizo
---
12. Tiropita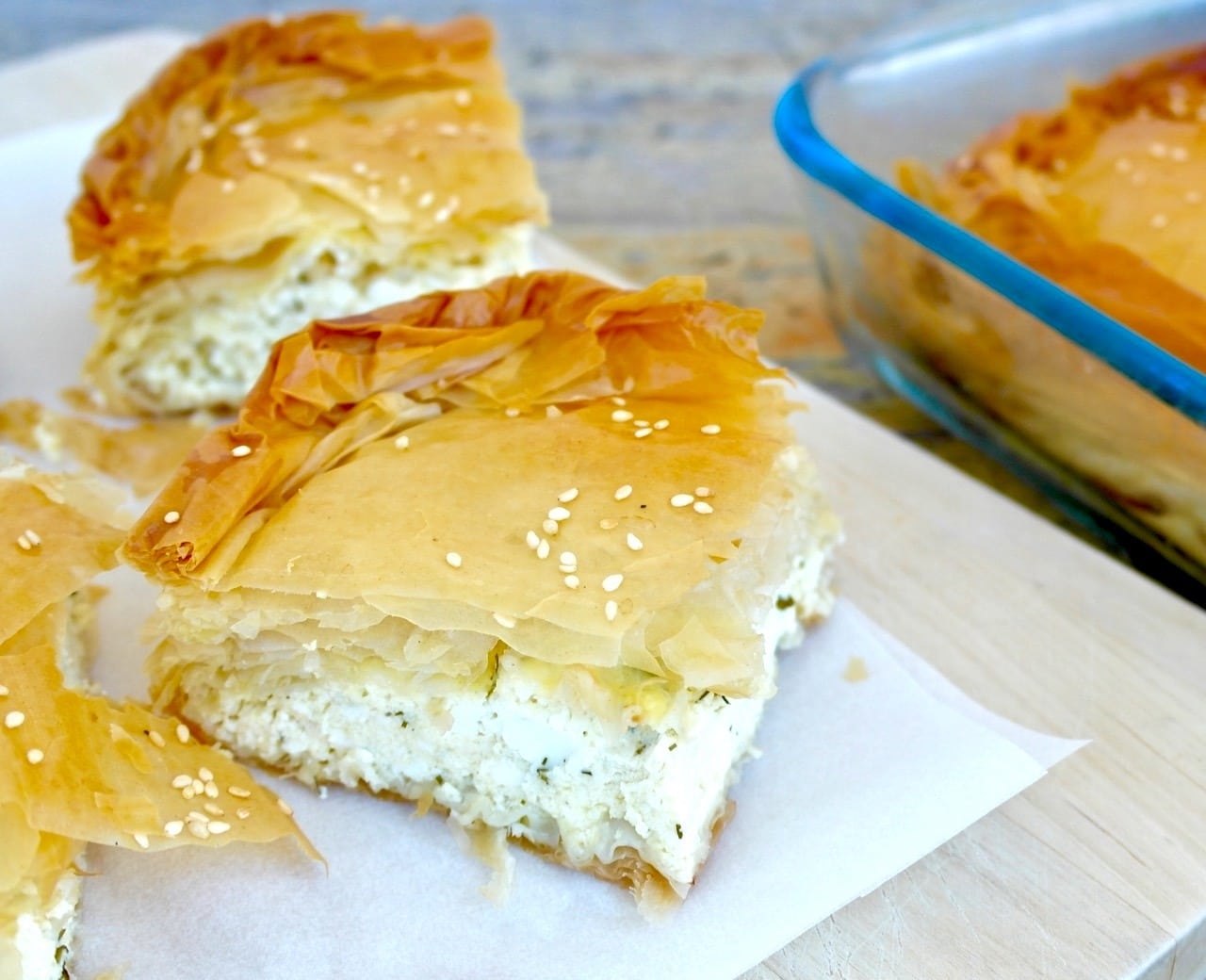 The most poular pie in Greece. The taste of the traditional cheese pie is amazing: Tangy feta along with the crispy phyllo is truly addictive.
Get the tiropita recipe >> Traditional Tiropita – Greek Feta Cheese Pie
13. Kalamata Olives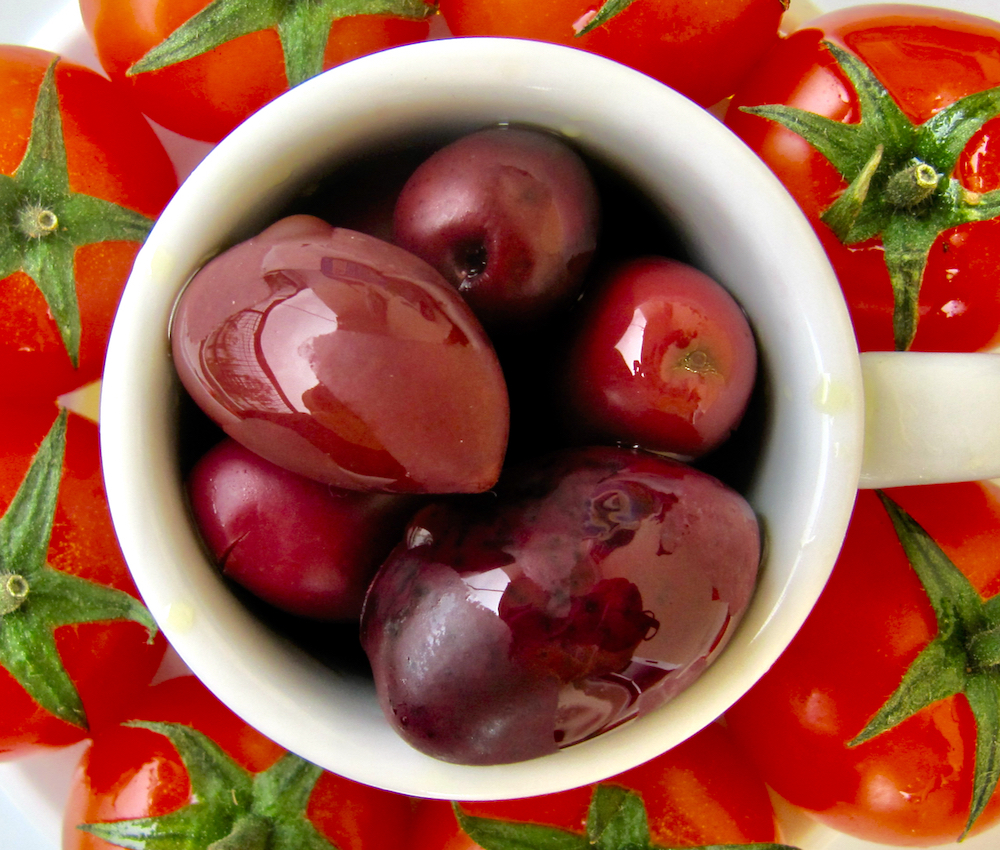 You may have thought that black olives are those watery things in cans that absolutely have no flavor. Kalamata olives have a fruity and rich flavor and they are addictive! And because they are processed naturally (without lye) they are much richer in antioxidants compared to California and Spanish style.
Learn more about the benefits of Greek olives here >> More Health Benefits for Olive Oil and Olives
14. Moussaka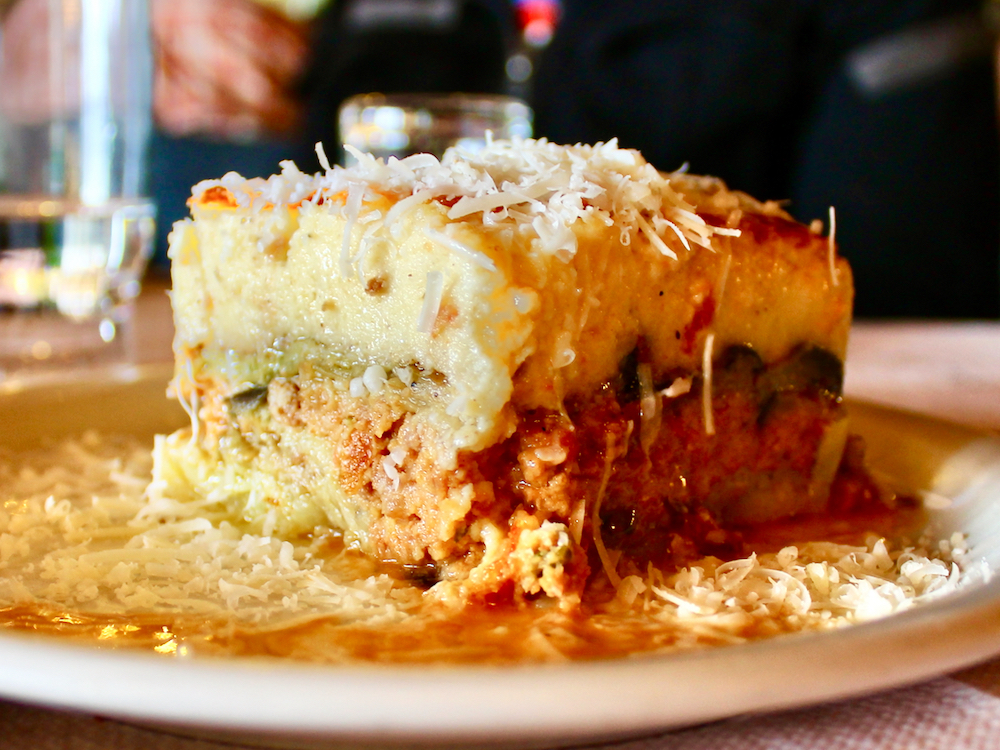 Historically it is not clear where moussaka is from, it is a quite popular dish among tourists in Greece. Eggplant, potatoes, ground beef layered to make a rich and tasty dish. A good moussaka is not easy to find, so I'll be soon posting my mother's recipe.
15. Taramosalata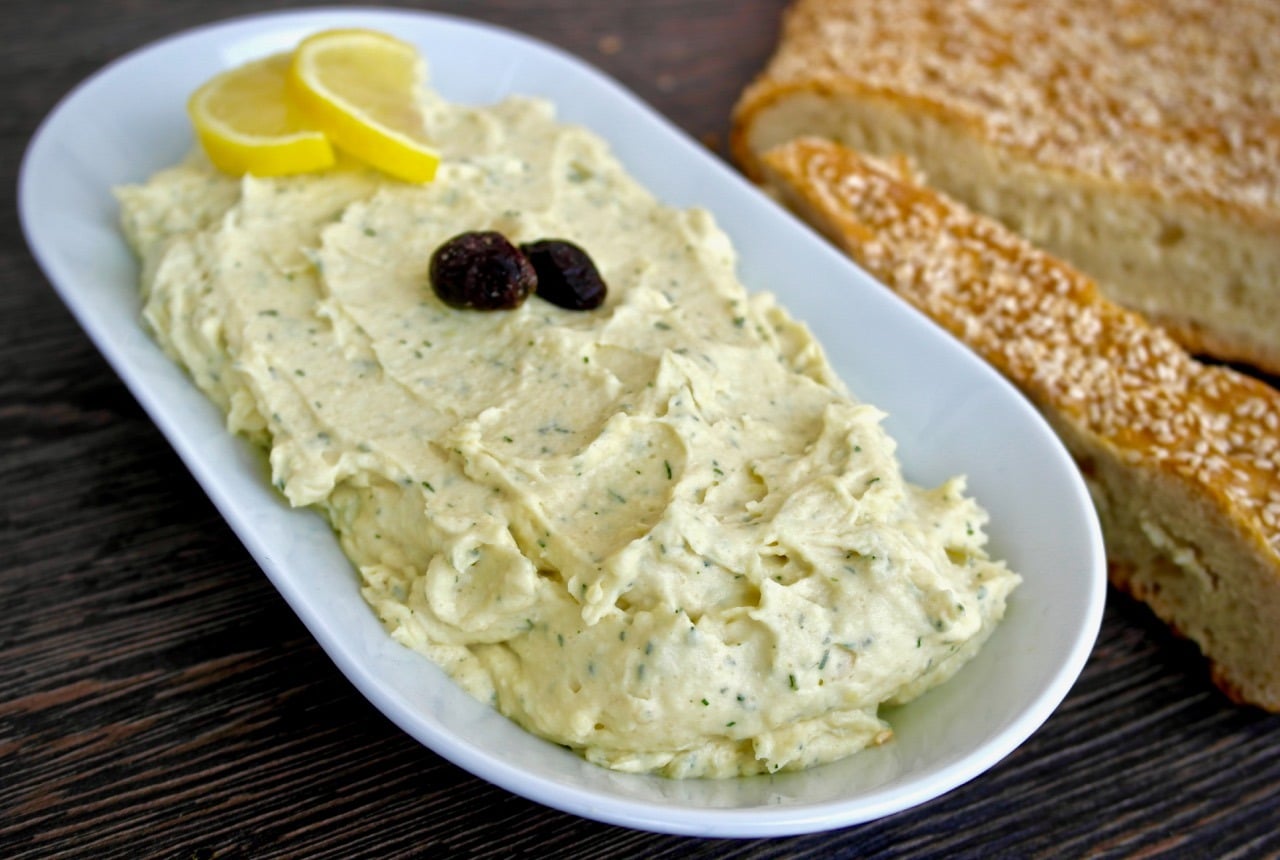 What can I say about taramosalata? Yes, it is made from fish roe and that doesn't sound too appetizing, but trust me, once you a try a good taramosalata, you will eat the whole bowl.
Click here for the recipe >> Taramosalata or Taramasalata? Try 3 Recipes
---
16. Cretan Salad (Dakos)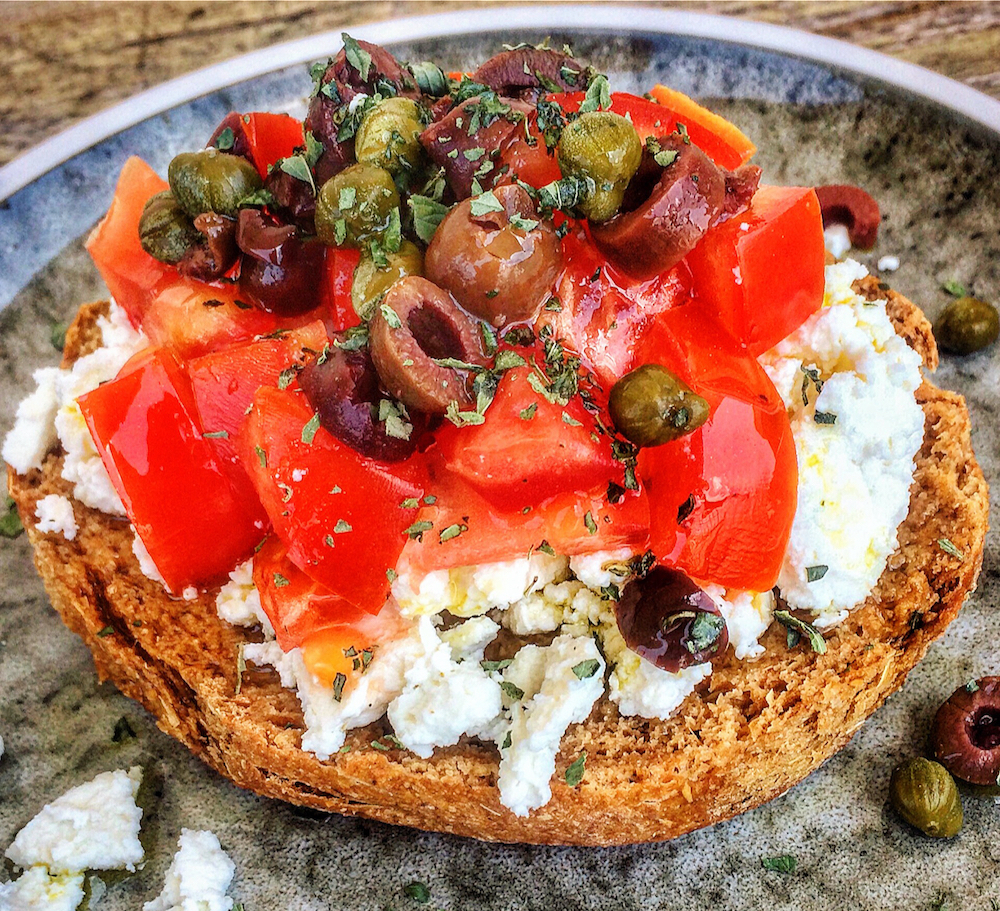 This authentic Cretan Salad includes crunchy barley rusk soaked in olive oil and topped with tomato and cheese.
Click here for the authentic recipe >> Authentic Cretan Salad: Dakos
17. Saganaki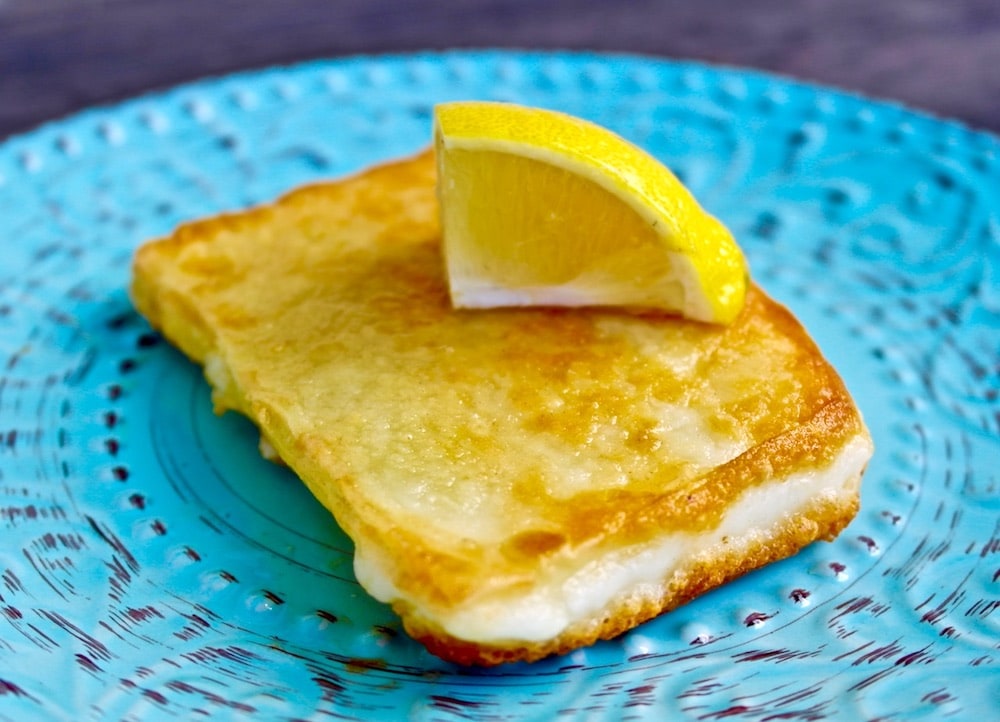 Fried cheese. What's not to like? And if you are in Chicago Greektown, you will get some flames too!
Click here for an authentic saganaki recipe >> Saganaki – Authentic Greek Fried Cheese
18. Shrimp Saganaki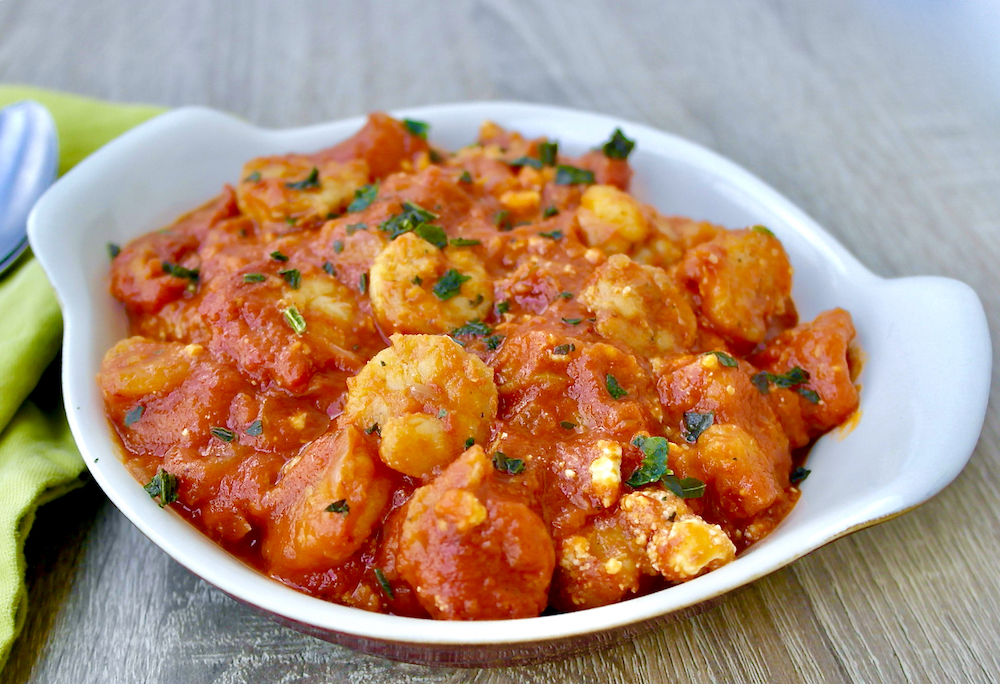 Shrimp cooked with tomato sauce, a splash of ouzo and topped with crumbled feta.
Click for the recipe >> Roasted Shrimp With Feta and Tomato – Shrimp Saganaki
---
19. Melomakarona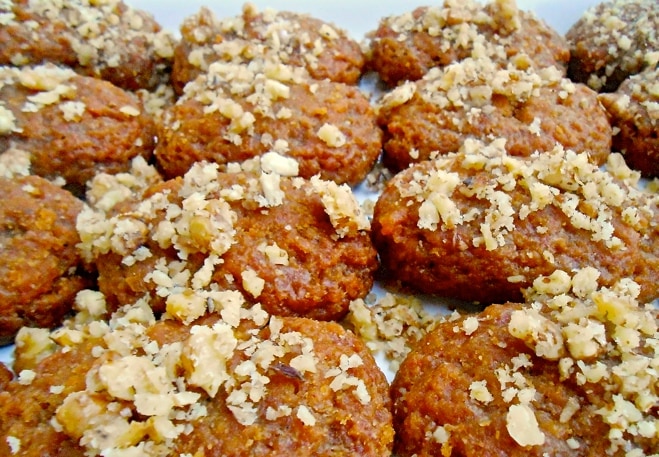 I don't think there exists a more decadent vegan (with the exception of honey) dessert. Made with honey and walnuts, Melomakarona are juicy and delicious and vegan.
Click here for the authentic melomakarona recipe >> Melomakarona: Authentic Greek Honey Cookies
---
20. Pasteli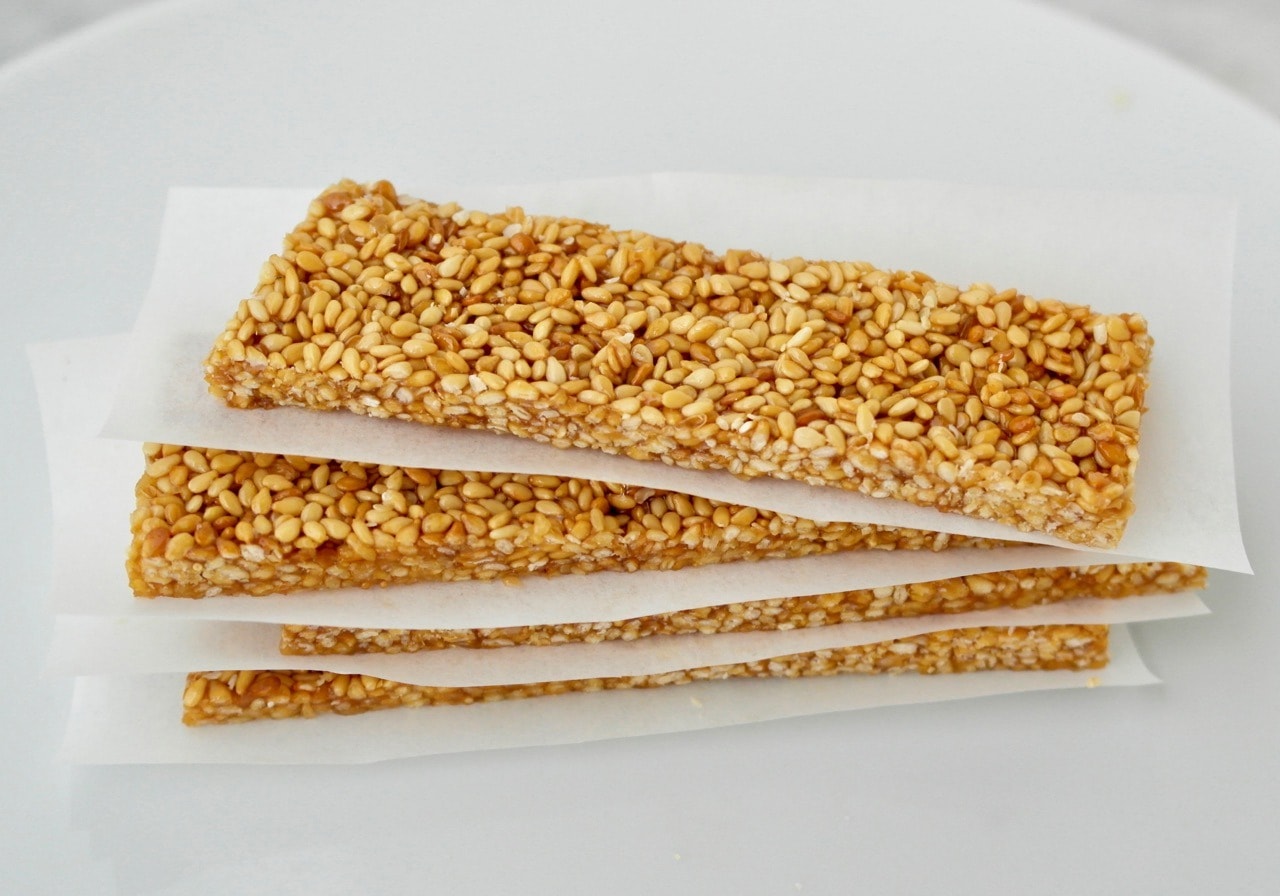 These sesame bars known as pasteli in Greek are the original power bars. They actually go back to antiquity, the ancient Greeks had a similar recipe that included a variety of nuts and honey. Crunchy, sweet and protein rich, this traditional Greek snack made with only two ingredients.
Click here for the recipe >> Pasteli: Greek Honey-Sesame Bars
---
21. Galaktoboureko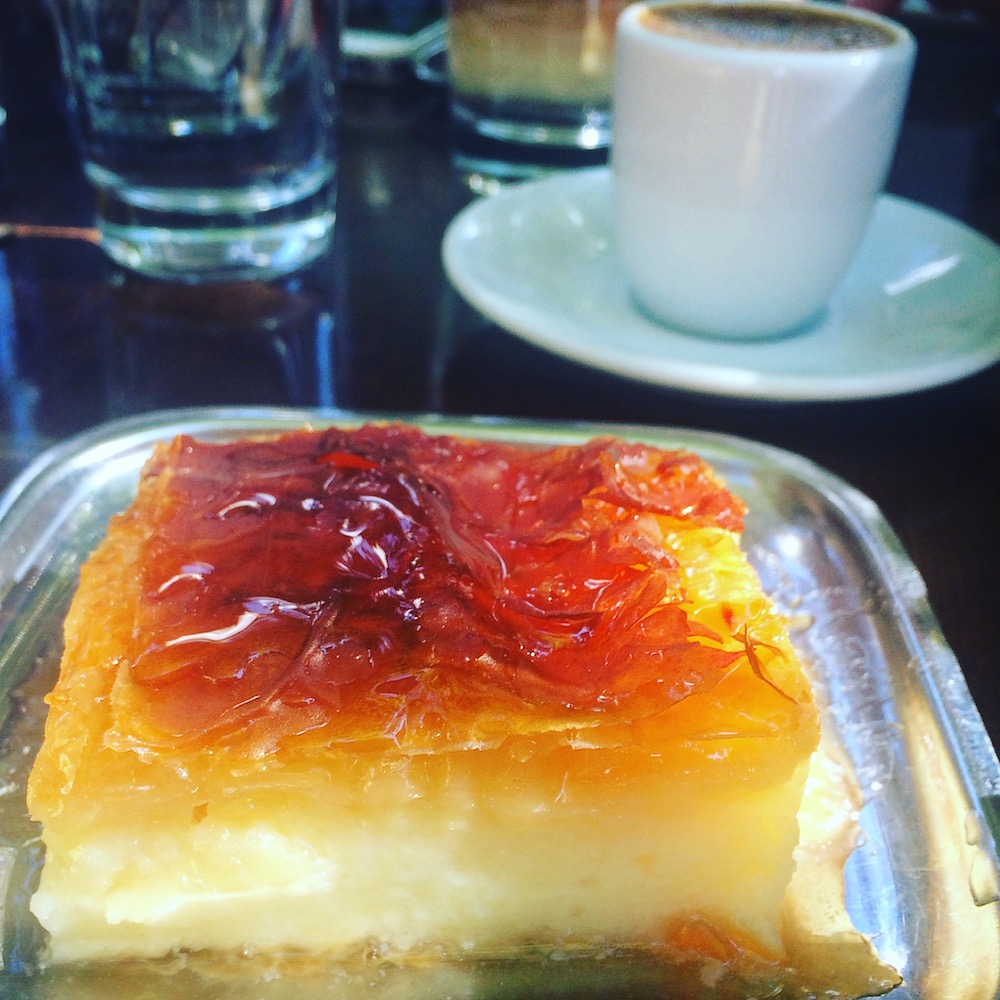 A Greek sweet made with custard and a phyllo crust. It is delicious! Recipe coming soon!
Save it for later and pin it!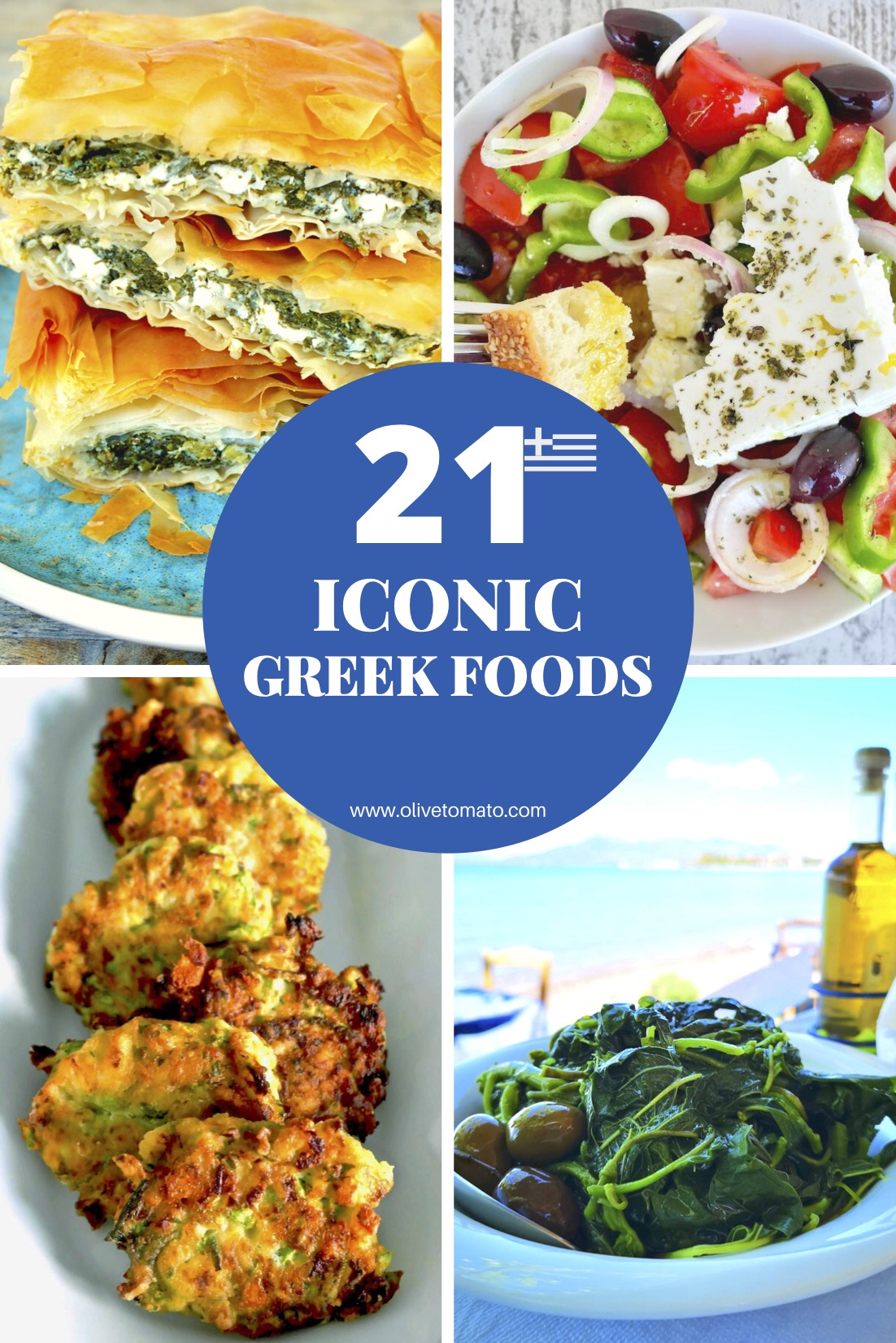 Moussaka photo Greece 2015" (CC BY-SA 2.0) by CarmineMedia