The most popular Pie in Greece, and probably the most delicious. Rich and tangy feta filling wrapped in crispy phyllo. Get the authentic recipe for traditional tiropita.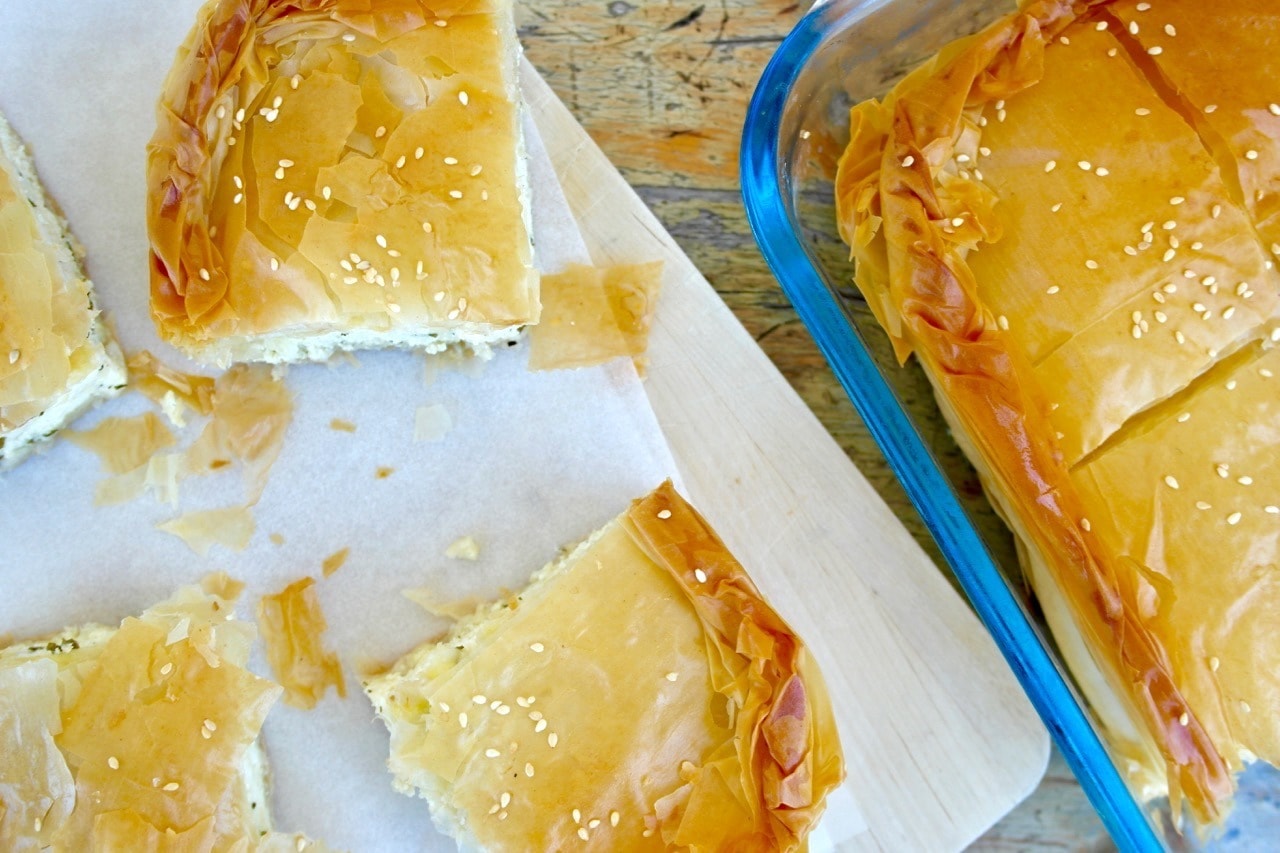 The most popular pie or pita in Greece is the tiropita or as you may know it: Greek cheese pie. While spanakopita is equally popular, tiropita is the preferred pie for all times of the day and most often for breakfast. It is not uncommon to see signs in coffee places advertising a breakfast combo of coffee and tiropita . The difference between a spanakopita and tiropita is that spanakopita includes spinach and feta (sometimes only spinach) whereas tiropita only has cheese in its filling.
And while it is a popular street-food it is also a popular dish people make at home. There are many tiropita variations, the traditional version contains feta, eggs, homemade phyllo and olive oil. There are also the mini triangle tiropitakia, most often served at parties, tiropita shaped like a snail or single serving tiropites that come in various shapes. During one period about 60-70 years ago, the tiropita that contained béchamel and made with puff pastry (instead of phyllo) became popular. These variations were not only unhealthier but did not taste as good as the real thing, they were a somewhat westernized version influenced by French cuisine, but did not compare to the authentic version. And I have to say, the taste of the traditional cheese pie is amazing. Tangy feta along with the crispy phyllo is truly addictive. I remember fondly the small triangle cheese pies my mother and her friends would make for family get-togethers and parties, they literally made at least a hundred even if we were only a few of us… half of them were gone by the time the party started.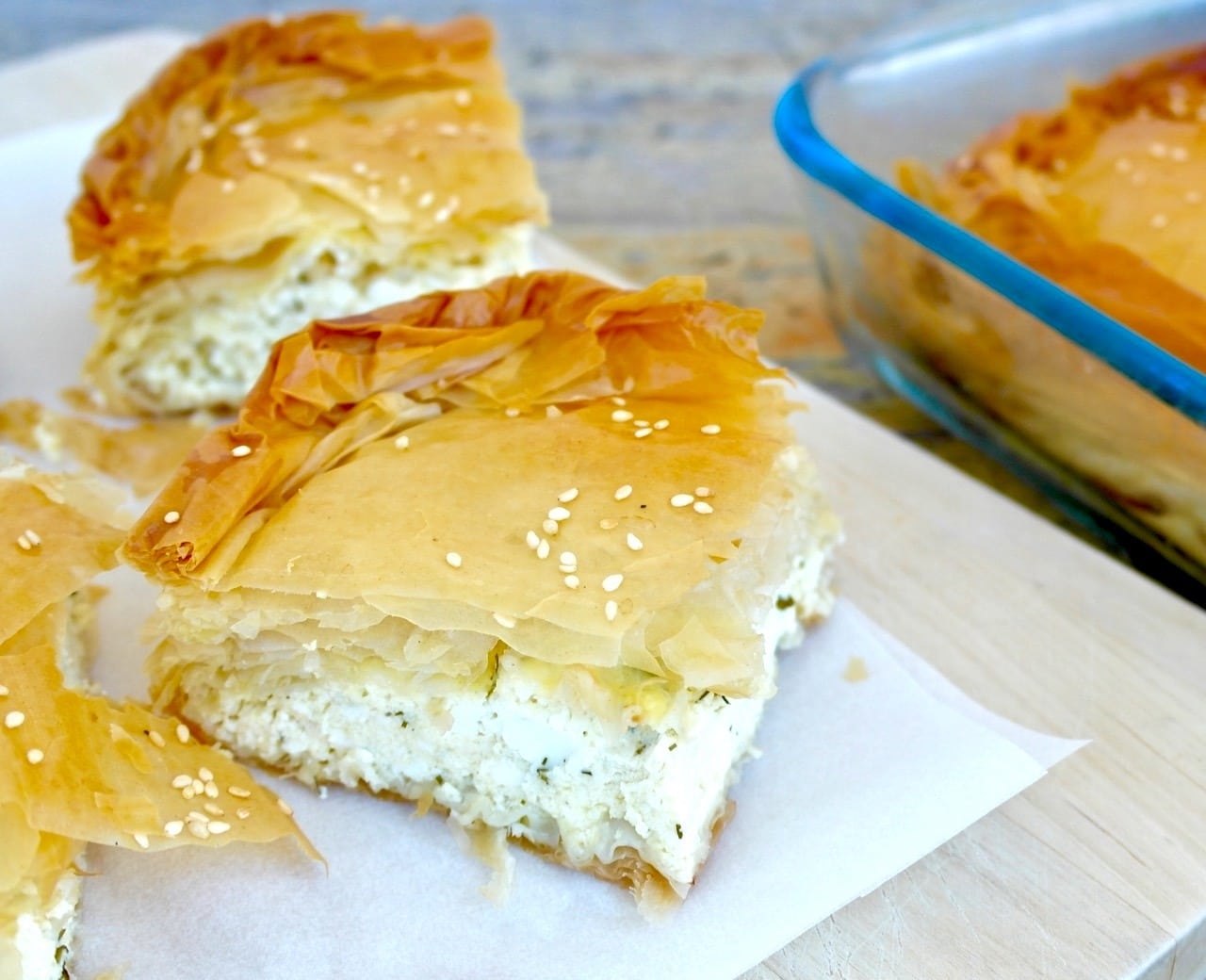 This particular recipe is made with the thin phyllo, (you can also make your own thicker phyllo using this recipe) feta and another fresh cheese. The phyllo which is called kroustas, does not contain any fat and therefore you need olive oil for brushing in between the phyllo layers. If you decide to make your own olive oil phyllo, (this is a thicker type phyllo/crust) you do not need to brush with olive oil. It is quite easy to put together and the key to a good tiropita is using good feta and if you are using the thin phyllo, to use enough olive oil. Remember to buy phyllo that contains no added fats.
A word about the salt. Since the main ingredient in the tiropita is feta, you will not need to add additional salt to the mixture. Typically we will add a bit of a less salty, fresh cheese such as anthotiro or if you cannot find it, you may add ricotta. For a lower sodium filling you can adjust the amounts of cheese, for example you can add more of the fresh cheese and less feta, but feta is what really gives the character to this pie. You can check my recipe for low sodium cheese pies here. Generally though, you want to keep the weight of the cheese constant, so for this recipe the total weight for the cheese is 26 ounces (75 grams).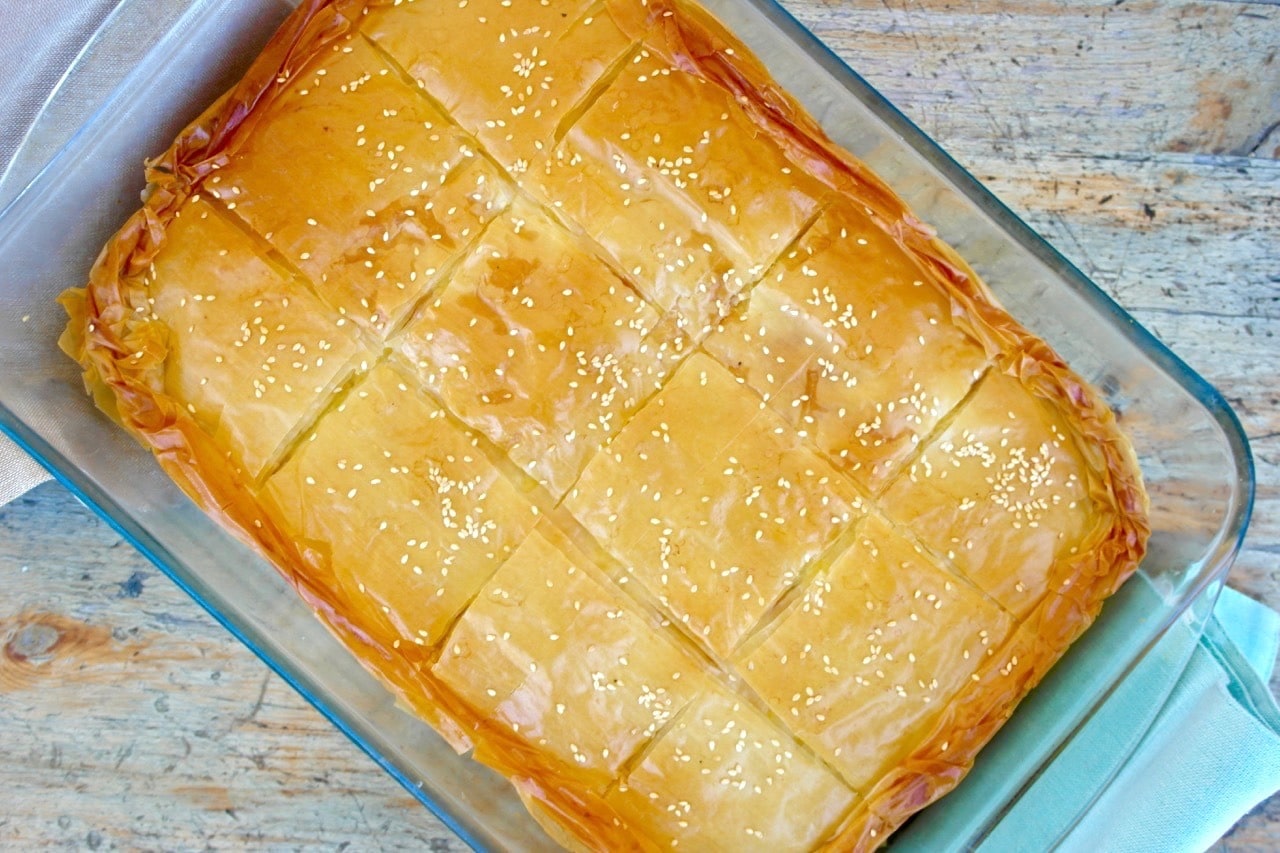 What to serve tiropita with
Tiropita can be consumed as a snack, for breakfast and as a meal. I serve it with a seasonal salad (usually a Greek style salad with tomato and cucumber in the summer, or a green or cabbage salad in the winter). And it is also good (as all pies are) as school lunch.
Make ahead
You can also assemble and freeze the whole pie before baking, or after baking you can wrap 2-3 pieces together and reheat for a quick snack or meal.
If you prefer to do the small triangle tiropita, you can use the same filling and you can checkout the technique of making triangles here.
Traditional Tiropita – Greek Cheese Pie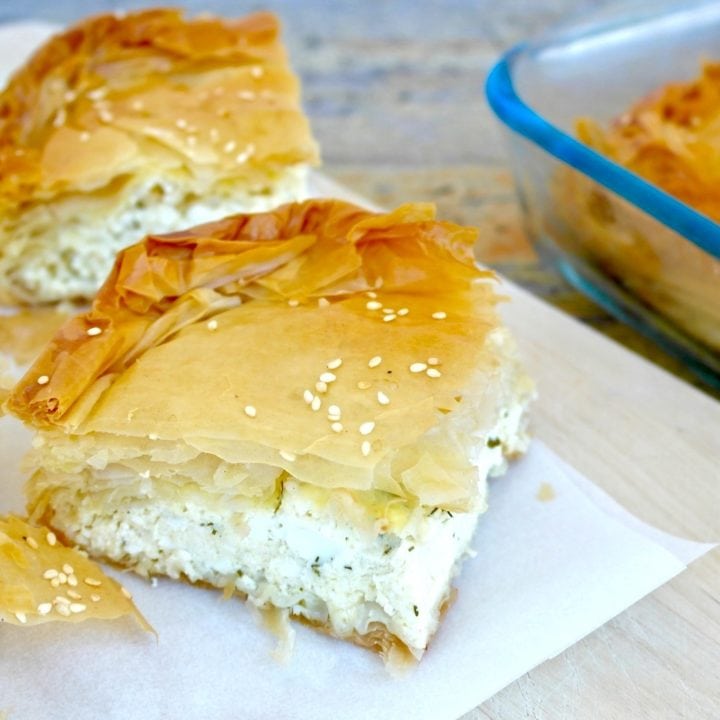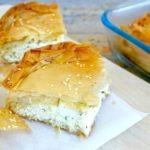 Print Recipe
Pin Recipe
Ingredients
17

ounces

500 grams feta

9

ounces

250 grams fresh anthotiro or ricotta

2

tablespoons

fresh chopped mint

or 1 tablespoon dry

2

tablespoons

fresh chopped dill

or 1 tablespoon dry

3

eggs

1

tablespoon

olive oil plus more for brushing

12

phyllo sheets defrosted

sesame seeds

optional
Instructions
Preheat oven at 350 F (180 C)

Grease (with olive oil) a 9X13 inch (25X35 cm)casserole dish or pan

In a large bowl smash the feta and anthotiro with a fork.

Add the mint, dill and pepper and mix.

In a small bowl beat the eggs and add them to the cheese mixture along with one tablespoon olive oil. Mix well.

Prepare your working area so that you have space to spread the phyllo.

Remove your first phyllo sheet carefully and spread it on the bottom of the pan. If it is too big you can scrunch it to fit. Brush with olive oil. I often use an olive oil spray bottle instead. Place the second phyllo on top of the first phyllo and brush with olive oil and continue until you have spread 6 sheets of phyllo.

Spread the cheese mixture over the phyllo making sure it is spread evenly.

Cover with 5-6 more phyllo sheets repeating the same process (brushing with olive oil). Make sure that you do not scrunch the final 2-3 phyllo sheets.

Brush the top layer with olive oil and score. Cut only through the phyllo (not all the way down).

Sprinkle with sesame seeds, splash a bit of water on top with your fingers and place in the oven.

Bake for about 40 minutes. Lift side slightly to make sure the bottom is baked. Place on the bottom of the oven for another 5 minutes.

Let it cool for 15 minutes and cut in pieces.

Keep in refrigerator. You may reheat it at about 280 degrees or you can eat it at room temperature.
DID YOU MAKE THIS RECIPE?
Leave a comment or share on instagram and mention @greekdiet
Save for Later and Pin It!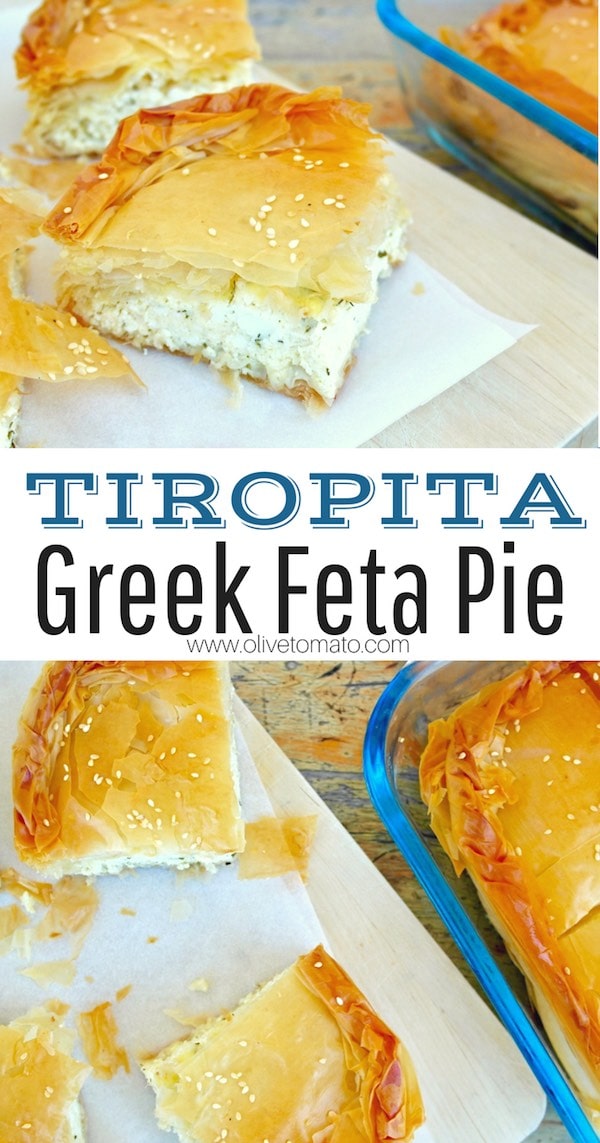 Photos by Elena Paravantes © All Rights Reserved