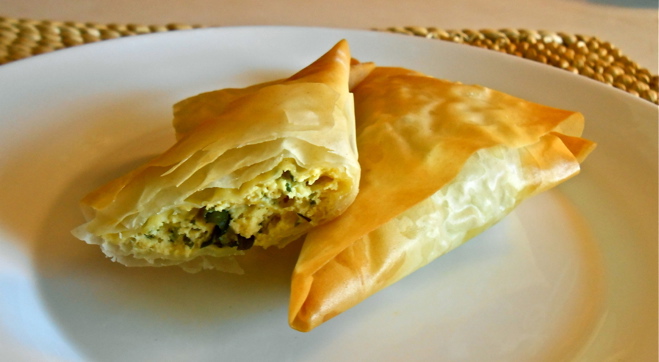 Generally when you follow a traditional Greek style diet it isn't too hard to keep your sodium intake down, particularly when you are eating all the lathera vegetable dishes: vegetables cooked with olive, tomato and plenty of herbs. In regards to hypertension (high blood pressure), several studies have shown that following a Mediterranean style diet is associated with lower blood pressure.
Having said that, some Greek cheeses are high in sodium, and there are some dishes that have feta and cheese in general, as the main ingredients, and one of them is the tyropita.
Tyropita literally translates into cheese-pie, it is one of the most popular pita in Greece (along with spanakopita) and you can find numerous versions of it. These little triangle cheese pies are often served at buffets,  I love them. I remember my mom making them for parties and we would grab them still hot right off the tray with my mom eventually hiding them because there wouldn't be any left to serve to our guests.
For the low sodium version, I use the Greek cheese anthotyro, a PDO soft whey cheese or ricotta if you cannot find anthotyro. The secret is
to use plenty of fresh mint, which is what really makes these tasty. Mint and white cheese are a perfect combination and found very often in the Greek cuisine.
This tyropitaki has 50% less sodium compared to the traditional regular cheese pie that is made mostly with feta, but the calories are about the same.
Low Sodium Tyropitakia-Greek Cheese Pies
INGREDIENTS
8 ounces (230 grams) ricotta or anthotyro
1 oz. feta (about 30 grams) grams feta
3 Tablespoons low fat cream cheese
2 Tablespoons Greek style yogurt
2 eggs
1 cup (or more) chopped fresh mint
Pepper
Olive oil
1 package phyllo (about 12-13 sheets- you may not use all of them)
DIRECTIONS
1. Preheat the oven at 350 degrees Fahrenheit (180 C).
2. Crumble the feta with a fork.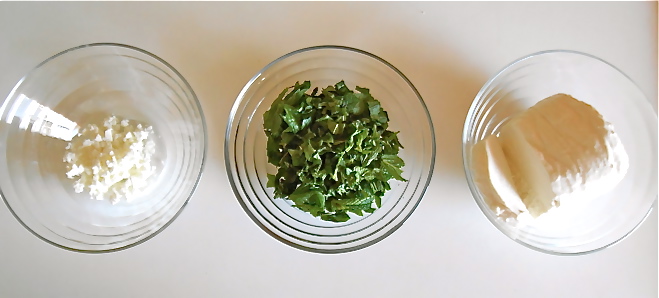 3. Whip the eggs in a separate small bowl.
4. In a large bowl mix the cheeses with the eggs, add pepper and then the mint, blend well.
5. You can use the mixture immediately but it is better to leave it to sit for a few hours or overnight.
6. When you are ready to make the tyropitakia take out the phyllo (it should be defrosted).
7. Spread out 1 sheet of phyllo; brush a small amount of olive oil. Cut the sheet in 4 strips lengthwise.
8. Place on the top corner of each strip about 1 1/2  teaspoon of the cheese mixture. Start folding in a small triangle (see photo). Continue until you use the whole mixture.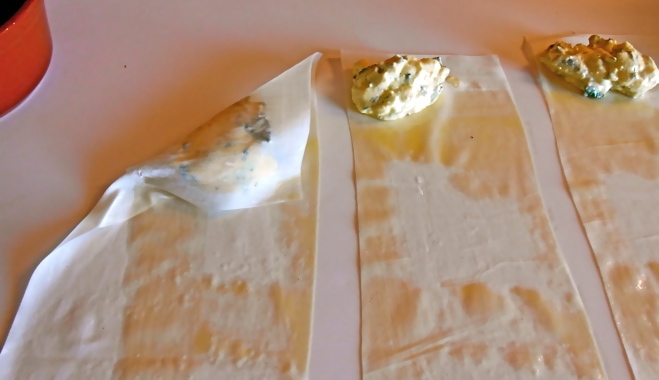 9. Place cheese pies on a lightly greased pan and brush them with a bit of olive oil.
10. Bake until golden, about 20 minutes.
*You can also make this as a big tyropita in a pan by laying 2/3 of the phyllo sheets on the bottom of the pan making sure that you brush olive oil on each sheet, than you layer on top the cheese mixture and cover with the rest of the phyllo sheets (again brushing a bit of olive oil on each sheet). Bake at 350 for about 35 minutes.
1 tyropitaki has 3 grams fat and 49 mgs sodium.