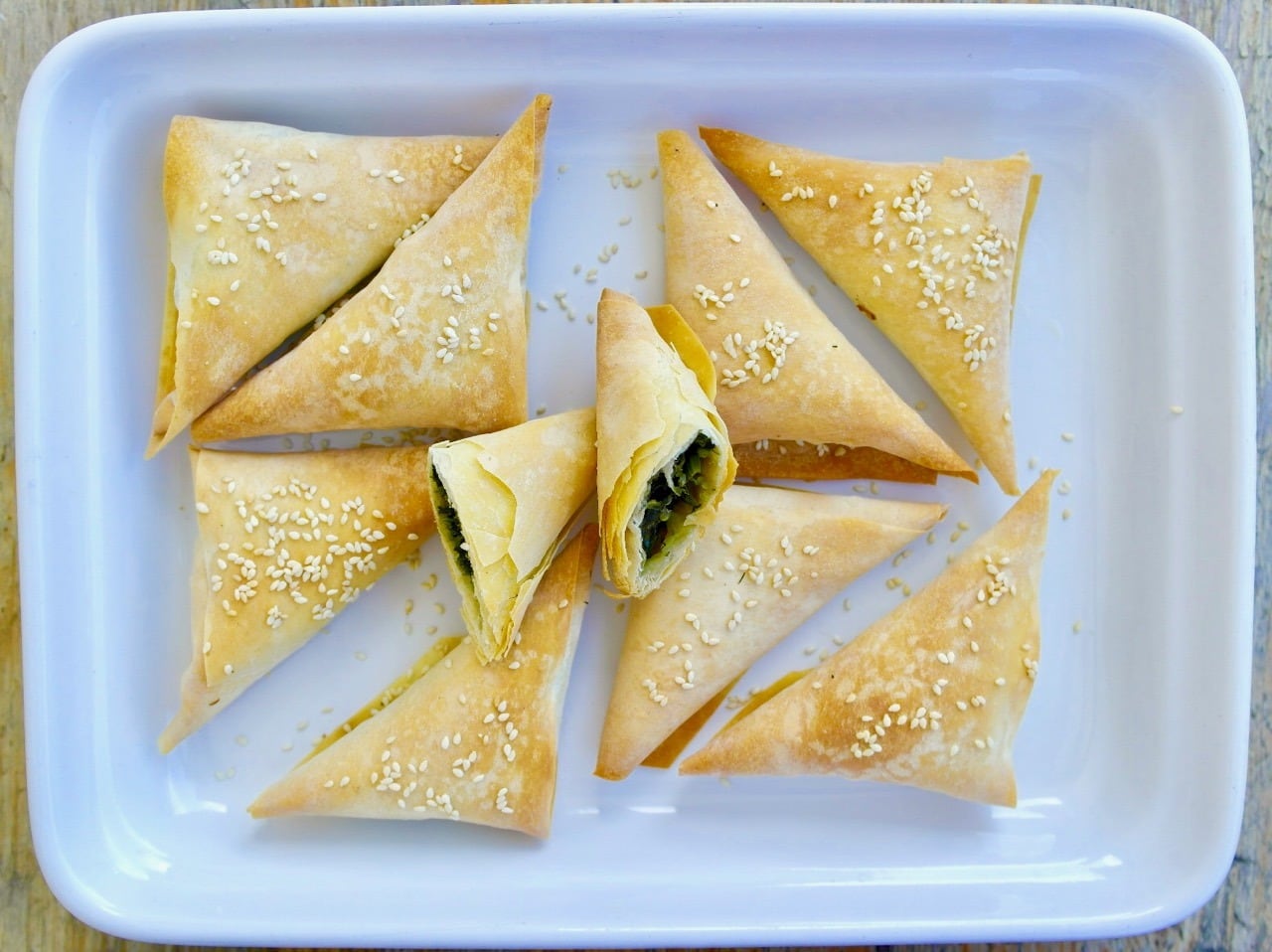 Cooking at home is one of the best steps you can take to get yourself to eat healthier "real" food.
The Mediterranean diet conjures images of long, time consuming, home cooked meals… and who has time for that? I don't, but did you know that there are plenty of Mediterranean recipes that are not only quick and easy to make, but they taste even better the next day?

As a nutritionist, a busy mom of two little boys, and a avid supporter of the Greek diet, cooking healthy Mediterranean style dishes is a priority for me, but my time is limited. How do I do it? Here are my survival hacks for quick Mediterranean cooking.
1. I always keep frozen vegetables, frozen herbs and canned tomatoes in my kitchen.
With these 3 ingredients you can make the super healthy Greek vegetable one-pot dishes known as lathera which means "made with olive oil". These dishes traditionally are made with a combination of seasonal vegetables, herbs, tomatoes and olive oil. They are delicious, healthy, full of antioxidants, low calorie and one serving which is a medium plate can provide you with 3 servings of vegetables. And the best part: active preparation time is only 10 minutes and they cook for 30-40 minutes. Using frozen is OK when you don't have access to fresh vegetables. Click here for healthy lathera recipes. These dishes last 2-3 days and we eat them with a piece of feta cheese and a slice of whole wheat bread.
2. I make salad as a meal a few times a week
Vegetables and salads are staple dishes in The Mediterranean diet. Traditionally Greeks consume them with their meals, but a quick meal in the evening can be a salad with bread and cheese. These salads are a great source of nutrients and you can add nuts, a bit of cheese or beans for protein. And don't forget to add the olive oil, not only does it provide satiety and flavor, but also it helps increase the absorption of nutrients from the vegetables. In the summer I prefer a traditional Greek salad and in the winter it is mostly hearty green salads. Get healthy salad recipes here.
3. I make Greek savory pies.
Pies in Greek are called pites on the weekend, freeze them and have a week's worth of lunches ready. They sound like a lot of work, but actually they are not. Greek savory pies, are the original traditional Greek fast food; they are easy to take with you and they can last several days. You probably are familiar with the spanakopita-spinach pie, but they can have other fillings such as leek, pepper, onion, mushroom and zucchini. They are very popular in Greece and they provide another way to eat vegetables packaged in tasty phyllo dough.
Basically you take some vegetables, sauté them, add some eggs and maybe some cheese, wrap them in phyllo dough and bake them. These are ideal for the busy cook because the active preparation time is less than 30 minutes, they last for days, and they freeze wonderfully.
I usually serve a large piece of spinach or leek or red pepper pita with a side salad, and they are ideal for kids, because the vegetables are hidden between the golden phyllo sheets. Nutritionally these pites are an excellent source of antioxidants due to the vegetables, olive oil and herbs and yes they are low carb, with only about 30% of calories coming from carbohydrates.  I use plenty of vegetables, olive oil and just a bit of cheese, and sometimes no cheese.
Photo by Elena Paravantes © All Rights Reserved