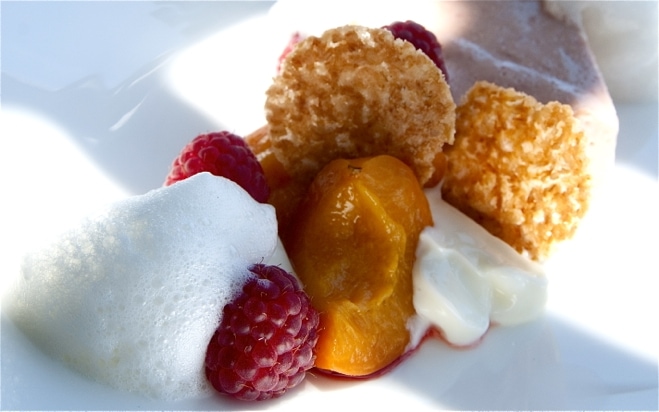 Now that we've established what Greek traditional yogurt is (from sheep's milk), we can talk about the famous strained yogurt, or otherwise known as "Greek" style yogurt. So yes this yogurt is creamier and has more protein than your average cow's milk yogurt, because it's strained. It's a great substitute for heavy cream, sour cream and generally can be filling, decadent and healthy all at the same time. So here are my 23 ways to add Greek style yogurt to your diet:
1. Combine the strained yogurt with beets, walnuts, garlic and olive oil to make a Greek style beet salad.
2. Replace some of the cream cheese in a no bake cheesecake with Greek style yogurt.
3. Use it in tacos, nachos and chili instead of sour cream.
4. Use it as dip with roasted meat. Greeks may serve pork, gyros or other spicy meats with a side of plain strained yogurt.
5. Make a chicken roasted in yogurt sauce. Add some herbs and spices to the yogurt and use it as a rub for roasted chicken.
6. Use Greek style yogurt with crumbled blue cheese for a healthier dip to accompany chicken wings.
7. Enjoy it in the place of milk with cereal or granola.
8. Replace some of the fat with yogurt in muffins and cakes.
9. Eat it with rice. Yogurt and rice was a favorite comfort food when I was a child, plus it's a great combination of carbs and proteins.
10. Eat it the traditional Greek way: with honey and walnuts or add some homemade jam or Greek spoon sweets or fresh fruit
11. Make a light and airy mousse combining whipped cream and Greek style yogurt with a bit of sugar.
12. Use it to make any kind of dip: add some mint, lemon and pepper for a dip for veggies, crackers or bread sticks. Don't forget tzatziki.
13. Make potato salad with yogurt and chives.
14. Use it with powdered sugar for a light frosting for cakes and cupcakes.
15. Use it as a marinade for meat.
16. Add chopped apple and cinnamon for an apple pie flavor yogurt or bake some apples in the oven with walnuts and raisins and top with some yogurt.
17. If you are making creamy vegetable soups, instead of adding a swirl of cream, add a swirl of Greek style yogurt.
18. Make fruit turnovers with phyllo with a  yogurt and cream cheese filling (see recipe).
19. Make a quick smoothie with Greek style yogurt, orange juice and banana.
20. Make frozen yogurt popsicles. Mix some Greek  yogurt, milk, and fruit in a blender. Pour into popsicle or ice cube trays, freeze for 2 hours .
21. Instead of using cream or egg in pasta, make a creamy pasta sauce by combining and warming strained yogurt with parmesan.
22. Out of feta? Serve Greek  vegetable casseroles with a dollop of strained yogurt.
23. Whip Greek style yogurt and serve it with caviar or add a bit of dill and serve it with smoked salmon.