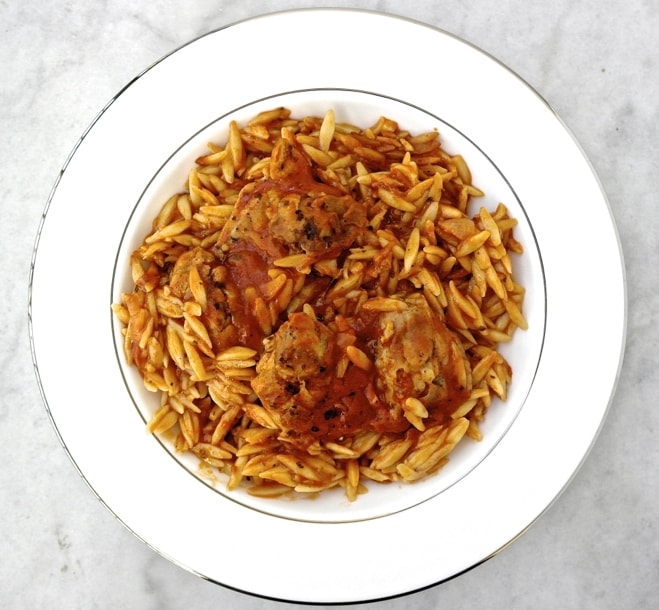 This is an easy version of the classic dish Giouvetsi. It is a dish of meat (usually lamb or veal) accompanied by some sort of pasta and cooked in the oven. It was often made on Sundays, to be eaten after church. Well you might wonder, who stayed at home watching the oven? Nobody. Years ago not everybody had an oven in their home and so they prepared the meal/recipe in a large pan and took it over to their local bakery (fourno) to be cooked. I remember as a child when I was staying at my grandmother's, my sister and I would pick up our meal from the fourno for lunch. Each customer had their last name written on their pan so that there were no mix ups and when 1 o'clock approached, our baker had our meal cooked to perfection and ready to be picked up.
Now this is a quick and easy version and not really a giouvetsi as I have basically cooked it in a pot and not in the oven, but the ingredients are same and because it is so easy, you can even make it on a weeknight. This is a comfort food, but when you really don't have time to spend cooking a big meal in the oven, this one pot, lighter version will do the trick.
Usually you use whole chicken pieces with skin and all, but I like using boneless, skinless thighs. You don't have the skin but you do have a bit of fat compared to boneless, chicken breast (which I am not very fond of).
Olive oil is used, complemented with tomato and a few spices. This is a simple recipe and can be infused with as much (or as little) flavor as you want, depending on the amount of herbs and spices used.
One Pot Greek Chicken with Kritharaki (Orzo) and Tomato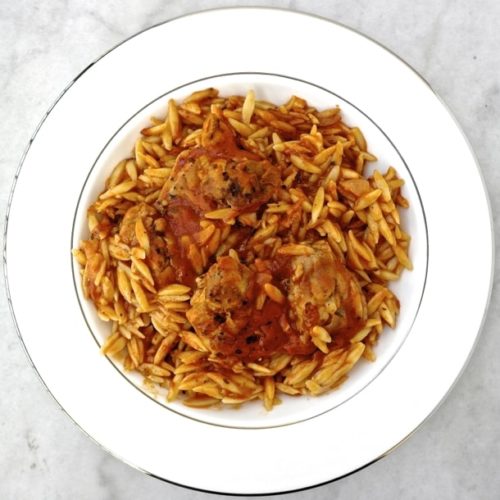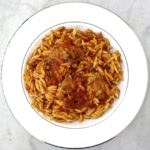 A Sunday Lunch Greek favorite: Chicken and Orzo cooked in tomato. An easier version you can make even on weeknights.
Print Recipe
Pin Recipe
Ingredients
1 to 1 1/2

pound

boneless skinless chicken thighs

2/3

cup

dry uncooked kritharaki (orzo)

2-3

tablespoons

olive oil

1 to 1-1/2

cup

tomato + 1/2 cup water

1

cinnamon stick

1

teaspoon

paprika

salt/pepper to taste

2

garlic cloves
Instructions
Rinse the chicken with some wine or water and dry with a paper towel. In a deep pan (3 inches deep) or pot, brown the chicken in the olive oil, at medium heat for about 2-3 minutes on each side.

If you are also adding onion, remove at this point the chicken from the pot and place it on a plate covered. Saute the onion until soft.

Put the chicken back in the pan, add about 1- 1/2 cup tomato sauce mixed with 1/2 cup water (the chicken should be covered-almost). Add 2 garlic cloves cut in half, a teaspoon of paprika, the cinnamon stick and salt and pepper to taste. You can use less tomato, but I like my chicken quite red.

Let the chicken cook in the tomato sauce for about 20 minutes, so that the chicken is done.

Remove chicken from sauce and cover to keep warm and add the orzo to the pot.

Cook/simmer for about 15 minutes until orzo is cooked and almost all the sauce is absorbed. Note, Greeks do not eat their pasta al dente but well cooked, but not overcooked and mush either, so check on it often. When it is done it should have smooth feeling in the mouth but withut bite. Add back the chicken and simmer for another 1-2 minutes warming through.

Remove the cinnamon stick and garlic and serve.

Serve with grated cheese. Traditionally grated hard mitzithra is used on this dish, but you can use any hard cheese. (I'll be sharing a vegetarian orzo dish with feta soon).
Notes
For more flavor you can also add whole cloves and allspice.
DID YOU MAKE THIS RECIPE?
Leave a comment or share on instagram and mention @greekdiet
Photo  by Elena Paravantes © All Rights Reserved