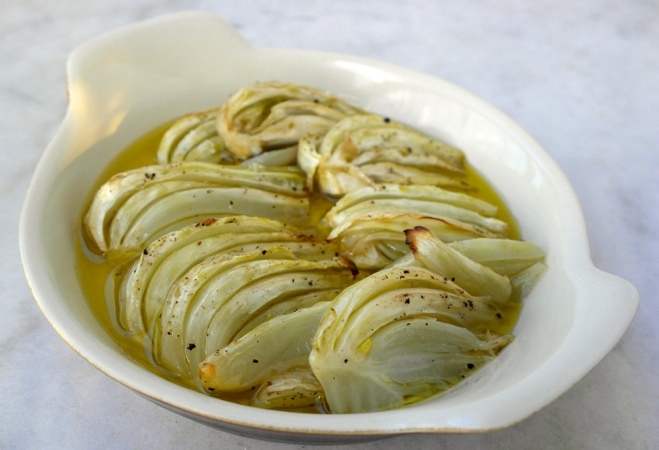 The fennel bulb is generally not very common in Greek cooking whereas the fennel leaves are part of a very popular Cretan dish fennel pies – marathopites. The greens are also used in fritters, cooked with beans and seafood. I have never used the fennel bulb apart from adding it raw to a salad, so roasting it seemed simple enough. I added the ouzo to bring out even more the anise flavor that can be lost during roasting. Along with olive oil and some nice thick salt, this was delicious. We also dipped some cretan barley rusks in the olive oil and it was a nice, light evening meal.
Fennel is very low in calories and a good source of vitamin C, potassium, and the carotenoids and antioxidants: beta-carotene and lutein. Another simple vegetable dish to have as a side or a small meal.
Roasted Fennel in Ouzo and Olive Oil
INGREDIENTS
1 fennel bulb
¼ cup olive oil
1 shot ouzo
Salt/pepper to taste
DIRECTIONS
1. Preheat oven at 400 degrees Fahrenheit (200 Celsius)
2. Peel the outer layer of the fennel bulb and cut off the greens, cut in half- inch slices.
3. Place the fennel in oven proof dish, add the olive oil and the ouzo and mix gently.
4. Roast for about 45 minutes until soft.
5. Add pepper and sprinkle salt to taste.
Photo by Elena Paravantes