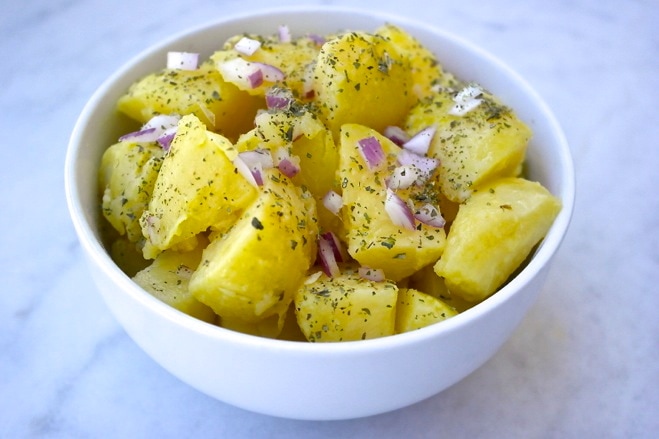 Simplicity really is key in most Greek dishes. The original Greek potato salad is simple and full of healthy ingredients. For me it is the ultimate potato salad because none of the other ingredients overwhelm the potato, instead they enhance it. While most potato salads contain mayonnaise or bacon or other heavy ingredients, this one does not. Basically it contains olive oil, lemon, oregano and onion. These 4 ingredients are all sources of antioxidants.
Olive oil obviously is healthy due to its good fats and polyphenols, oregano is considered a super-herb; researchers from the U.S. Department of Agriculture compared the antioxidant activity of 39 commonly used herbs and observed that oregano had 3 to 20 times higher antioxidant activity than the other herbs studied. Lemon, one of the most popular condiments in Greece, is an excellent source of vitamin C which is also a potent antioxidant. And the onions which really give the potatoes a kick, contain several antioxidants, one of them being quercetin which is well absorbed from the onions and can protect from several chronic diseases.
This is also a good potato salad for picnics because it does not contain dairy or eggs making it picnic-friendly in terms of food safety as it does need to be immediately refrigerated.
Greek Potato Salad
INGREDIENTS
2 pounds potatoes (1 kg)
1/3-1/2 cup olive oil
1/2 small onion-chopped
Oregano
2 tablespoons lemon juice
DIRECTIONS
1. Wash potatoes and boil for about 45 minutes, until pierced easily with a fork.
2. Once potatoes are boiled run through cold water and peel.
3. Cut potatoes in your preferred shape and place in a bowl.
4. Mix the olive oil with the lemon juice and add to the potatoes (make sure the potatoes are warm so that they will abosrb the olive oil well, this makes a good salad) and mix gently.
5. Add the onion and oregano (rubbing it between your fingers to release the aroma) and blend.
6. Add salt to taste.
This can be enjoyed warm or at room temperature.
Photo by Elena Paravantes