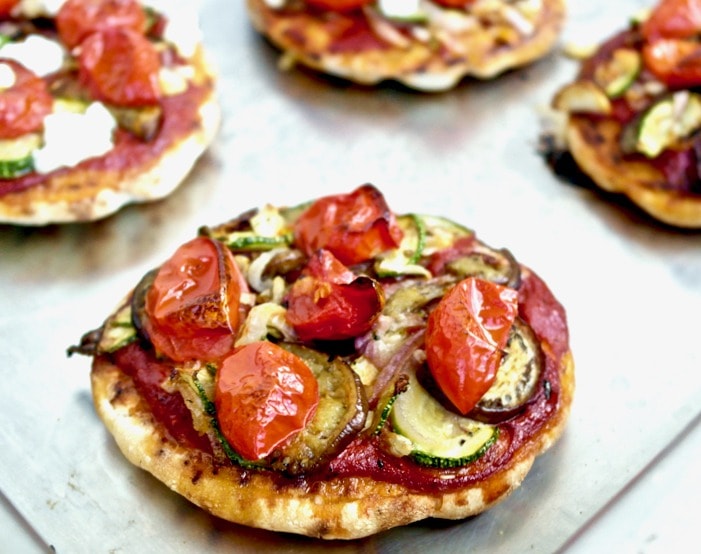 The reason I named this "Greek" is because I used a very popular Greek vegetable recipe for the topping of this roasted veggie pita pizza. Namely, briami or tourlou. For those of you who do not know what briami is, it is a mostly summer vegetable dish that includes eggplant, zucchini, potatoes, peppers and onions. It is roasted in olive oil along with oregano and garlic. A bit like ratatouille, but richer. It is delicious and one of my favorite dishes. We have it as a main course along with bread and some feta.
For this recipe, there are 2 steps: first you roast zucchini, eggplant, cherry tomatoes and onion (you can add peppers too). Than you top the mini pita bread with a quick tomato sauce made with plain tomato paste (no sugar or salt added) and the veggie mixture and then you can add a bit of feta – or not – so they are basically vegan.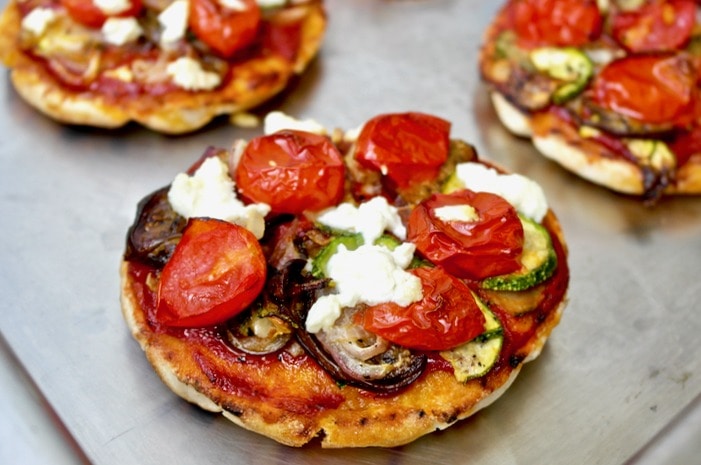 The result was amazing! The roasted eggplant and onions add a sweetness to the topping. I gave a few small pieces to my kids, not sure if they would like it. While they eat plenty of vegetables, eggplant is not one of their favorite, but this they loved. So much so, that they were fighting over the last pieces and I had to make a whole other batch of these. I added feta to some of them, but really you don't really miss the cheese, so these are perfect if you are vegan or just want to avoid animal products for a while.
I am very fond of pita bread, I find it very versatile and useful. It is especially handy when you don't want to make dough or use one of those that are full of questionable fats. I used mini pita bread and I would recommend whole wheat if you can find it.
These are great as appetizers, you can cut them in little wedges or as a main course. And they can be enjoyed at room temperature, since the original briami also tastes better at that temperature as well.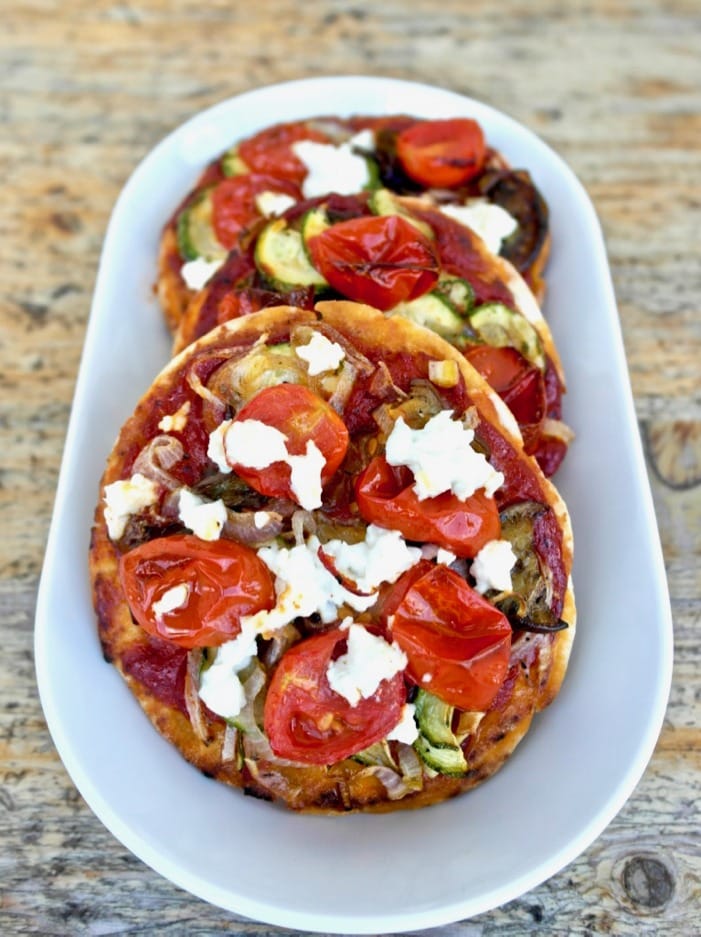 Greek Roasted Veggie Pita Pizza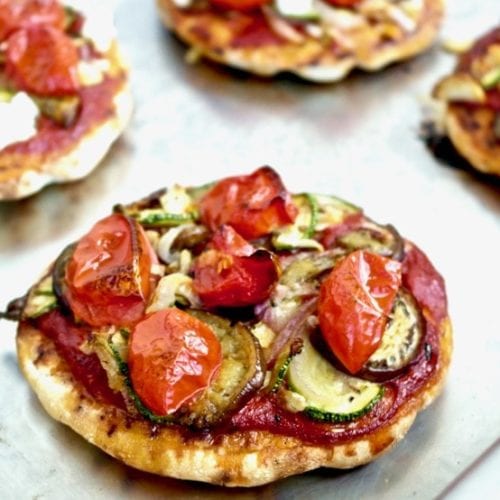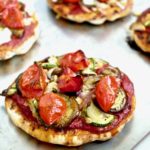 Servings:
6
mini pita pizzas
Print Recipe
Pin Recipe
Instructions
Preheat the oven at 400 degrees Fahrenheit (200 Celsius)

Slice the zucchini, eggplant, onion and garlic and place in a bowl. Salt lightly.

Add the 2-3 tablespoons of olive oil and oregano and mix with your hands.

In another small bowl place the tomato halves with 1 teaspoon olive oil and mix gently so that the tomatoes are coated.

Spread the zucchini mixture in a pan leaving some space for the tomatoes and place those separately on the pan.

Roast for about 20 minutes until soft.

In the meantime make the tomato sauce. In bowl mix tomato paste with 3-4 tablespoons of water, 1 teaspoon of olive oil and a bit of oregano, you should have a thickish consistency to spread on the pita.

Place the pitas on a pan and spread tomato sauce on each pita, than add the zucchini mixture and then place on top the tomatoes. Drizzle each pita with ¼ teaspoon of olive oil.

At this point you can add some crumbled feta.

Put in the oven and bake for about 15 minutes.

Serve as is or cut in wedges.
Nutrition Facts
Greek Roasted Veggie Pita Pizza
Amount per Serving
% Daily Value*
* Percent Daily Values are based on a 2000 calorie diet.
DID YOU MAKE THIS RECIPE?
Leave a comment or share on instagram and mention @greekdiet
Photos by Elena Paravantes © All Rights Reserved