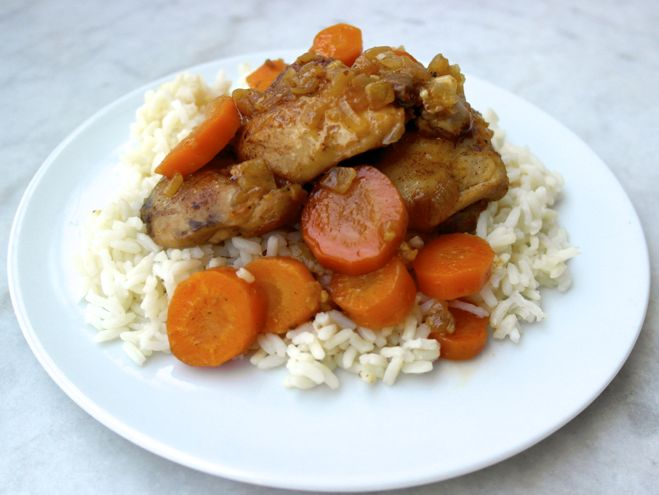 Following a Mediterranean diet does not necessarily mean that you should only eat specific recipes coming from Greece, Italy or Spain. It involves eating a variety of foods and ingredients that characterize the Mediterranean diet.
So occasionally I like to mix traditional recipes with other recipes That are not necessarily Greek, but yet are made with ingredients that are part of the Greek diet.
This particular recipe I started making about 8 years ago, I had bought some boneless, skinless chicken thighs and didn't know what to do with them so I tried this recipe. Chicken cooked in olive oil with lemon and honey, along with garlic, onion and carrots- easy ingredients found in any Greek kitchen. The combination of honey and lemon is used often in Jewish cooking and provides a sweet and sour combination and I've often seen versions of this dish recommended for Rosh Hashanah.
What differentiates this dish from your typical Greek cooking is the addition of cinnamon and paprika. Although a cinnamon stick is added to many Greek tomato sauce-meat type recipes you will not see much powdered cinnamon or paprika in cooked Greek dishes. Yes my mom and dad probably would think the flavor is not Greek but I assure you this dish is full of antioxidant rich ingredients you often find in the Mediterranean diet.
This recipe actually does not have much fat, there is a bit of olive oil, and some fat from the chicken. I used boneless, skinless chicken thighs, I'm not a big fan of plain chicken breast. You also have the addition of the onions and carrots to provide a serving of vegetables for each person. This is more of a weekend meal or when we have guests, but you can make it part of a weekday meal, just make sure the chicken is served as a side dish rather than a main course and get as many vegetables as you can on your plate.
Sweet Lemon Honey Chicken and Carrots
(adapted from Gourmet magazine)
INGREDIENTS
2 pounds boneless –skinless chicken thighs (1 kg)
1 onion chopped
2-3 garlic cloves minced
1 pound carrots chopped in rounds (½ kg)
2 teaspoons salt
3/4 teaspoon cinnamon
1 teaspoon paprika
1/2 teaspoon black pepper
2 tablespoons olive oil
1/2 cup warm water
1/4 cup lemon juice
2 tablespoons honey
DIRECTIONS
1. Mix together 1 1/2 teaspoons salt with paprika, cinnamon, and pepper.
2. Wash chicken thighs with some wine or water. Pat dry and rub cinnamon mixture on chicken.
3. In a large heavy pan heat olive oil on medium high heat. Brown the chicken on both sides for about 5 minutes.
4. Remove chicken and keep covered. Add the onion and carrot an sauté until onion is soft. Add the garlic and sauté for about 30 seconds to a minute.
5. In the ½ cup of warm water add the honey and lemon juice and stir until honey is dissolved.
6. Put back the chicken in the pan spreading among carrots and add the honey lemon mixture.
7. Simmer on medium to low heat covered until carrots are cooked for about 25 to 30 minutes.
Serve warm
Makes 4-6 servings as a main course, about 10-12 servings as side
Photo by Elena Paravantes