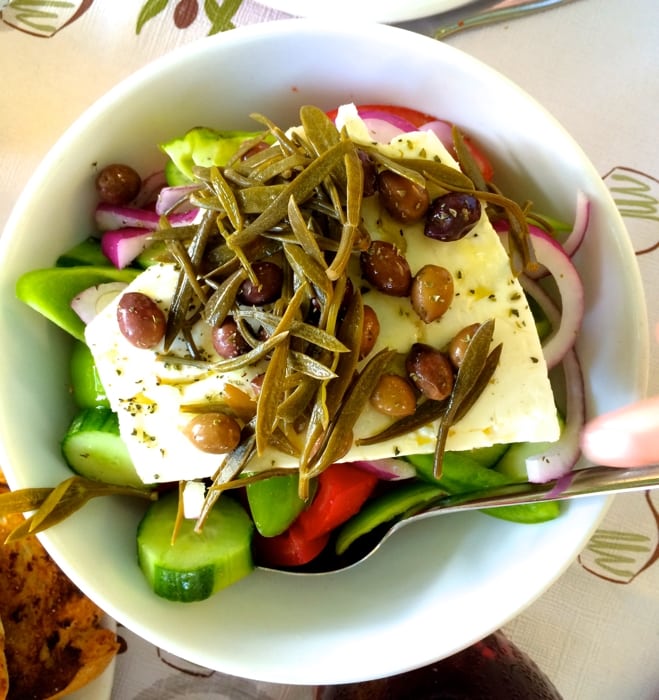 The traditional Greek diet served as the prototype of the Mediterranean Food Pyramid (along with Southern Italy) as it is known today. Olive oil is the main ingredient, present in almost every single dish. Greeks consume large amounts of olive oil and have the highest consumption per person in the world. The traditional Greek diet was mostly vegetarian, it was most likely due to the fact that the average Greek couldn't afford to eat meat very often. One other factor was religion; there are over 180 days of fasting a year for Greek Orthodox Christians.
Here I share what the Greeks ate traditionally, however while many Greeks still eat like this (I am one of them), many do not (see last paragraph).
Vegetables
The majority of traditional meals are vegetable stews/casseroles that are called lathera (or ladera), which translates to "with oil" from the Greek word for oil lathi (ladi). Vegetables such as green beans, eggplant, okra, and peas are prepared with tomato, onion, garlic, and various herbs and spices, consumed as a main dish together with feta cheese and bread. Salads are always seasonal. In the summer a simple tomato-cucumber salad that may also include onions and green peppers and in the winter cabbage with carrot or seasonal horta, wild greens, boiled and consumed with olive oil, lemon, feta cheese, and bread.
Legumes
Legumes are also a popular dish traditionally consumed at least twice a week. Beans such as lentils or broad beans are prepared with tomato, onion, and olive oil, and also accompanied with cheese and bread.
Fats
Olive oil is a main ingredient in the Greek kitchen. It is used in cooked dishes from casseroles to meat to salads as well as desserts. Butter traditionally was used by the more affluent.
Savory Pies.
Pites, vegetable pies are also popular, especially in northern Greece, because they lasted a long time without refrigeration and provided a way to use any leftover vegetables or other ingredients. The most popular are spinach pies, cheese pies, and leek pies, which are very popular snacks for the modern Greek.
Bread
Bread and cheese are present at every single meal. An alternative to bread is the paximadi, which originally was old bread rebaked.
Meat
Μeat was not consumed very often, usually only during celebrations. Popular choices include lamb, goat, chicken, pork, and veal in northern Greece. The meat is usually prepared roasted in the oven with lemon, garlic, and oregano, or as a stew in tomato sauce. Meat is almost always accompanied by roasted potatoes.
Fish
For mainland Greece, fish was mainly consumed in a cured or salted form, whereas on the islands there were more fresh fish available.
Dairy
Dairy was mainly consumed in the form of yogurt or cheese. Greeks are among the highest consumers of cheese, thanks to feta cheese, which accompanies almost every dish.
Sweets
Traditional sweets include Greek spoon sweets (a type of fruit preserve), olive oil based cakes and cookies, as well as sweets with syrup and honey. Fruits were also consumed as a snack or after a meal.
Herbs and Spices
It is important to note that the herbs and spices play a very important role in the traditional foods and dishes of Greece, the most commonly used are garlic, lemon, onion, oregano, parsley, laurel, mint, dill, cinnamon, cumin, and allspice.
What are Greeks eating today?
The current Greek diet has drastically changed in the past 30 years. Reports are noting that Greeks are consuming more calories and saturated fat. The overall prevalence of obesity is 22.5%, while that of overweight is 35.2%. This may be due to several factors: increased income, rise in the number of supermarkets, working women having less time to cook, eating out more often in fast-food restaurants, less exercise. Urbanization and economic growth led Greeks away from the traditional Mediterranean diet adapting a more westernized style of eating. Today highly processed food and fast food has unfortunately become a very important element in the Greek diet. The good news is that even with these new dietary habits, Greeks are once agin embracing their traditional diet and cuisine and there is a strong movement of promoting these traditional eating habits.