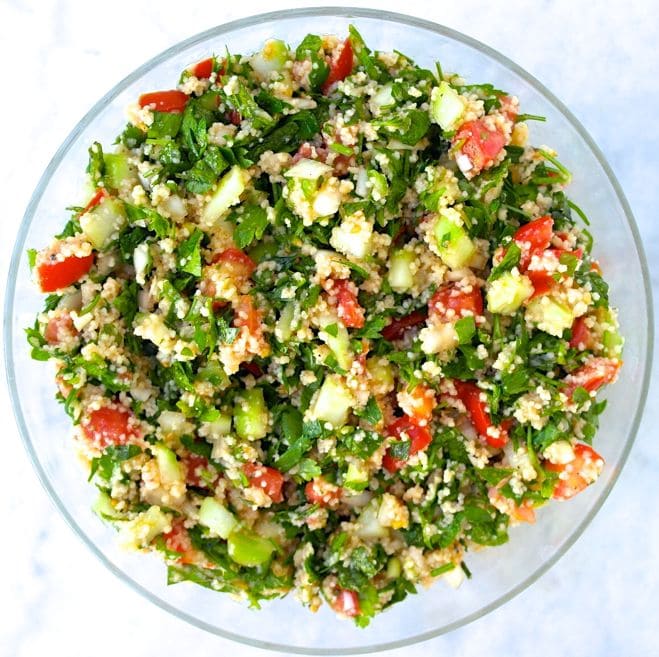 Tabbouleh is such a great salad. It combines all the classic ingredients of the Mediterranean: tomatoes, cucumbers. herbs (parsley, mint), olive oil and lemon. While it is not a Greek dish, it definitely combines ingredients common in the Greek cuisine and I love it!
So there are many different versions of Tabbouleh, I tend to like the one with more parsley and less bulgur. The original recipe uses bulgur (in Greek we call it pligouri) a cereal made from the kernels of wheat, which maintains much of its bran and therefore is a good source of fiber, but sometimes couscous is used instead, although I much more prefer it with bulgur- healthier and tastier.
Nutritional Value of Tabbouleh
The nutritional value of this dish needs no explaining, but I'll go ahead just in case. First of all this salad (as most salads) is a great source of fiber, which means it keeps you full for a long time. This salad is full of antioxidants from the tomato, onion, olive oil, parsley and lemon. Also as this salad has some starch in it, it can make up a whole meal that is satisfying and filling. This salad is a bit deceptive, you may think it is light, but actually it is very filling and hearty. I actually ate only this salad for lunch and dinner the other day and I was very full.
Also this salad tastes much better when it sits overnight, not only do all the flavors meld together, but it softens the herbs and the onion.
I followed a recipe given to me by my former colleague and the friend at the American College of Greece, Deree, Sophie Themelis, a personal trainer, pilates and yoga instructor with a Greek, Jordanian and Palestinian background. Thank you Sophie!
Classic Tabbouleh-A Favorite Mediterranean Salad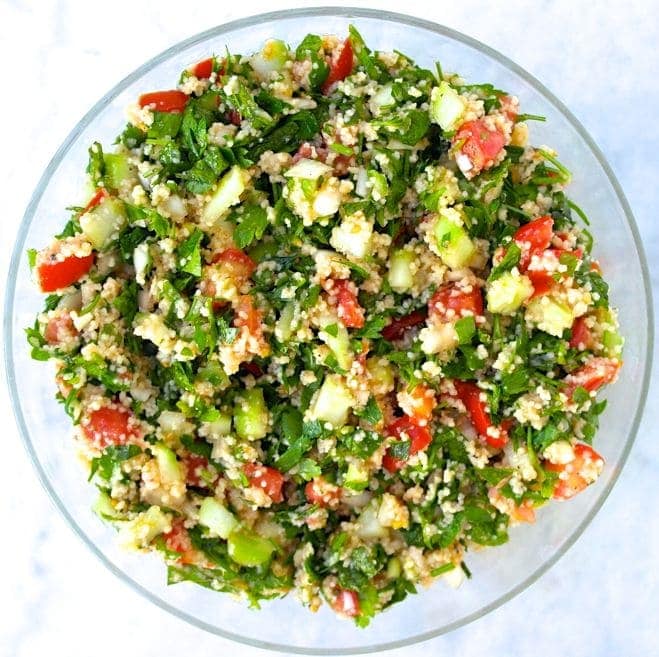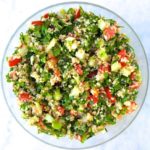 Tabbouleh, a wonderful salad that includes all the great ingredients of the Mediterranean: tomatoes, cucumbers. herbs (parsley, mint), olive oil and lemon.
Print Recipe
Pin Recipe
Ingredients
½

cup

bulgur/burgul/pligouri

¼

teaspoon

salt

1

cup

boiling-hot water

2

cups

finely chopped fresh parsley

½

cup

finely chopped fresh mint

2

spring onions or 1 dry onion

1

big cucumber

2

medium tomatoes

½

teaspoon

dry mint

½

teaspoon

salt

¼

teaspoon

ground pepper

any color

3

tablespoons

fresh lemon juice

3

tablespoons

olive oil
Instructions
Add bulgur and salt in boiling water & let stand for 15 minutes (do not boil). Drain excess water.

Chop the tomatoes, cucumbers, parsley, mint, onion and mix well in a large bowl.

Add the bulgur and mix well. Add the dry mint, salt, pepper, olive oil and lemon and mix well. Sophie recommends to mix with your hands, and I agree, as it is a common way of really making sure all the ingredients are thoroughly mixed together.

Cover the bowl and let it sit for at least 2-3 hours, although overnight is better.

Serve as a side dish or as main course.
DID YOU MAKE THIS RECIPE?
Leave a comment or share on instagram and mention @greekdiet
Photo by Elena Paravantes