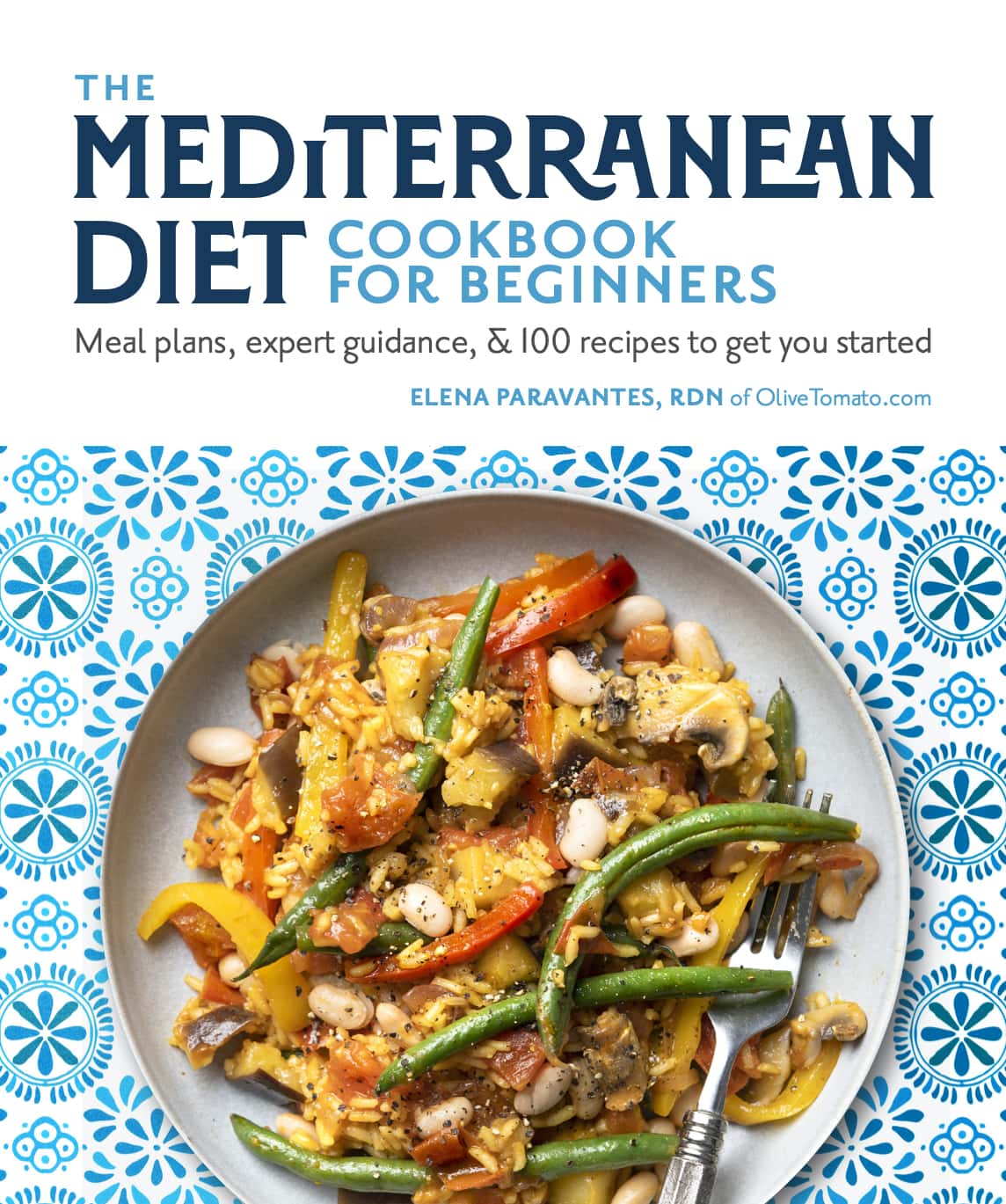 If you order a copy of my book The Mediterranean Diet Cookbook for Beginners, you will receive the eBook with 10 All NEW-NEVER PUBLISHED 30-minute Mediterranean recipes free! The eBook includes 10 all-new recipes that are ready in 30 minutes, a nutrition analysis for each recipe, tips on how to save time in the kitchen and a shopping list!
In this book I include 10 easy to make recipes, that do not require any special equipment or skills. I have not sacrificed flavor or nutrition for these recipes. And the best part is that they use for the most part fresh, real food not processed, ready to eat ingredients.
*For those who have already purchased the book, THANK YOU! It goes without saying that you receive the free eBook .
Who Should Get this Cookbook
Well, first of all YOU! Are you looking for a book that will help you cook and eat better? Help you enjoy food rather than be afraid of it? Or just looking for Mediterranean recipes that are truly authentic? This book is for you! But it also makes a great gift for anyone who loves delicious food and wants to live the Mediterranean lifestyle. (Bonus if want guidance on how to live like a Mediterranean, longer, and better. The book includes a lifestyle guide, a 2 week menu plan, shopping tips, an olive oil guide and more!). And it's not just for beginners, you will find 100 Mediterranean recipes based on the authentic Mediterranean diet.
Find the details below!
Please see below on how you can claim your gift.
How to Claim Your Free Gift eBook and Get on The Facebook Group
1. Get the book, from wherever you like to buy books or from this Amazon link: The Mediterranean Diet Cookbook for Beginners: Meal Plans, Expert Guidance, and 100 Recipes to Get You Started
2. Send a photo or screenshot of your receipt to [email protected] If you already have the book, send a picture of the book in your kitchen and we'll send you the eBook!
3. Within 48 hours, I'll send you a link to the free eBook and a link to the facebook group. If you don't see our email, check your spam filter, as that's probably where it is.
Leave a review
If you are enjoying the book, I would greatly appreciate if you could please leave a review on Amazon. Every review matters and I read every single one! We're almost at 1000!
Here's where to buy the book:
U.S.
Amazon | Barnes & Noble | Indiebound | Books-a-Million | Walmart |
U.K
Amazon.co.uk
Europe:
Amazon.de
Australia:
Amazon.com.au
A Few Interesting Facts About the Mediterranean Diet Cookbook for Beginners
THIS IS NOT YOUR TYPICAL MEDITERRANEAN DIET BOOK
Unlike most of the other books out there, this book is based on my real-life experience of being raised on the Mediterranean Diet. I have lived with individuals whose diet and lifestyle have been the prototype of this diet. I have witnessed first hand all the practices and recorded them. Most of the recipes are true, authentic Mediterranean recipes many passed down by my family, not westernized versions.
NOT JUST FOR BEGINNERS
This book contains authentic recipes that are based on the simplicity of the true Mediterranean Diet.
RECIPES THAT WORK
Every recipe has been tested several times by myself and independent recipe testers. That means they work and taste fantastic.
EASY, HEARTY & COMFORTING RECIPES WITH CONCISE INSTRUCTIONS
The biggest section of the book includes plant-based main course dishes that have been passed down by my family in Greece as well as other Mediterranean countries.
NOT JUST A COOKBOOK- SO MANY EXTRAS
I wanted this book to not only be a cookbook but an all-encompassing guide. I wanted to make it as useful as possible, so I went above and beyond to include all the extra information you'll need including a comprehensive food list, lists of food to avoid, shopping guide, FAQ with all your most frequent questions, an olive oil guide, a Mediterranean lifestyle guide, cooking shortcuts and tips, how to make your own menu plan and of course a 14-day menu plan. I provide all the information that you won't find in other Mediterranean cookbooks!
FRIENDLY TO ALL DIETS
The recipes are Mediterranean but are very easy to adapt for those who have food allergies or who are gluten free, vegan, etc. In addition, there are over 65 gluten free recipes, over 85 vegetarian recipes and over 85 egg free recipes.
THE BEST MEDITERRANEAN GUIDE AND COOKBOOK EVER. This book gathers all my firsthand experience, research and knowledge on the authentic Mediterranean diet and the recipes are authentic recipes that you can make at home.
Happy shopping & cooking!
WHAT YOU ARE SAYING
"This is the Mediterranean diet cookbook I've been searching for!
I've tried so many Mediterranean Diet Cookbooks, ordering and returning because they weren't what I wanted! Until I finally found this one! It's everything I was looking for, including: easy to follow introduction with an explanation of the Mediterranean diet; frequently asked questions; what to eat and how often to eat it; shopping tips; cooking techniques and shortcuts; creating meals and menus, plus a two-week getting started menu plan. There are beautiful full color photos, easy to follow recipes, and an easy to follow table of contents that breaks recipes down into categories. I love this cookbook and can't wait to get started!"
"The Best I've Found
This book is an excellent start, and FOR THE FIRST TIME, did away with my frustration with trying to get up to speed with this way of eating with different books and Net searches.
Eating Mediterranean? Must have cookbook!!
I love this cookbook! It is very easy to follow, has more information than normal. Has all of the most important recipes you would want if you are just starting out with Mediterranean eating. Nothing that would be very unattainable in the recipes. Many explanations that I did not know before! Yes, it's a change, but changing our diets means change! 🙂
LOVE IT!
Look no further…this book is the best we've seen…
We purchased 3 books within a week all regarding the Mediterranean diet and cookbook. We are highly impressed with the informative and educational nature of this book and Elena's writing and her background. Not to mention packed full of delicious recipes. If you only buy one book regarding the Mediterranean diet…this is it!
Great recipes
Easy to understand recipes. The food is DELICIOUS. I am never hungry between meals. Plus the ingredients are inexpensive.
I've lost 18lbs without even trying. Highly recommend this book and the author's website.