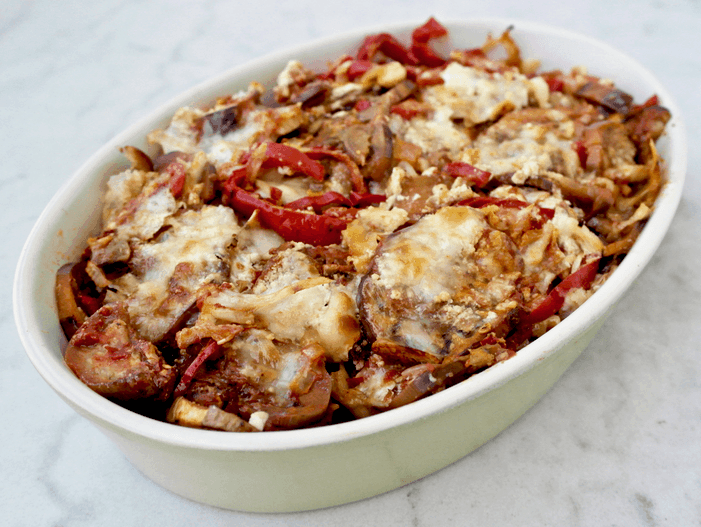 Eggplants are the quintessential summer vegetable and Greek cuisine has a large variety of recipes using them. We eat them roasted, stewed, fried and even as a sweet and in this case as an eggplant casserole combined with peppers and cheese. There is even a eggplant festival here in Greece, in the Peloponnesian town of Leonidio which is the eggplant capital of Greece.
Favorites include roasted eggplant with plenty of olive oil, topped with tomato and feta and of course the eggplant dip melitzanosalata. This particular recipe makes use of eggplants along with peppers and onion with the addition of cheese for complete meal. It is easy and require no frying or much prep work.
I used Greek red florina peppers but nay type of sweet red pepper will do. For the cheese I used kefalograviera, which is the cheese usually used for saganaki, it is a hard Greek cheese made from sheep's milk, ideally this would be the best to use. However if you cannot find it, Asiago would be an acceptable substitute. I also used some finely grated aged mitzithra, if you do not have it you can use Romano grated cheese.
I liked this recipe with the cheese, but you could also roast it without the cheese for a vegan version.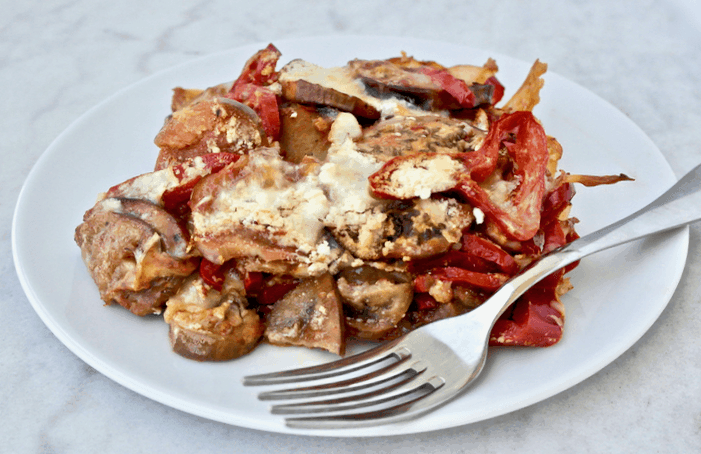 A word about nightshade vegetables
Eggplant along with tomatoes, peppers and potatoes belong to a group of vegetables called nightshade vegetables that belong to the Solanaceae family. Lately on the internet (and elsewhere) it has been said that they may be related to inflammation. However, there is no scientific evidence for this, so I would suggest that you continue eating eggplant, tomatoes etc., they are afterall rich in antioxidants and fiber, and an important part of the Mediterranean diet, which is considered by the scientific community, one of the healthiest diets that exist.
Want More Mediterranean Diet Recipes?
An Authentic Mediterranean Diet Living Plan?
My book is here!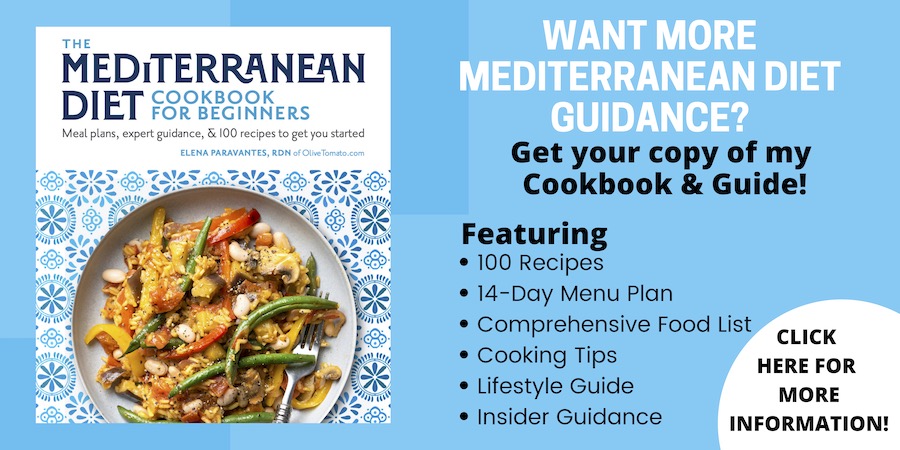 Greek Cheesy Eggplant and Red Pepper Casserole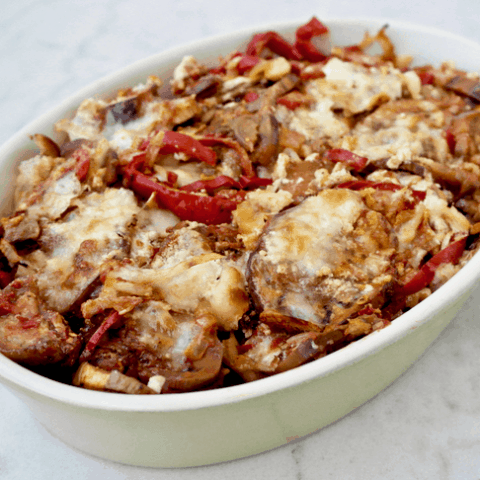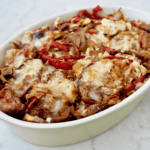 Print Recipe
Pin Recipe
Ingredients
1

pound

eggplant sliced thinly

thin long eggplant preferably

1

pound

red peppers sliced

1

small onion sliced

1-2

minced garlic cloves

2-3

tablespoons

olive oil

2

tablespoons

tomato paste

1

teaspoon

salt

3

ounces

finely grated aged mitzithra

if not available use Romano cheese

5

ounces

grated kafalograviera

if not available use Asiago
Instructions
Preheat oven at 400 degrees Fahrenheit (200 C).

Wash the eggplant and slice about ¼ inch thick, place in colander and salt them, set aside.

Slice the peppers in thin rings, set aside.

Slice onion in thin rings and add to the peppers.

Rinse and dry the eggplant and place the eggplant, peppers, onions, garlic and olive oil in large bowl and toss.

In a small bowl mix the tomato paste with 3 tablespoons of water and mix. Add this to the vegetables and mix well until all vegetables are coated with tomato paste and olive oil.

In a casserole dish place half of the vegetables in one layer, sprinkle with half of the mitzithra and half of the kefalograviera. Repeat for a second layer.

Cover the casserole dish with aluminum foil and bake for about 40 minutes.

Remove the aluminum foil and bake for another 5 minutes until the cheese bubbles.

This is enjoyed warm or cold and goes well with Greek yogurt.
DID YOU MAKE THIS RECIPE?
Leave a comment or share on instagram and mention @greekdiet
Photos by Elena Paravantes © All Rights Reserved