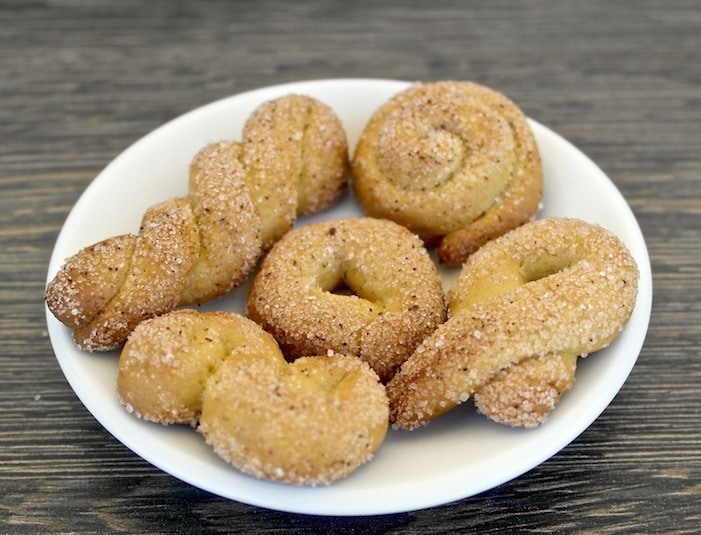 So Greeks love olive oil and they use a lot of it, actually the most from any other country. One of the reasons is because here in Greece, most recipes use olive oil even in desserts. Greeks fasted from animal products for religious reasons for over 200 days a year, so that meant many recipes with olive oil and no eggs or dairy. One of those sweet recipes are the much-loved Greek olive oil cookies. We call them koulourakia lathiou. Koulouri means something that has a circular shape and lathiou refers to the fact that they are made with lathi which means oil.
These wonderful, crunchy cookies are only made with olive oil, sugar and flour-no eggs, butter or milk. I added cinnamon and a bit of orange juice, used some brown sugar and then dipped them in a sugar cinnamon mixture. I also like them a bit small and thin, this makes them crunchier and cuter in my opinion and perfect to dip in my Greek coffee.
These are easy to make, they require no mixer and bake in about 15-17 minutes. You only need to be careful when adding the flour; start with a less amount and then gradually add until you have a soft dough that is slightly wet, but definitely not dry otherwise you will have a crumbly dough and will not be able to roll them in these pretty shapes.
These are fairly low-fat and it's the good fat too! They last for days in a cookie jar.
Greek Olive Oil Cinnamon Cookies – Kolourakia Lathiou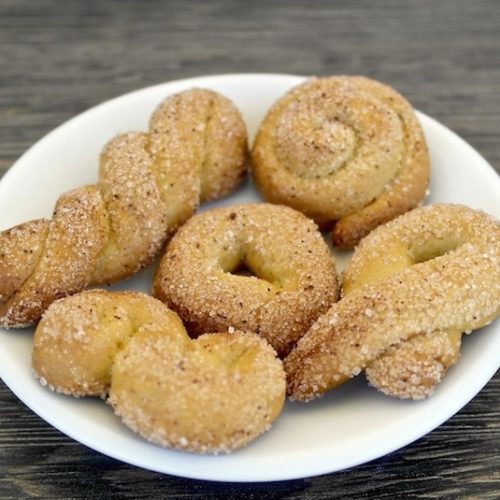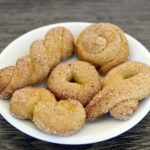 Crunchy Greek cookies are only made with olive oil, sugar and flour. Perfect little bites to go with your coffee or tea.
Print Recipe
Pin Recipe
Ingredients
½

cup

olive oil

¼

cup

white sugar + more for sprinkling

¼

cup

brown sugar

½

cup

orange juice

2

cups

flour

1

teaspoon

baking powder

½

teaspoon

baking soda

½

teaspoon

cinnamon + more for sprinkling
Instructions
Preheat oven at 350 degrees Fahrenheit (180 Celsius).

In a large bowl mix the olive oil, sugar and orange juice with a large wooden spoon.

In a smaller bowl mix the flour with baking powder, soda and cinnamon.

Start adding the flour to the olive oil mixture gradually mixing with the spoon. You should have a soft dough, but not sticky so you can roll into circular shapes. Be careful not to add more than needed. –I added a about 2 more tablespoons to get the right consistency, but it depends.

Cover the dough and let it sit for 10 minutes.

Grease a pan with a bit of olive oil.

Make the cinnamon sugar mixture by mixing 2 tablespoons of sugar with ½ teaspoon cinnamon, blend well.

Start making your shapes. For little cookies, I take about a teaspoon of dough and roll it out in a thin cord and then make the shapes. Dip into the cinnamon-sugar mixture on both sides-place on the pan.

Bake for about 15-17 minutes.

Let them cool and remove.
DID YOU MAKE THIS RECIPE?
Leave a comment or share on instagram and mention @greekdiet
Image © 2016 Elena Paravantes