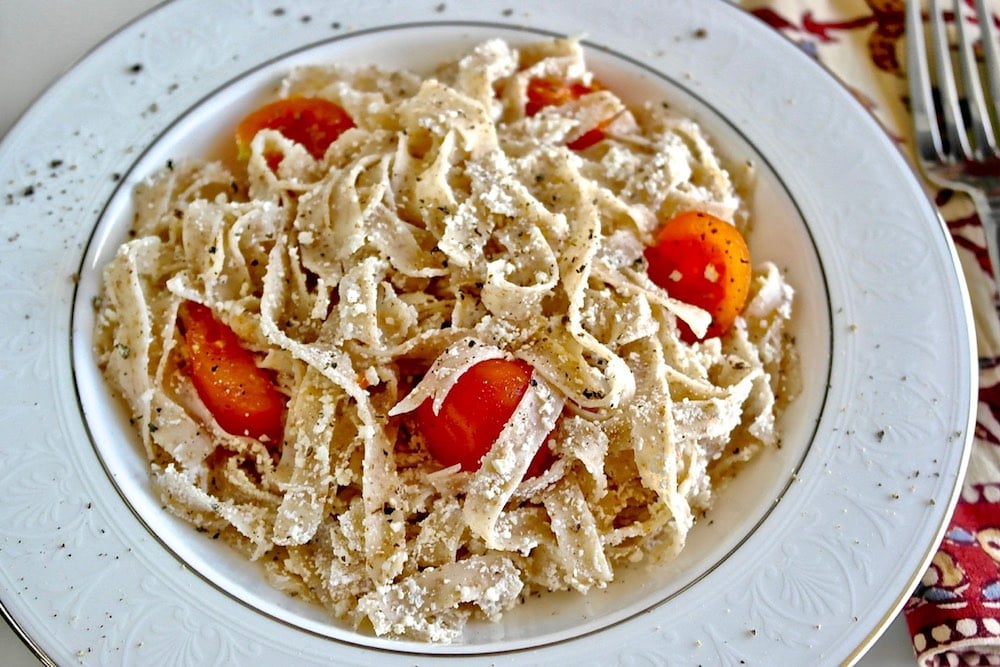 We all love a nice bowl pasta. It's comforting, satisfying and tastes good as it should be. Many people feel guilty when they eat it and since it is associated with the Mediterranean diet, is is assumed  that this type of diet will make them fat (not true).
Pasta and the Mediterranean Diet
Well, first of all looking at the traditional Mediterranean diet, pasta was not consumed in large amounts. In the Greek traditional diet, pasta was perhaps consumed once a week while in Italy, pasta is often consumed in small amounts as a first course. And let's not forget that the rest of the meal was rich in vegetables. So no the Mediterranean diet is not about eating large bowls of pasta everyday.
What is Mitzithra Cheese?
I occasionally make pasta adding several vegetables and cheese. My favorite type of cheese to add that also reminds me of my childhood meals with both my grandmothers is dry mizithra or aged mizithra. Aged mizithra is made from the leftover whey. Usually from sheep or goat milk. It is a spicy, salty and hard cheese ideal for grating. Apart from the flavor, it is generally a lower fat cheese, which means you can add a bit more and not worry about it too much. Brands that are exported are often made with less fat and some companies add cream. I have found a dry mizithra here in Greece with very little fat but with a lot of taste. Also dry mizithra is not to be confused with fresh mizithra. Fresh mizithra tastes different, and has a different texture as well. It is almost sweet and soft similar to ricotta.
Apart from pasta, mizithra can be added to vegetables and potatoes, rice, salads and soups (it goes great with tomato soup).
For this recipe I used what we call hilopitenia makaronia, which is basically hilopites (pasta made with egg and milk cut in tiny squares) this is in the form of long flat pasta, basically a Greek version of the Italian Tagliatelle.
Now if you search mizithra you may find recipes for the typical Grandmother Greek style pasta which basically is pasta cooked and then has burnt butter added to it along with mizihtra. Yes, I like that once in a while, but I prefer something lighter with no butter. By using whole grain pasta, I add a bit of fiber, the cheese adds a bit of protein and the tomato a bit of vegetable, and olive oil makes it all come together. The result? A pasta dish that looks and tastes like my grandma's but with less calories.
Hilopites: Greek Pasta with Mizithra Cheese and Cherry Tomatoes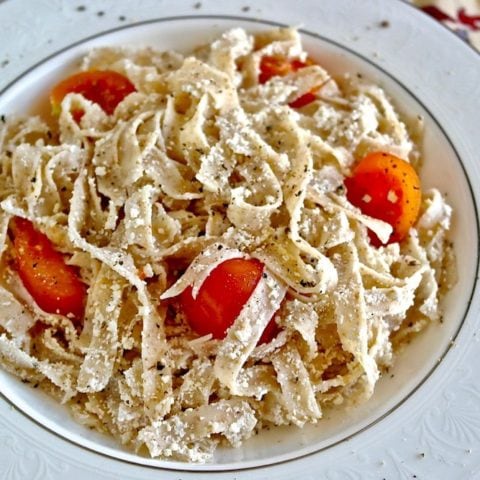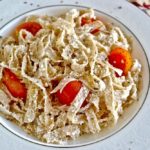 My lighter version of my Greek grandmother's pasta dish. Greek egg pasta with aged mizithra and cherry tomatoes.
Print Recipe
Pin Recipe
Ingredients
Instructions
Boil the pasta. Hilopites boil much quicker then other types of pasta. Also Greeks tend not to eat pasta al dente. Typically they will be ready in a bout 8 minutes, the square hilopites take even less time (about 4-5 minutes)

Once boiled, strain and put pasta back in the pot. Add 1 tablespoon of olive oil (or a little bit more) and mix well.

Add about 3-4 tablespoons of grated cheese and mix well.

Serve in shallow bowl, add some freshly ground pepper and some halved cherry tomatoes.
DID YOU MAKE THIS RECIPE?
Leave a comment or share on instagram and mention @greekdiet
 Photos by Olive Tomato