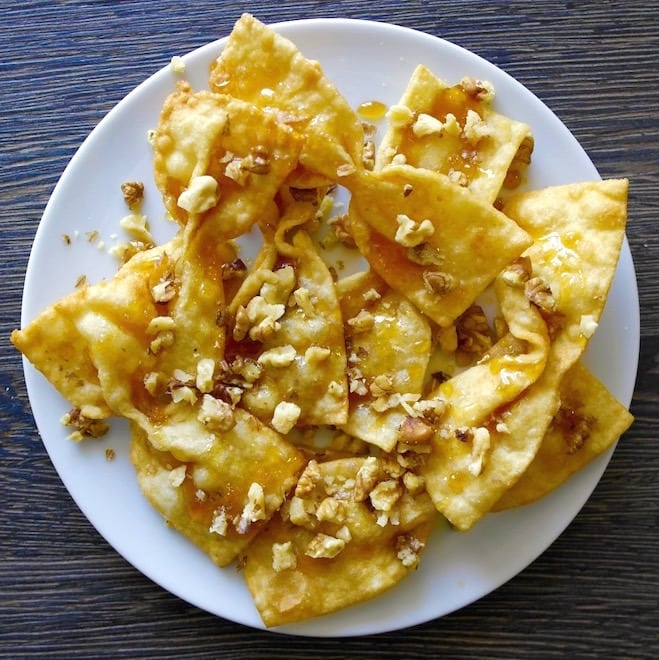 Diples (pronounced thee-ples) are a traditional sweet that is served at weddings and baptisms but also during the Christmas season.
It is basically a pastry made from dough lightly fried in olive oil and then covered with honey, walnuts and cinnamon. Yes… fried dough with honey, who can resist that? No one.
Before you get worried about calories etc. hear me out. Diples are fried in olive oil (ignore the recipes that tell you to fry them in other vegetable oils), and for this recipe I have made small bow ties rather than the little rolls, that way you have a smaller serving (less calories) and you don't need that much olive oil, and they are easier to make. These will fry very quickly, they only take about 30 seconds to fry, as long as the dough has been rolled out very thin. I also did not add sugar to the dough, doesn't really need it since you will be drizzling some honey on them. The traditional recipe calls for making a syrup out of honey and sugar and dipping the diples in it. I just heated the honey a bit and added some walnuts. The result is a wonderfully light and crispy pastry with not too many calories, plus it has been fried in olive oil, avoiding the saturated fats.
Greek Pastries with Honey and Walnuts – Diples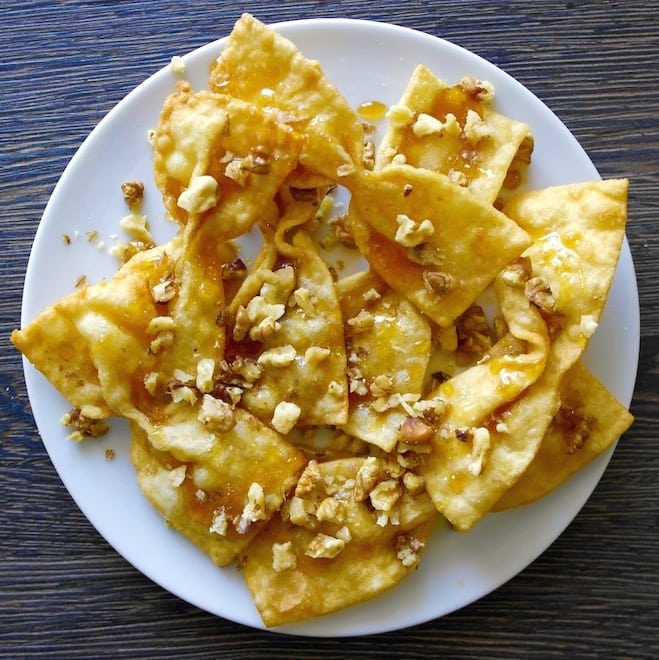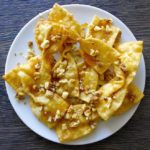 These Greek traditional crispy and light pastries called Diples are fried in healthy olive oil, drizzled with honey and sprinkled with chopped walnuts.
Print Recipe
Pin Recipe
Ingredients
1

cup

all purpose flour

¼

teaspoon

baking powder

1

egg

½

teaspoon

ouzo

1

teaspoon

vanilla extract

1

teaspoon

lemon juice

Warm water

Cinnamon
Instructions
In a medium bowl mix the flour and baking powder.

In larger bowl mix all the wet ingredients (egg, ouzo, vanilla, lemon juice)

Add the flour slowly to the egg mixture and mix until all the flour has been absorbed.

If the dough is too dry, add about 1 -2 tablespoons of warm water and knead with your hands. The dough should not be sticky, but should be soft.

Roll the dough in 2 balls and let it rest for 30 minutes.

On a well floured surface, roll out the dough with a well floured rolling pin until it is ¼ of an inch or less, (roll it around the pin and turn it over so it does not stick on the surface).

Using a pastry wheel or pizza cutter cut the sheet that you have rolled out in 8 rectangles about 2 inches by 5 inches each. You will have about 16 rectangles, 8 each sheet, depending on how thin you roll out the dough

Pinch each rectangle in the middle to form a bow.

Pour some olive oil in a pan, enough so that it barely covers a bow once it is in the pan.

Heat the olive oil, it should be hot enough when tiny bubbles start forming on the surface, but it should not be smoking.

Drop 4-5 bows (depending on the size of your pan) and fry them until slightly golden, this will take about 30-50 seconds.

Remove with slotted spoon and place on a plate lined with paper towels.

Once they are cool place on a large platter.

Heat some honey and pour on the diples and sprinkle with walnuts and cinnamon
Notes
You can save some diples without adding honey in an airtight container and drizzle with honey when ready to serve.
DID YOU MAKE THIS RECIPE?
Leave a comment or share on instagram and mention @greekdiet
Photo by Elena Paravantes