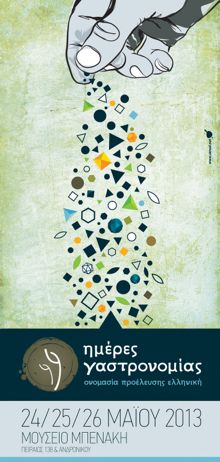 On the 24th through the 26th of May, the event Gastronomy Days will take place at the Benaki Museum in Athens. "Gastronomy Days- Designation of Origin: Greek" is a one of a kind, effort to highlight Greek gastronomy and to promote authentic and unique Greek food products.
During the 3 day event, visitors will be able to taste and sample products from Greek food producers at the exhibition. But apart from that, there will be numerous events such as live cooking, degustation, Greek cocktails & food styling  from top food professionals in Greece. In addition, there will be several presentations covering a variety of themes such as Architecture & Gastronomy, Gastronomic Diplomacy – New Greek Cuisine, Food Origami, The Culture of Flavor, Mediterranean Diet, Food Blogging in Greece.
I am happy to say that I will be presenting at the food blogging session that will take place on Sunday, May 26th from 5 pm to 7 pm.
If you live Greece or are in Athens during this time, this is a great event that really showcases what is going on in the Greek food culture at this moment.
So I am excited to say that I have a few passes to give away! I am giving out 5, 3-day passes for two persons for this event (a 40 euro value). Each pass is valid for 2 people.
I am going to make this simple: If you want to attend send me an email: [email protected], describing your favorite Greek food product, for example "olives Kalamon", and the first 5 people will receive the passes. The deadline is Monday, May 20th at 2 pm, Greek time. Tickets cannot be exchanged.
For more information in English you can visit the website of the event www.imeres-gastronomias.gr
Looking forward to seeing you there!