Juicy bite-size Greek meatballs seasoned with herbs and baked to perfection.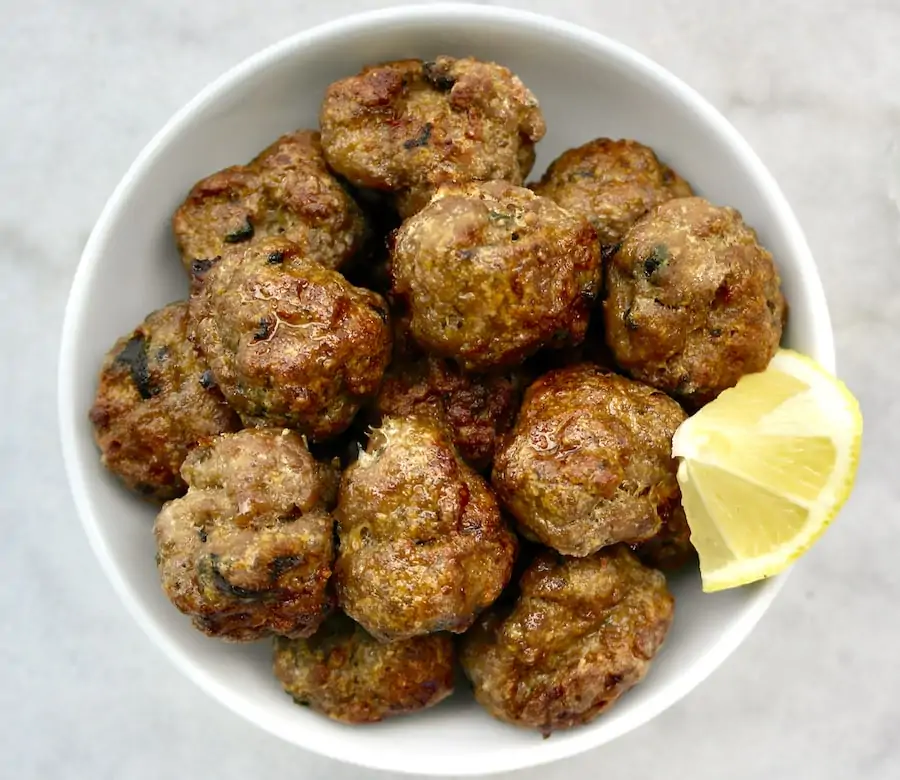 For someone who prefers mostly vegetable based dishes, there is one red meat dish that I will always say yes to: Keftethakia. Bite-size (or a little bit larger) meatballs made from ground beef or ground pork, along with all those tasty Greek herbs (especially fresh mint as both my grandmothers used) and then fried in olive oil, today it is mostly beef. The meat was ground at home if you were lucky enough to have a meat grinder. There was plenty of stale bread added, along with a few eggs which stretched the meat to feed a lot more people.
I'm sharing our delicious family recipe! Although I love keftethakia (keftedakia), I don't like frying so here is a baked version. Same flavor but easier!
Keftethakia in the old days was a necessary food at field trips, picnics and parties and they were always present (in a small amount) as a meze when drinking an ouzo. And they were recommended to be consumed at room temperature. Nowadays, it is hard to come by a good plate of keftethakia, usually some taverns will have good ones, and it has been years since I have had them at a party as people do not make them at home any more and sadly you mostly likely will find chicken nuggets instead.
My favorite way is hot off the frying pan along with a big plate of boiled greens with lemon and olive oil. Keftethakia should not be confused with biftekia. Keftethakia are smaller, usually fried and have more bread in them, whereas biftekia are grilled with less bread or breadcrumbs.
While I love keftethakia I too rarely make them at home because frying is such a hassle, especially when you have to fry dozens of these. But you can try baking them. You need to make sure though to keep them moist as you will not be frying. My recipe here basically includes all the ingredients of my favorite keftethakia and then I bake them, making sure they are well coated with olive oil. You will save some time and fat. Nutritionally, this is mostly protein, accompanied by the herbs. Do not forget to squeeze lemon over them right before eating, this makes them taste great but also helps you absorb more iron from the meat. These are best accompanied with greens (horta) or salad or other vegetables such as beets. Unfortunately nowadays they are served with fried potatoes. If you do bake them, they are better consumed warm.
Want More Mediterranean Diet Recipes?
An Authentic Mediterranean Diet Living Plan?
Get my top-rated book!
Get it here >> The Mediterranean Diet Cookbook for Beginners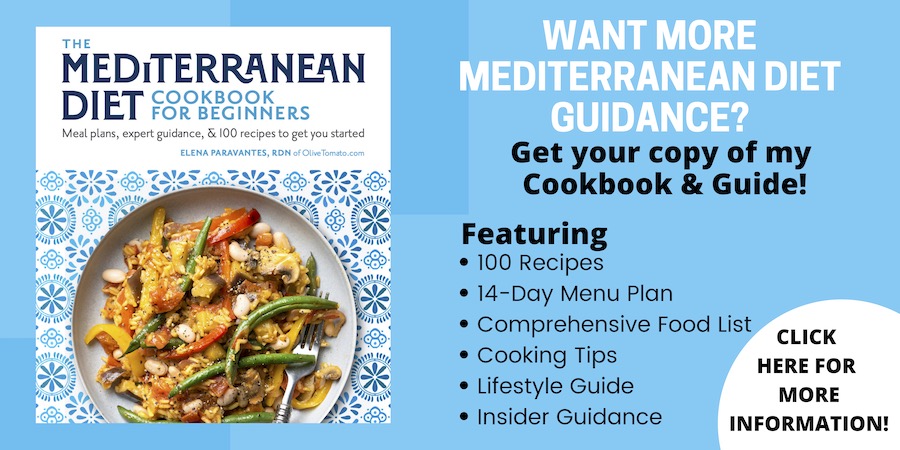 Juicy Roasted Greek Meatballs – Keftedakia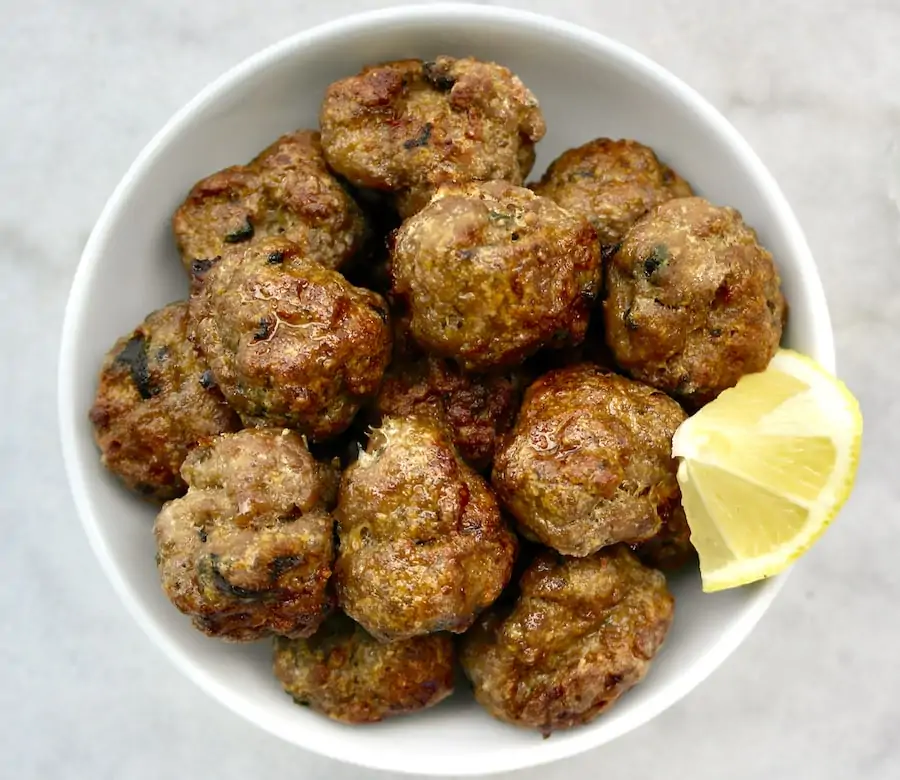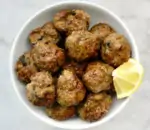 Bite-size meatballs seasoned with Greek aromatic herbs, make the perfect appetizer.
Print Recipe
Pin Recipe
Ingredients
1

pound (

450

g)

ground beef *not extra lean otherwise the meatballs will be dry

1

large onion finely chopped (I use a food processor)

1/3

cup

chopped fresh mint

1

egg

¼

cup (

60

ml) olive oil

½

teaspoon

salt

½

teaspoon

cumin

1

tablespoon

ouzo

2

tablespoon

red wine vinegar

2

tablespoons

breadcrumbs (I use from barley rusks)

All purpose flour
Instructions
In a large bowl add the beef and the rest of the ingredients, except the flour and only

2

tablespoons of olive oil.

Mix well. Traditionally here in Greece we knead the beef until all the ingredients are well combined, about 5-10 minutes.

Cover the bowl and let it sit in the refrigerator for at least an hour. This will make a difference in the taste.

Preheat the oven at 350 degrees Fahrenheit (180 Celsius).

Brush a pan with olive oil.

Roll into meatballs, about 1-1 ½ inch in diameter. Roll in flour and place on pan.

Add a small amount of olive oil on each meatball. I recently bought a bottle that sprays olive oil using an air pump, which worked beautifully for this.

Bake for about 30 minutes, turning over half way. You can check with a food thermometer to make sure the meat is done (should be 160 degrees Fahrenheit).

Put under broiler for 5 minutes to get the meatballs crunchy.
Notes
*If you will frying, then follow the first 6 steps and then fry in olive oil.
DID YOU MAKE THIS RECIPE?
Leave a comment or share on instagram and mention @greekdiet