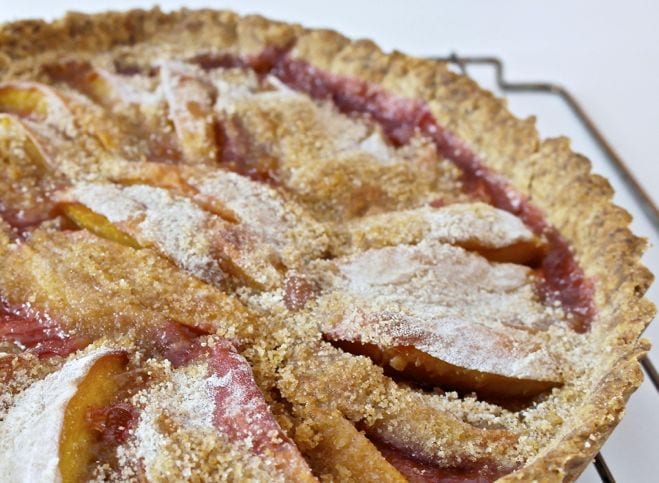 I really like fruit tarts even though they are not common in Greek cuisine. In the traditional Greek diet, fruit is usually consumed fresh, dried or sweetened (served in small amounts) and sometimes in a cake. But once in a while I want something with a crust. The problem is that with the typical fruit pie or tart, there is so much butter and sugar and even cream that any benefits of the fruit are cancelled out. So, for this recipe, I wanted to combine the goodness of fruit with tastiness of a crust but in a form that is fairly healthy.
My first thought was to use olive oil in the crust instead of butter (click here for more on baking with olive oil), reducing some of the saturated fat and add some whole wheat flour so increasing a bit the fiber. And for the filling, I reduced the amount of sugar and added little else.
I was inspired by a recipe on Food52, that had this crust that required little work as you basically press it in your tart pan and there is no need to roll out the dough. And of course you can use this crust recipe for savory tarts which will go well with vegetables.
Accompany this with Greek yogurt for a dessert that appears indulgent but yet has healthy fats and less sugar then your typical fruit tart.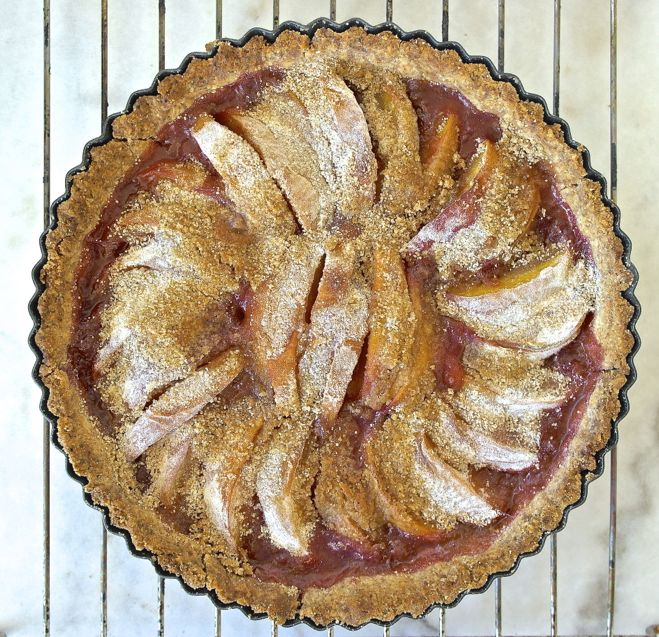 Peach Tart with Whole Wheat Olive Oil Crust
INGREDIENTS
-For filling-
4-5 Peaches
¼ cup sugar
¼ cup brown sugar
½ tsp cinnamon
1-2 Tablespoons flour
-For crust-
1 cup all purpose flour
½ cup whole wheat flour
¼ teaspoon salt
1 teaspoon sugar
¼ cup olive oil
¼ cup vegetable oil
2 tablespoons Greek yogurt
DIRECTIONS
1. Preheat oven at 425 degrees Fahrenheit (220 Celsius).
2. In a bowl mix the flours along with the salt and sugar.
3. In another bowl blend oils with the yogurt.
4. Add the oil mixture to the flours and blend until you have crumbly dough.
5. Take the dough and press firmly it in your tart pan, until it goes up the sides. If you are using a 9 inch pan you will have leftover. (I use a       spring form tart/quiche pan)
6. In a small bowl, blend sugars with sugar, cinnamon and flour.
7. Cut the peaches in slices about ½ inch wide and place in a bowl.
8. Sprinkle the sugar mixture on peaches and blend lightly.
9. Place peaches in a circular pattern in your crust.
10. Bake for about 45 minutes until mixture is bubbly.
Photos by Elena Paravantes