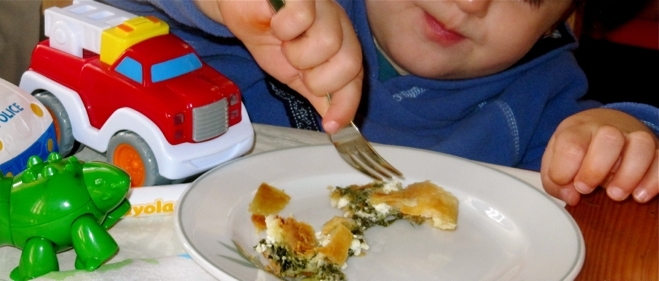 When I had my first child, I made the decision that once he started eating solids, I would be cooking most of his food and I would not give him the typical starchy, bland, sweetened ready- to- eat baby food.
Unfortunately, here in Greece even though the traditional diet is one of the healthiest in the world, many pediatricians continue to recommend the overly processed, or shall I say "fake" baby food, instead of the traditional Mediterranean diet. But luckily there are also pediatricians that endorse the traditional Greek diet, and mine is one of them, so we are in agreement.
A Mediterranean diet is beneficial generally, but specifically for children it is associated with lower risk of obesity and also better cognitive ability and reading skills. Introducing your child is very simple and it starts at early age. Here are some simple additions you can make.
My 5 tips for introducing the Mediterranean diet to your child
1. I add a bit of olive oil to my child's food
When I started giving pureed vegetables such as green beans, peas and carrots I added about ½ teaspoon olive oil to 1-2 cups of vegetables. The presence of fat increases the absorption of fat-soluble vitamins and is a source of the good monounsaturated fats, but for me it is important that the child has the taste of good extra virgin olive oil. In Mediterranean countries where olive oil is part of the traditional Mediterranean diet such as Greece, Spain etc. it is recommended to add a bit of olive oil to vegetables.
2. I used herbs early on
Why give your baby boring bland vegetables when you can make them tastier with herbs that are also a source of antioxidants and play an important role in the Mediterranean diet. I started gradually adding oregano, parsley, dill and mint to most of the vegetables I made. I also would steam a small clove of garlic with the vegetables.
3. I use tomato
Once you introduce tomato to the diet, try and use it with all the vegetables you serve your child. Once I added tomato to baby's diet, we were all able to eat from the same pot. I make lathera (mainly vegetable casseroles made with tomato and olive oil) and then just puree or smash them a bit for the little one. Tomato is a great source of vitamin C a potent antioxidant but also lycopene, a phytochemical with antioxidant activity. And when tomato is cooked with olive oil the lycopene absorption increases.
4. I introduced goat and sheep milk dairy products
Obviously you should not introduce milk (other than breast milk or formula) before your child turns one, but you can introduce dairy products such as cheese and yogurt.
I introduced feta cheese (the real feta cheese made in Greece is made from sheep's milk and goat's milk yogurt). Although the research is not clear if goat's milk is better tolerated, it has a different type of milk protein and a higher amount of essential fatty acids than cow's milk. It is important to note that in the traditional Greek diet, most dairy products consumed were made from either sheep's or goat's milk. I introduced organic feta cheese to both my sons early on, and it accompanies most of the vegetables.
5. I do not serve meat everyday
I do not feed my children meat every day. As with the traditional Greek-Mediterranean diet, meat is an accompaniment rather than the main course and cheese is many times the source of protein. Fish is also an important source of protein. A traditional meal for toddlers is fish soup made with boiled fish, vegetables and a bit of olive oil.
After the first year, your child can eat almost everything you're eating. By introducing flavors early on, your child becomes accustomed to a Mediterranean style of eating. It's great to see my kids enjoying okra or octopus. I remember the answer of the 4-year-old  son of a friend to the question "what is you favorite food?" his reply was … squid. How great is that?
Photo Credit: Elena Paravantes