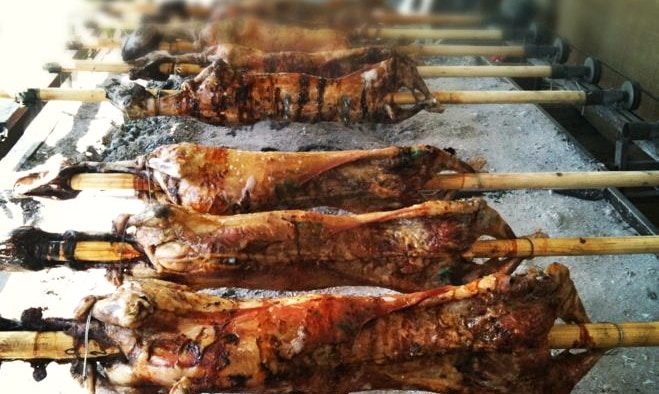 Hristos Anesti is what you hear all day today, translating as "Christ has risen". Today is Easter here in Greece, and yes it's the day we roast a whole lamb on the spit.
Over the years this tradition has been presented in the foreign media as a strange and even barbaric way to celebrate Easter, but those of us who grew up with this tradition, see it as a normal part of Easter festivities.
As a little girl growing up in a Chicago suburb, I remember friends and family would gather at our house roasting the lamb in the back yard accompanied by loud Greek music and dancing. Those were carefree times; we had no idea how that lamb ended up on the spit…
Yes, this lamb was slaughtered a few hours ago. As a matter of fact, I did not know that on a few occasions, friends of my father would drive up to Wisconsin and buy a live lamb, bring it to our backyard and well… you know the rest of the story. A fact that my parents hid from us very well, considering that I just found out about it yesterday.
As a little boy, my father remembered playing and feeding the little white lamb. When Easter came around, his father would tell him that his pet was sent to the farm, and that the lamb roasting on the spit on Easter Sunday was a different one sent to them as a gift by friends. Eventually, he figured out the truth.
In an interview, Michael Psilakis, successful NYC chef and restaurateur, described a similar, painful experience with his Cretan father while growing up in the states.
Over the years, I have developed mixed feelings about this tradition; I have never witnessed a lamb being slaughtered and I can't say that I like seeing a whole lamb being twirled around with its head and all.  At the same time though, I respect the tradition and I do like the fact that this event brings together family and friends outdoors, and gives us the opportunity to drink some wine and share a meze of roasted lamb together.
This is a sentiment shared by many Greeks; they like the idea of celebrating, and anticipating this wonderful lamb, but not necessarily the intense, overpowering and sometimes shocking presentation.
This year we had oven roasted lamb and potatoes…
 Photo Credit: Lambs on the Spit by Olive Tomato