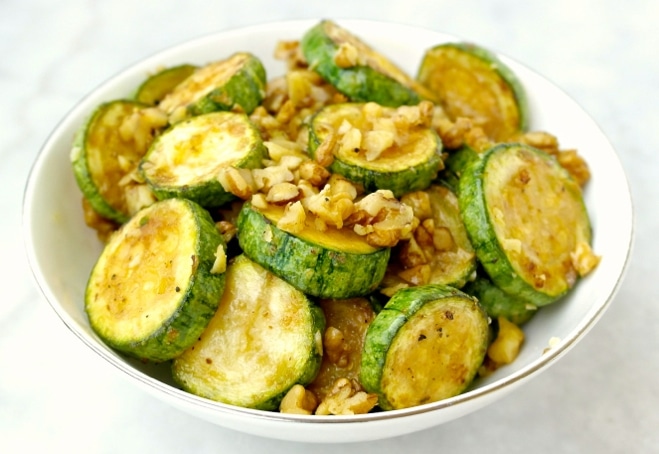 Sometimes Mediterranean inspired recipes appear in the least likely of places. We were visiting my in-laws and I found a cookbook from the 70's called The Williamsburg Cookbook which includes recipes from Colonial Williamsburg's taverns and restaurants. There are plenty of colonial recipes, but this recipe caught my eye: with the simple title Zucchini with Walnuts, the ingredients brought me straight to the Mediterranean.
When I looked at the recipe more closely, I realized that it was as simple as it sounds. And while it included butter and olive oil, I only used olive oil in this easy yet delicious recipe.
Zucchini has a special place in Greek cuisine, we often make dishes with zucchini as the main ingredient, so I was happy to find another way to prepare it.
Once we got back home, there were still some zucchini available at the market and made this super easy recipe. A wonderful vegetable side dish, because not only do you get antioxidants and very little calories from the zucchini, but a good dose of protein and omega-3 fatty acids from the walnuts.
The olive oil is drained after sautéing and if you do it right, the zucchini should not absorb much of the oil. The walnuts are also heated which brings out a nice flavor. This is a recipe, I will definitely be serving as a side dish, and of course you can always do as Greeks do: add some feta, a piece of bread and make it a complete meal.
Sautéed Zucchini with Walnuts
INGREDIENTS
6 zucchini sliced in ½ inch slices
3 tablespoons olive oil
¾ cup walnuts
Salt/pepper to taste
DIRECTIONS
1. Heat the olive oil and sauté until zucchini is soft, but not fried. About 5-10 minutes
2. Drain the olive oil and add the chopped walnuts, stir and continue to heat on medium heat for about 1-2 minutes.
3. Add salt and pepper for taste and serve.
Photo by Elena Paravantes