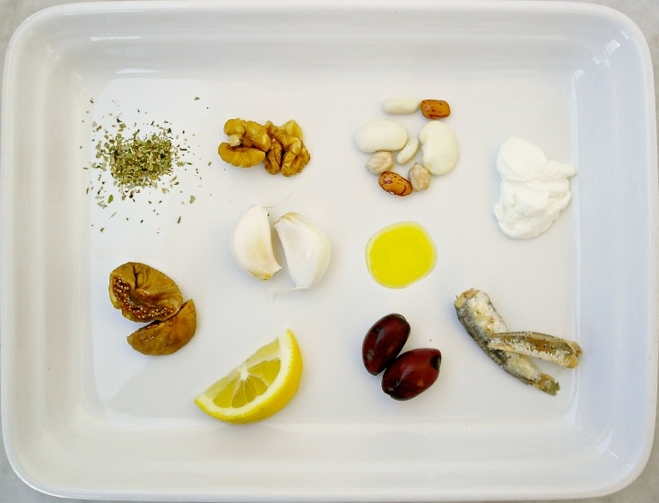 The Mediterranean diet is back in the spotlight! This week we had new research published that once again confirms what hundreds of previous studies have shown: that the Mediterranean diet is good for you. In one study researchers have found that a Mediterranean style diet can protect kidney function, while a second study showed that it provides better blood sugar control in people with diabetes.
If you are not sure where to start, I have singled out 10 foods typically used in the Mediterranean-Greek diet that you should add to your diet now, along with some traditional and not so traditional ways of using them. These ingredients are all great sources of beneficial nutrients and will put you well on your way to adapting your current diet to a Mediterranean one.
1. Dry Oregano
My mom's favorite herb! It is used generously in the Greek kitchen: in salads, sauces, and meat. Not only does it give a distinctive flavor to a dish, it has many beneficial properties. It appears to antibacterial properties, but most importantly dry oregano is one of the richest sources of antioxidants among herbs.
Add it to your diet
Traditionally: Sprinkle on salads, meat, potatoes (my mom even sprinkles it on pizza).
Alternatively: Make stewed carrots with oregano. Chop 5-6 carrots in slices and place them in a small pot. Add 3 tablespoons olive oil, 1 tablespoon water and 1 tablespoon dry oregano. Simmer until carrots are tender.
2. Walnuts
Walnuts are an excellent source of a type of omega-3 fatty acid found in plant sources known as alpha-linolenic acid (ALA). Research has shown that eating walnuts after a high-saturated fat meal reduces the damage caused by these fats in the blood vessels.
Add them to your diet
Traditionally: In cakes, in yogurt or plain.
Alternatively: Make a walnut pesto. Mix in a food processor 1 ¾ cup walnuts, 2 cups of parsley, 1 cup grated parmesan cheese, 2 cloves garlic, ¾ cup olive oil, ¼ cup water, salt and pepper. Blend until almost smooth.
3. Greek Yogurt
This strained yogurt is famous worldwide for its taste, texture and beneficial properties. Traditionally, the Greeks did not drink much milk but got their dairy through yogurt and cheese. It is an excellent source of protein and calcium, containing the good bacteria that strengthens the immune system and assisting digestion.
Add it to your diet
Traditionally: Add some honey to plain Greek yogurt (make sure it contains no gelatin, thickeners or added sugar).
Alternatively: Make frozen yogurt pops. Mix 1 ½ cup low-fat Greek yogurt with lemon zest and juice of one lemon, 1 tablespoon honey and 1/3 cup sparkling water. Pour the mixture into ice cube trays and leave in the freezer until frozen.
4. Garlic
This wonderful herb was once snubbed by many non-Mediterraneans, but today you can hardly find a restaurant that does not to use garlic. For Greeks it is considered one of the most powerful weapons of the Greek diet: protects the heart, has anticancer properties.
Add it to your diet
Traditionally: Cook tomato sauce with garlic, add garlic to meats when roasting or stewing, make skordalia-Greek garlic dip: recipe.
Alternatively: Mushrooms with garlic. In a skillet heat 1 tablespoon olive oil, ½ pound mushrooms and 1 clove minced garlic, until the mushrooms soften and absorb the fluids, about 8-10 minutes. Add salt and pepper to taste.
5. Small Fish
Okay you know that fish is good, but some fish are better. Generally small "cheap" fish such as sardines and anchovies dominated the Greek diet. They are rich in omega-3 fatty acids which may protect the heart, keep away diabetes, arthritis and even depression. In addition, a portion of 3 ounces covers 50% of our calcium needs and 20% of our vitamin D requirements.
Add it to your diet
Traditionally: Marinated, Cured, fried or roasted with tomato – recipe
Alternatively:Make an easy sardine spread- recipe
6. Olives
Olives are mostly known for producing olive oil than an actual food. But in fact they have always been part of meals and snacks in Greece. They are rich in monounsaturated fats, vitamin E, antioxidants properties and fiber.
Add them to your diet
Traditionally: plain with some bread, in salads
Alternatively: Roasted Olives – recipe
7. Olive Oil
If you are not already consuming olive oil regularly, you are missing out. It is the basis of the Mediterranean diet. Greeks are the highest consumers of olive oil per person in the world because everything is cooked in olive oil even cakes and desserts. There are numerous studies that have shown that olive oil has a multitude of benefits such as protecting the heart, blood pressure control, lowers cholesterol, cancer prevention and cognitive function. It is important to note that these benefits mainly come from specific antioxidants that olive oil contains (olives by the way are considered a fruit), so it is important to realize that other seed oils such as canola and corn oil do not contain these antioxidants.
Add it to your diet
Traditionally: Cook vegetables in olive oil, add olive oil to salads.
Alternatively: Try some desserts such as chocolate mouse or cupcakes using olive oil- recipes
8. Beans
Beans are a traditional food in the Mediterranean diet. In Greece they are consumed either as a soup, roasted or sometimes as a patty. Beans are an excellent source of plant protein and a good substitute for meat. You will also get iron, B vitamins, zinc, potassium, antioxidants and of course fiber. The beneficial properties have been proven many times: protection against cardiovascular disease, balance blood sugar levels, cancer prevention and satiety which assists weight loss efforts.
Add them to your diet
9. Lemon
Another antioxidant rich ingredient used in Greek cuisine. Lemon is rich in flavonoids, substances with antioxidant activity that neutralize free radicals.
Add it to your diet
Traditionally: Well, Greeks add lemon almost everywhere: Squeeze lemon on meats, add to soups and dips.
Alternatively: Make lemon pasta. Pasta with lemon. In a bowl mix the zest and juice of one lemon and 2 tablespoons olive oil. Boil 7 ounces (200 grams) pasta and drain. Mix the pasta, the sauce, a handful of arugula and 1 tablespoon grated Parmesan cheese.
10. Dried Figs
A key element of the Greek diet since ancient times, figs are a nutritional treasure. They are an excellent source of fiber, minerals, vitamins and antioxidants plus they satisfy our sweet tooth without the fat.
Add them to your diet
Traditionally:Plain
Alternatively: Roasted Figs. Place 1 ½ cup dry figs in a bowl, mix with 2 tablespoons olive oil and 1 ½ – 2 tablespoons honey. Place on greased pan, sprinkle with salt and bake in the oven at 400 F (200 C) for about 15 minutes. Serve as an appetizer with a variety of cheeses.
Photo by Elena Paravantes