Greeks have plenty of desserts that are made with olive oil. For one, butter was too expensive and olive oil was not. Greeks also fasted for over 180 days a year which meant no animal products, so they came up with desserts that had no animal fat. Sweets such as olive oil cookies, melomakarona (honey cookies), olive oil cake, olive oil baklava were alternatives to sweets that had milk, eggs and butter.
As a child growing up in the U.S., I enjoyed my mom's wonderful olive-oil based Greek desserts, but I also longed for something more westernized, something with well … chocolate. My mom did not really use chocolate, so I started making my own desserts and cookies. At first, as a teenager I had no issues with using butter or corn oil. However, as I got older and particularly when I started studying nutrition in college, I became more aware of my own food and nutrition heritage, so I decided to use or change recipes so that they combined the best of both worlds: chocolate and olive oil.
Here are 2 recipes that satisfy the craving for a chocolate dessert, while making use of the healthy olive oil. So yes, there is sugar, but at least there is less saturated fat and more of the healthy monounsaturated fat.
Olive Oil Chocolate Mousse
This recipe comes from the Greek Pastry Chef Stelios Parliaros. Although he makes plenty of French inspired desserts, he has also developed a number of recipes that use olive oil as the main source of fat. I have been lucky to attend a class in which he prepared some of his olive oil desserts and he does such a great job of integrating Greek ingredients such as olive oil and Greek cheese to non-Greek recipes. This recipe is super easy, and requires only 3 ingredients: chocolate, olive oil and whipping cream.
INGREDIENTS
10 1/2 ounces (300 grams) bakers chocolate with 55% cocoa solids
7 ounces (200 grams) Extra Virgin Olive Oil
17 1/2 ounces (500 grams)heavy whipping cream
DIRECTIONS
1. Melt the chocolate on low heat in a double boiler or in the microwave.
2. Combine melted chocolate with olive oil.
3. Whip the heavy cream so that it thickens but not so much that it becomes fluffy.
4. Fold in the cream with the chocolate mixture.
5. Divide mixture in small serving dessert glasses or any other container and leave in the refrigerator for at least 2 hours.
6. Top with walnuts or fruit.
*You can also add brandy and orange zest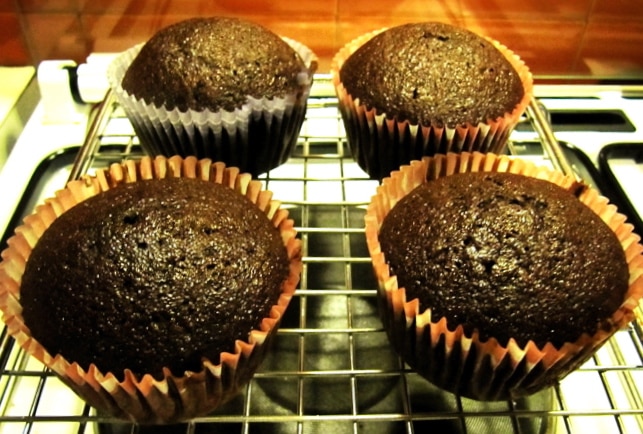 Chocolate Cupcakes with Olive Oil
I've tried several cupcakes with olive oil, they mostly fall under the vegan category, although that's not what I am necessarily looking for, but for anybody who is interested this recipe does not contain any animal products. The recipe comes from the blog Simply Recipes. It truly is a very easy recipe, you don't even need an electric mixer. Sometimes I'll add frosting and sometimes just powdered sugar. I don't use coffee, just water. You can see the original recipe here.
INGREDIENTS
1 1/2 cups all purpose flour
1/4 cup unsweetened cocoa powder
1 cup granulated sugar
1 teaspoon baking soda
1/2 teaspoon salt
1 cup of warm water
1 Tbsp white vinegar
2 teaspoons vanilla extract
1/4 cup plus 2 Tbsp olive oil
DIRECTIONS
1. Preheat oven to 350°F (175 C) with a rack in the middle position. Prepare a muffin tin with cupcake liners.
2. In a large bowl, vigorously whisk together the flour, cocoa powder, sugar, baking soda, and salt until there are no visible clumps
3. In another bowl, mix together the water, vinegar, vanilla extract, and olive oil.
4. Pour the wet ingredients into the dry ingredients and stir only until they just come together.
5. Ladle the batter into the cupcake liners, filling them about two-thirds of the way full. Place in oven and bake for 18 to 20 minutes, until a toothpick inserted in the center comes out clean.
6. Remove from oven and let cool in the pan for 5 minutes, then remove from pan and let cool on a rack.