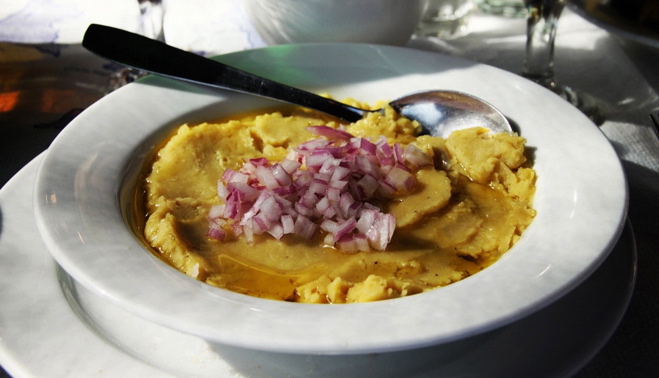 As a child my mom for some reason never made fava, we ate plenty of lentil soup but not the Santorini fava dip, this yellow split pea puree. I came across it as an appetizer in tavernes (plural in Greek for taverna) here in Greece, but unfortunately modern Greeks rarely eat it at home anymore.
Once my older son began eating solid food I made sure he ate traditional, seasonal, organic Greek dishes. So when he started eating beans, I made him fava. It's easy, tasty, and hearty, especially on a cold day.
I use the original recipe from the traditional Greek cookbook from Hrisa Paradisi. You basically boil the beans and onion, and then puree them. I used a food mill instead of a food processor to puree the beans, but you can use whatever you feel comfortable with.
I ate the fava right after I took it off the stove; it was creamy, it was warm, it was the ultimate comfort food. Of course, it's not only soothing to eat, it is healthy. Obviously the beans are healthy, full of antioxidants and non-animal protein, but also the combination of lemon, onion, and olive oil make fava an antioxidant powerhouse.
It is thought that this dish is only an appetizer or dip but it can also be a main course.
Traditional Greek Fava-Yellow Split Pea Dip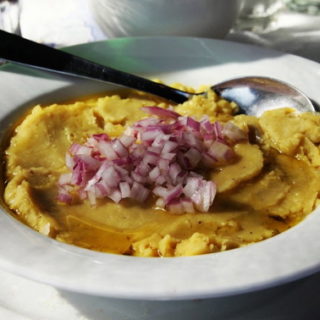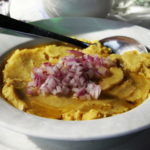 Print Recipe
Pin Recipe
Ingredients
1

pound (

1/2

kg)

fava

These are not broad beans but yellow split peas.

2

whole onions chopped

Salt and Pepper

Lemon

Parsley
Instructions
Rinse the fava.

Boil the beans together with the onions and

6-7

cups of water for about 1 ½ hour.

Pass it through a food mill or puree sieve or a food processor.

Put the puree in the pot again and warm up, add some salt, pepper and about ¼ cup of olive oil. Let it come to a boil for a few minutes.

Serve with some chopped raw onion, parsley and lemon.
DID YOU MAKE THIS RECIPE?
Leave a comment or share on instagram and mention @greekdiet
Photo Credit: Santorini Fava Purée by Klearchos Kapoutsis