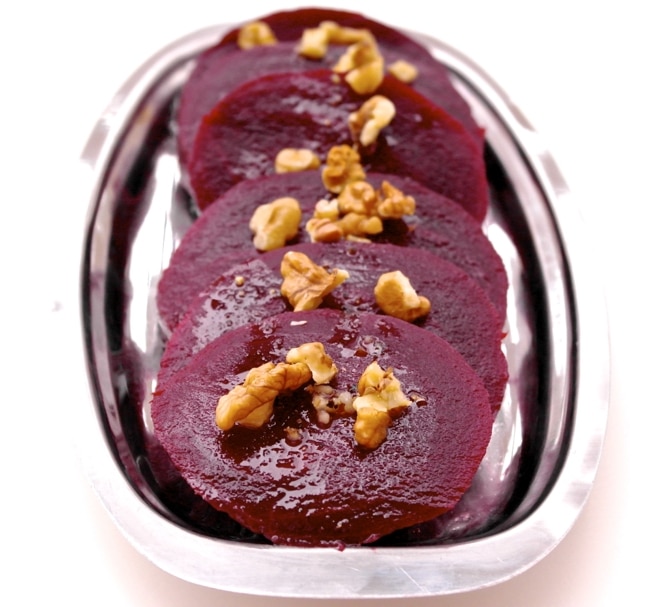 Beets along with their greens are traditionally served here in Greece with skordalia, the delicious Greek garlic sauce. So wherever skordalia goes, beets go too. The beets were cut off from the greens and both were boiled in a large pot. Once they were cooked, they were served with skordalia, feta cheese and bread. This consisted of a whole meal. Yes, the beauty of the Greek diet, vegetable main courses. Many people think that beets are "fattening" because they are what we call a starchy vegetable.
Yes they are mainly carbohydrates, however they are a good source of fiber and they have very few calories: 3 ounces (100 grams) are about 40 calories. More importantly, beets contain several substances that can benefit our health. One of the them known as betaine is a nutrient that may protect from heart disease and stroke, research shows that it can lower homocysteine levels in the blood. High homocysteine is related to a higher risk of heart disease. Beets also contain betalain, a substance with antioxidant and anti-inflammatory properties. Now since you are cooking beets, it is good to know that a Cornell study found that processed beets lose very little of their antioxidant activity, and phenolic activity (another beneficial substance) was actually increased.
Apart from the the actual beets, Greeks eat the greens which are rich in all sorts of vitamins, minerals as well as a rich source of antioxidants. When you order them in a tavern ask for the greens too. Usually they will serve them along side the beets which are cut in round slices.
We serve beets pretty often at home because the kids love them, especially when they are combined with olive oil and crumbled feta. The recipe below can be combined with feta or Greek yogurt for a non-vegan version. If you have no time to boil, it is OK to use the pre-boiled refrigerated ones once in a while.
Simple Greek Style Beet Salad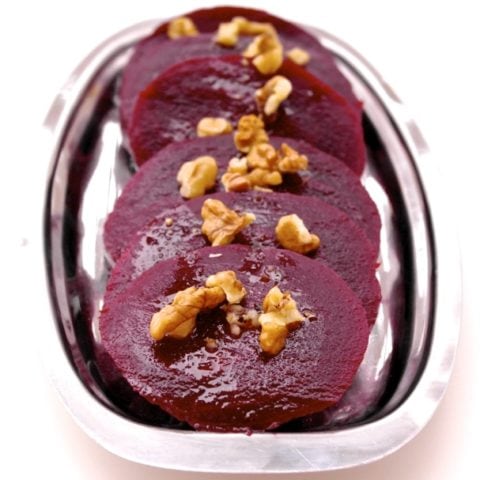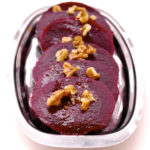 Print Recipe
Pin Recipe
Instructions
Boil the beets with their skins for about 30 to 40 minutes, let them cool and peel (this can get messy).

In a little bowl mix the olive oil, vinegar and garlic

Cut the beets in round slices and place on a plate.

Pour the dressing over the beets and sprinkle with the walnuts.
Notes
*You can also cut in cubes and serve in a deeper bowl.
DID YOU MAKE THIS RECIPE?
Leave a comment or share on instagram and mention @greekdiet
Photo by olivetomato