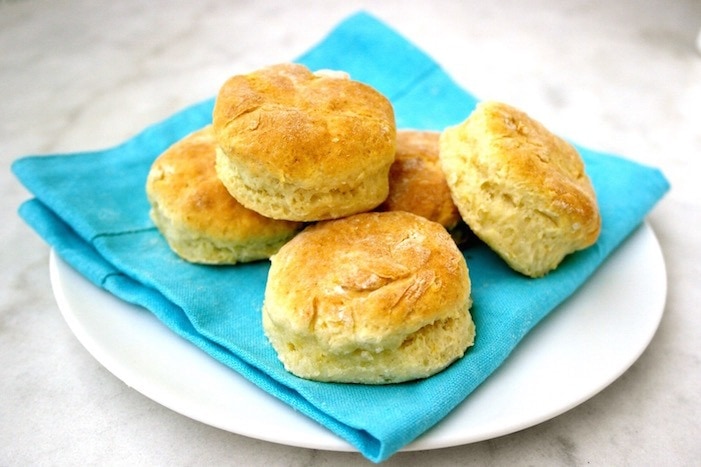 I attended last week (as I do every year) the Food and Nutrition Conference and Expo of the Academy of Nutrition and Dietetics, formerly known as the American Dietetic Association, as an active member and Past President of their international affiliate, it can get pretty busy. And this year I was also a presenter , my session focusing on working overseas.
The conference took place in Atlanta and needless to say I was looking forward to trying the food. And on top of my list were the biscuits.  First of all, I have to say that yes, I did experience what is called southern hospitality, people were polite and customer service was great.
Although fried chicken was on plenty of menus, I preferred the shrimp and grits, fried green tomatoes, the greens, and of course, the biscuits. Yes, I am a person who will eat bread when it is in front of me, and yes I will dip it in olive oil or spread butter on it, if that is in front of me too.
So, I went back home and wondered: why not make biscuits with olive oil instead of butter and shortening, and add some of those good fats? And so I did. I also used Greek yogurt (strained yogurt) instead of buttermilk and the result was great. I'm sure a southerner may notice the difference, but to most people not really. The texture was as it should be: crisp and golden on the outside, soft and fluffy on the inside.
I modified a recipe from chef Alton Brown, using olive oil instead of butter and shortening and a combination of Greek yogurt and milk instead of buttermilk. These would also be interesting with the addition of herbs such as basil, oregano or mint too.
Oh and the best part is that these took only 10 minutes to prepare and another 15 minutes to bake. I am certainly making these for Thanksgiving!
Southern Style Biscuits made with Olive Oil and Greek Yogurt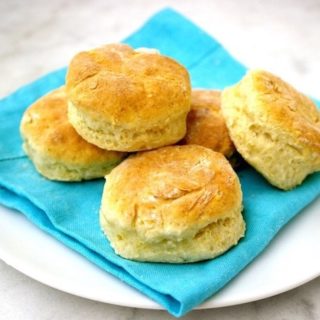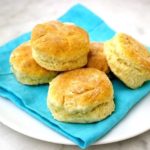 Print Recipe
Pin Recipe
Ingredients
Instructions
Preheat oven at 450 degrees Fahrenheit (230 Celsius).

In a large bowl mix the flour, baking powder, baking soda and salt.

Add the olive oil and rub with your fingers, until the flour mixture is a bit like crumbs.

Mix the yogurt and milk in a small bowl. Add to the flour and mix slowly with a spoon until everything is incorporated. If it is too dry, add a bit of milk. The dough will be sticky and soft.

Add a bit of flour to your hands and surface and shape dough in a ball. Spread out on a surface, and fold again a couple of times. Pat out so thickness is about 1 inch, cut in 2 to 2 ½ inch (5-6 cm) circles (I used a small glass).

Place on a baking pan, one slightly touching the other (according to Alton Brown this helps them rise more).

Bake for about 15-20 minutes until golden (mine were done at 15 minutes, so start checking them a bit before).

Remove and enjoy.
DID YOU MAKE THIS RECIPE?
Leave a comment or share on instagram and mention @greekdiet
Photo by Elena Paravantes