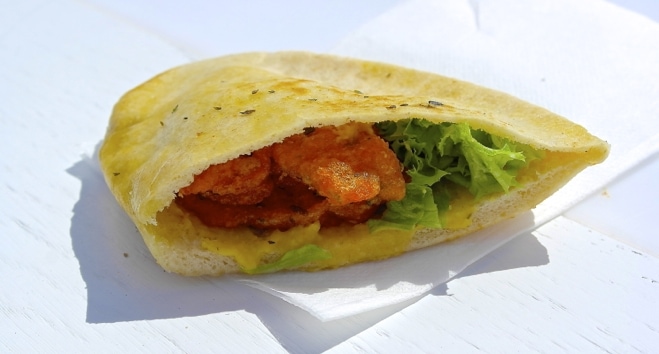 This past weekend Athinorama a cultural and entertainment magazine, organized a food festival showcasing mainly small producers with some of Greece's best food products. Attendees could also attend cooking and tasting workshops and seminars. The festival took place at Technopolis, the former location of Athens Gasworks, a gas factory established in the mid 1800's and finally closed down in 1984. It was restored and renovated and now is large cultural center housing a variety of events including concerts, exhibitions, theater, educational programs for kids and now food.
I managed to get there on Sunday, it was a beautiful sunny day and as expected it was quite crowded (apologies for some the photos, it was so crowded at times, that I couldn't take a decent photo). The stalls were set up in the separate buildings on the site. There were a variety of vendors, while I knew most of the products it was nice to meet people in person and try some of their new products. The exhibition was different in the sense that most of the companies were small and produced high-quality products from traditional Greek ingredients (with the exception of a company that made sugar-free chocolate, not a good fit at all).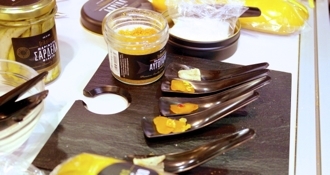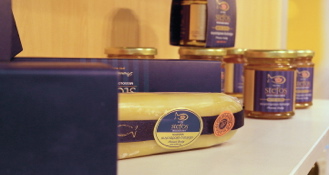 One of the places that had big crowds around them were the avgotaraho booths. This Greek delicacy comes from the Messolonghi lagoon located in western Greece, and has a Protected Designation of Origin (PDO) status. It is the roe of the flathead mullet found in this specific lagoon. The roe is smoked and then in order to be protected, it is dipped in beeswax. The avgotaraho can be thinly sliced and served on a toast with some lemon juice. It can be used in salads or pasta. The two companies that presented are Trikalinos and Stefos.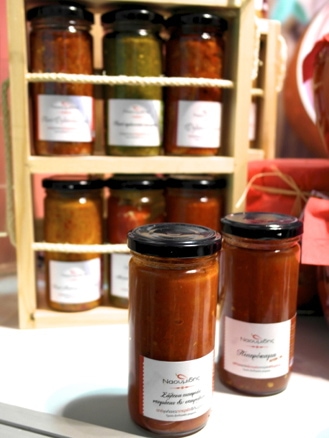 Other yummy local products included of course the famous Greek honey, halva made from tahini, cheeses and Greek pastas (hilopites, trahana) made with buffalo milk. The company Naoumidis is known for its red peppers from Florina a town in Macedonia, Greece, known in Greek as Piperies Florinis. These peppers also have a PDO status. The company produces not only the traditional pickled peppers that with go well in salads, pasta and sandwiches but also several sauces such as red pepper-tomato-grape sauce, and pepper-tomato-eggplant sauce as well as cheese stuffed peppers.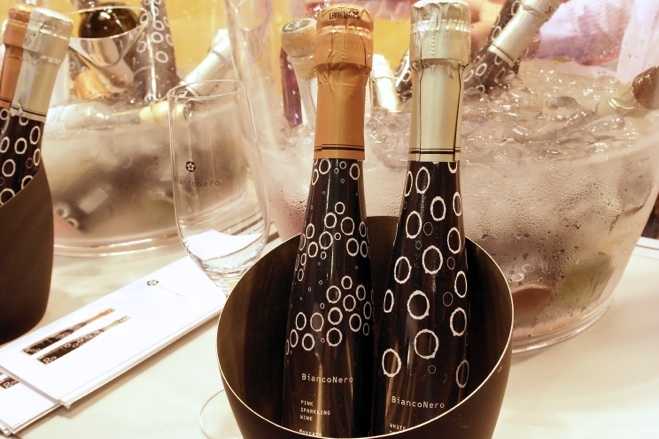 Tsililis, a company known for its production of tsipouro, a distilled Greek spirit was presenting its recently launched new line of sparkling and still wines named BiancoNero. The white sparkling is refreshing and fruity, and the design of the bottles has been on various top ten lists for its design. Soon to be offered outside of Greece as well.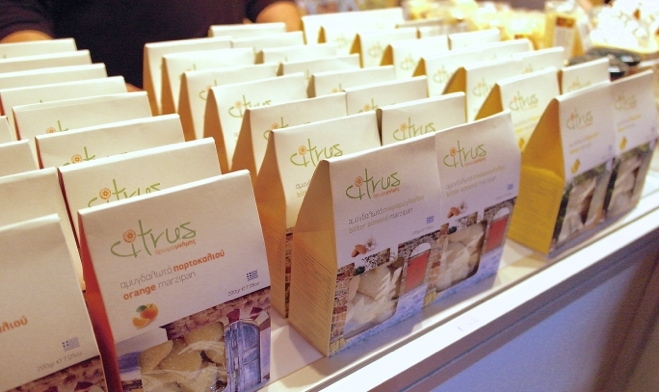 Another product and concept I liked was Citrus Memory Scent, a company from the island of Chios created in order to highlight and promote the history of citrus fruits in Chios. Chios is known for its production of citrus fruits, particularly from the area of Kambos, which is a unique garden full of citrus trees in the center of the island. In fact the mandarins of Chios also carry the Protected Geographical Indication status. The company makes several citrus products such as spoon sweets, marmalade, citrus scented marzipan bites even some savory -citrusy sauces.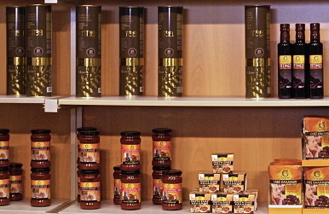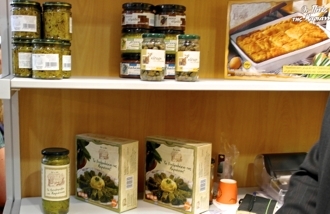 Gaea, one of the most successful Greek food companies in the international market, was there. With a wide range of Greek products from their well-known olive oils to their authentic sauces, Gaea has a strong presence. Although they are a larger company, they have the feel of a smaller company as many of the products are from smaller producers. They have received numerous awards not only for their products but also for their business practices.
Another traditional product are vine leaves. Yes those are the leaves Greeks use to make the famous dolmades. The company Marianna's Vineleaves are known for their organic vine leaves but also for other products from the vines such as the tips of the vines (ampelokorfes) which are then pickled. These are great with ouzo, but also in salads. They also produce their own dolmades as well as grape preserves.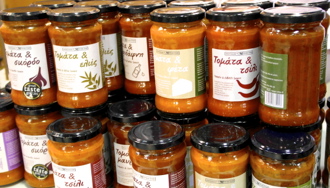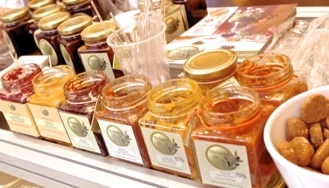 There were several companies that make sauces, preserves, marmalade and spoon sweets with both traditional and more alternative combinations. A fairly new company called Simply Greek offers several traditional combo sauces with no additives. The company Pyliaki Gi makes unique products such as watermelon-saffron and melon-mastiha marmalade. I tried the olive spoon sweet, which is called "sweet and drunk"Olive Kalamon (Kalamatas). These olives were excellent, the almond stuffed olives Kalamon are sweetened with a syrup made from wine and honey. They recommend serving on Greek yogurt, with white soft cheese or even on a salad. The company makes products for the well known hotel Costa Navarino, which are also sold at the hotel, Dean and Deluca, as well as the Duty Free Shops at the Athens International airport.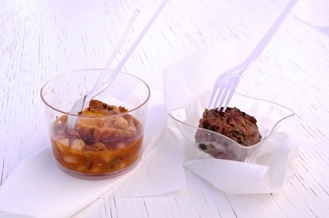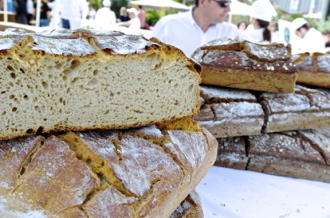 After we visited the vendors we headed over to the food stands. For 2 euros you could get a mini serving of dishes from awarded Greek restaurants. We bought our tokens and went around and chose what we wanted. We chose a pita sandwich filled with fava and tomato patties (domatokeftedes) from the Selene restaurant in Santorini-my toddler son ate all of his, imagine a sandwich filled with vegetables and beans that kids will like: well this was it. We also tried a meatball made with goat's meat and roasted beans with a bit of pork from the restaurant Thomas in Florina. They were all excellent and they served us immediately. There was complimentary bread available offered by the Greek bakery chain Venetis. If you wanted a drink with your meal you had to go the cafeteria where there was a long line or to a stand for wine by the glass which also had a long line. I think having small stands scattered around the area selling water, juice and wine would solve this problem.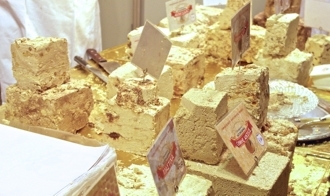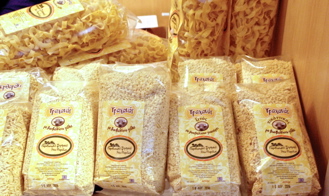 Yes, the place was very crowded, but that's a good thing, it shows that so many people are interested in traditional Greek products and small producers, rather then multinational junk food companies. For the most part almost everything on offer had its health benefits; from the avgotaraho rich in omega-3 fatty acids to the sauces rich in tomato, peppers and olive oil known for their antioxidant content. Even the samples from the awarded restaurants were for the most part loaded with vegetables.
One of the things that is perhaps unavoidable in these festivals is that in essence it is a market where people will buy products. On the one hand this is necessary so that they can taste some the products they liked at home. Also these products are not available everywhere but in many cases in only select stores so this may be a rare chance for the consumer to find the product. On the other hand this process of selling keeps the vendors busy selling their products, exchanging money, giving out receipts etc. rather then taking the time to explain to the interested visitor about their company, their products and how to use them.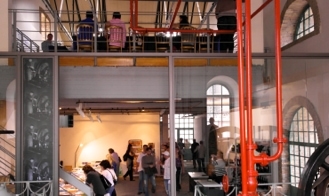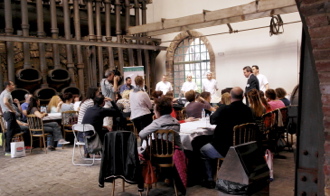 All in all I enjoyed the experience and I look forward to next year. The venue, the choice of companies and timing of the event were excellent. Hopefully next year they'll also offer a seminar on the nutritional benefits of all these wonderful products.
*When speaking with the producers I asked if their products are offered outside of Greece, many said yes but the information was not on their website so I would recommend you send an email to them so that they can tell you where their products are available.
Photos by Olive Tomato