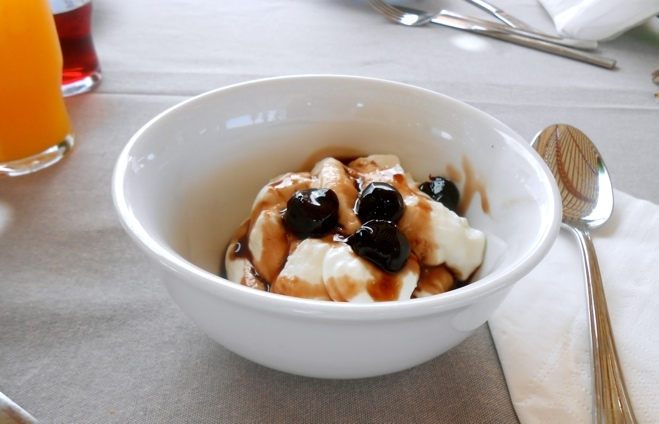 Being in vacation mode, I'll take a break from writing about Greek restaurants outside of Greece and write a few things about the Greek breakfast right here in Greece.
When people write or talk about the Greek breakfast, they often say it is nonexistent or is made up of a cigarette and a coffee. While the Greek breakfast was never a huge meal, except perhaps for farmers, there is a large variety of traditional Greek breakfast foods and recipes from different parts of Greece, which would be a great addition to any hotel breakfast buffet.
For example, you may find local savory pies made with local cheese, homemade Greek fruit preserves, local sausages and cured meats, Greek cookies and bread.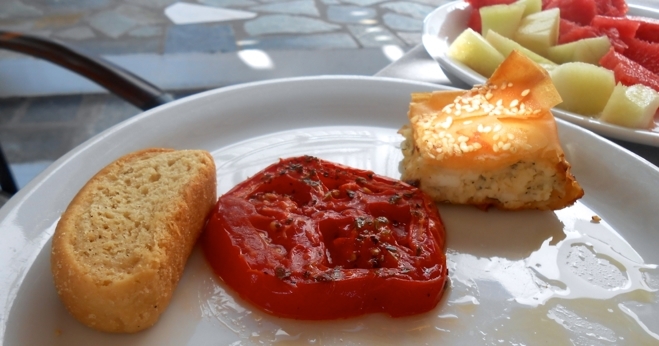 This is all nice, the question is does the average traveler/tourist Greek and non-Greek get to taste all these yummy local Greek breakfast foods? Unfortunately, for the most part no. Most average hotels will serve you bread, generic cake, pre-packaged single servings of danish butter and french marmalade and if you're lucky you may even get some croissants (by the way, I have nothing against croissants but surely France may be the better place to get them and not in some Greek village). There are many reasons why Greek hotels are serving this type of breakfast: financial, they think tourists prefer a continental breakfast, they don't feel that the Greek humble foods are good enough, to name a few.
This is unfortunate considering the rich food tradition of Greece. The good thing is that many hotels are starting to see the Greek "light". You may notice feta cheese and local cheeses, olives, maybe even some paximadia (Greek rusks) on display, but you still have all the other stuff (pre-packaged cereals, bacon etc).
An important initiative is the Greek Breakfast of the Hellenic Chamber of Hotels that seeks to have hotels in Greece serve local Greek breakfasts using local products, providing guidance for hoteliers and developing a network of hotels who are participating and serving a Greek breakfast. The Hellenic Chefs Association is also working hard on promoting the Greek breakfast among hotels and chefs.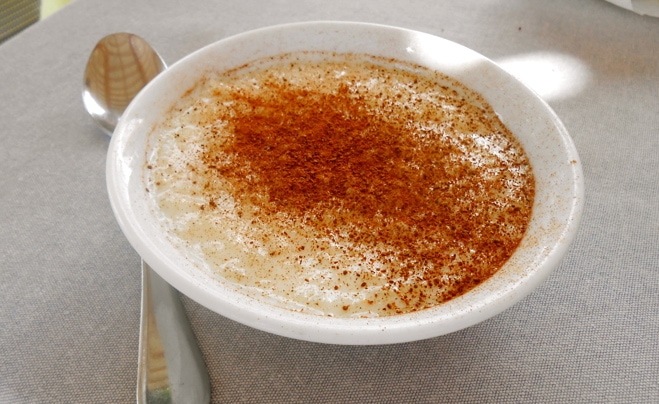 However, I haven't seen much done to actually promote the Greek breakfast to the average consumer. Let's say you are in Greece, or you are a Greek traveling somewhere in Greece that you have never visited. Do you know what the local breakfast is?
There are actually many hotels that do serve a Greek breakfast or rather Greek breakfast foods, the problem is that these foods are mixed with all the Westernized breakfast items, making it difficult for someone to actually eat a Greek breakfast. And they end up eating the same old thing: eggs, bacon, cereal etc.
So here's my advice: The next time you are visiting Greece or if you are Greek and in an area you have never visited, read up on what the local products are, at the buffet ask if the preserves are homemade or if the honey is local. If you see some sort of pita (savory pie), choose it over croissants. If you are staying somewhere with no breakfast, go to the local bakery and get some traditional pites there. Taste the local sweets, try some local herbal teas.
The Greek Breakfast may not be obvious, but if you look for it, you will find it.