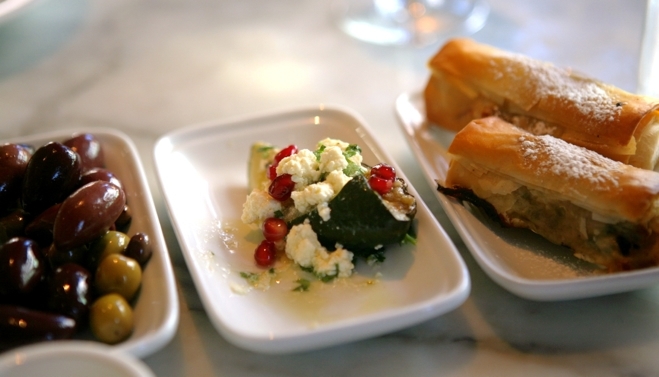 I am back from vacation and I hope you had the chance to check out on Olive Tomato's Facebook page what I was eating while vacationing on the Greek island of Paros-I will be posting the photos with comments here too. But now I will continue where I left off. As promised I am making recommendations on menu items in Greek restaurants outside of Greece.
In my first post I covered restaurants in the U.S., and today I will make recommendations from restaurants in Australia, U.K. and Canada, based on how closely they to the principles of the original Mediterranean diet, pointing out dishes that better represent that original Mediterranean diet and have more nutrition bang for the buck. I am listing my top 5 picks of each restaurant.
As I mentioned in my previous post this is not an exhaustive list, just a few restaurants that came to mind. Generally though when you are in a Greek restaurant try and order dishes with beans, horta (wild greens), cooked vegetables with tomato or lemon and some small fatty fish such as sardines to get some of the good fats, fiber and antioxidants.
Restaurants in alphabetical order
Australia
Greek Meze Zucca-Adelaide: Chargrilled octopus with beetroot & garlic, Spiced chickpea & mizithra, Carrotas tossed in honey & walnuts, Melinzanosalata (eggplant), Steamed mussels in tomato-olives & feta with risoni.
Hellenic Republic-Melbourne: Lahanosalata (cabbage salad, balsamic honey, kefalograviera cheese), Kipriaki Salata Dimitriakon (Cypriot salad of grains, pulses, nuts, yoghurt), Spanakopita (Spinach, cheese pie), Lahanika (Roasted carrots, cauliflower, tahini yoghurt, almonds), Loytianos (Whole baby snapper, walnut coriander dressing)
Kafe Meze-Brisbane: Gigantes (homemade beans), Dolmades (stuffed vine leaves), Horta (silverbeet), Skordalia (potato/garlic), Grilled Octopus
United  Kingdom
As Greek As It Gets-London: Dakakia (Cretan whole-wheat rusks topped with tomatoes, capers & feta), Fava pantremeni Santorinis (Fava married with sundried tomatoes, capers & onions), Romano piperies gemistes me spanaki & feta (Romano red peppers stuffed with feta & spinach baked in retsina), Kotopoulo me bamies (Chicken stew cooked with tomato sauce & okra), Melitzanes me feta, domata, & skordo (Grilled aubergine discs topped with feta, tomato & garlic)
The Olive Tree-Leeds: Sardines (Grilled with olive oil, lemon juice and oregano), Briam (Layers of seasonal vegetables, courgettes, aubergines, tomatoes, potatoes & dill), Horiatiki Salad (Greek salad with feta cheese and olives), Red Mullet (Red Mullet fillets, char grilled with olive oil, fresh lemon juice & herbs), Spinach (Served with mint and garlic)
The Real Greek-London: Revithia (Baby chickpeas with handfuls of herbs, olive oil and lemon), Watermelon, Mint & Feta (Refreshing watermelon, fresh mint and feta on a bed of leaves with olive oil and honey dressing, finished with pomegranate seeds), Grilled Asparagus (Dressed with olive oil, Greek honey and Kozanis saffron), Grilled Aubergine with Garlic Tomato Sauce (Chargrilled aubergine served warm with garlic and tomato sauce), Fresh Orange with Pistachios (Orange segments with mountain honey, pistachios and mint)
Canada
Avli Restaurant -Toronto: Special Horta Pie (fresh seasonal bitter greens with Greek kaseri cheese), Roasted leek with feta and olives, Artichokes and Potatoes, Okra in chunky tomato sauce, Baked eggplant with tomatoes-caramelized onions-pine nuts-raisins
Estiatorio Volos-Toronto: Wild Arugula and shaved fennel salad with manouri cheese-grilled pear-roasted walnuts, Chilled yogurt-cucumber soup, Watermelon and Feta cheese salad, Grilled calamari with cherry tomatoes-capers-oregano-olive oil-balsamic reduction, Salmon with spanakorizo-shaved feta-herb and lemon sauce.
Philinos-Montreal: "Melitzanosalata" Dorienne (Eggplant spread),"Octapodaki" Kythnou (Grilled octopus on onions and red peppers), "Moussaka" Corinthienne (Eggplant, zucchini, potato and bechamel paté, without meat), Greek Salad, Fish of the day (Grilled on charcoal with a touch of extra virgin olive oil, fresh lemon juice and fine herbs)