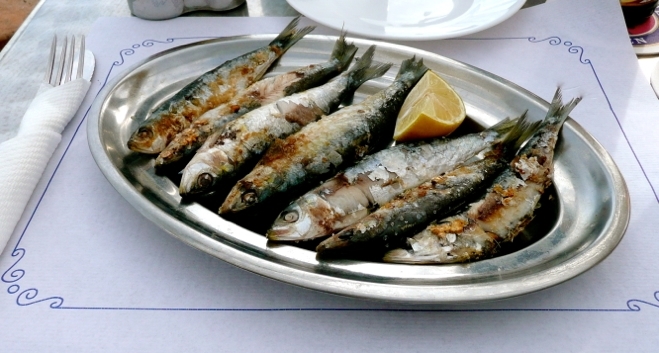 So as promised I am making recommendations on menu items in Greek restaurants based on how closely they adhere to the principles of the original Mediterranean diet. Almost all Greek restaurants have a choice of traditional dishes based on vegetables, however they aren't always really promoted-you might see them under "sides" or "extras". Luckily the new generation of Greek restaurants are offering a wide range under their featured dishes that include plenty of beans, greens and vegetables cooked perhaps in slightly different way or even deconstructed, but with the same ingredients used in the Mediterranean diet.
All the restaurants have many meat and fish main courses and I am not saying you shouldn't choose meat, but just pointing out dishes that better represent that original Mediterranean diet and have more nutrition bang for your buck. And really, most of us probably eat more meat than we need to, and Greek restaurants are the place to go for some tasty vegetable and bean dishes, so try and choose some of these for appetizers. I am listing my top 5 picks of each restaurant. I have added the links to each restaurant, so you can check out where they are.
Obviously this list is by no means exhaustive, just a few of the more known restaurants (traditional and modern) that come to mind. But you get the idea, try and order dishes with beans, horta (wild greens), cooked vegetables with tomato or lemon and some small fatty fish such as sardines to get some of the good fats, fiber and antioxidants the Greek-Mediterranean Diet is so famous for.
For those in the U.S. the Greek-American newspaper The National Herald has compiled a list of the 100 best Greek restaurants in 2011, click here to see the list. Today I am presenting U.S. Greek restaurants, in my next posts a selection of restaurants from the U.K., Australia and Canada and then I will also dedicate a post to Greek-Mediterranean Fast Food chains which may be a bit more tricky.
Restaurants in alphabetical order and items are noted as written on the original restaurant menus.
Agnanti-New York: Tomatokeftedes (tomato and herb croquettes), Mushrooms Kalitsounia from Crete (homemade dough wrapped around mushrooms and herbs), Politiki salad (shredded red and white cabbage, lettuce, peppers, cabbage, garlic), Fasolia Plaki (oven baked lima beans with vegetabes and herbs), Grilled Kalamarakia (calamari grilled)
Avli – Illinois: Prasopita (leek, fennel and Greek cheese wrapped in filo), Aginares Skaras (Artichoke halves skewered and char-grilled. Dressed with capers, lemon zest and olive oil), Lentil salad (Baby Greek lentils with roasted red pepper, feta, herbs, and olive oil over baby spinach), Cretan dakos (Whole wheat bread rusk, grated and chopped tomatoes, feta, herbs, and extra virgin olive oil), Horta (blanched fresh dandelion greens with olive oil)
Cava Meze-DC-Maryland-Virginia: White Bean Ragout (Tomatoes, onions, basil),  Cauliflower (Pan roasted, EVOO, Greek yogurt), Lentil Soup (Aged red wine vinegar, roasted garlic, savory broth), Roasted Eggplant (Red pepper, garlic, herbs), Green Beans (Roasted garlic, Assyrtiko wine, tomatoes, onions)…READ ON FOR MORE RESTAURANTS
Costas Restaurant-Florida: Dako
Dio Deka-California: Piperies (roasted shisito peppers, smoked tzatziki, lemon, Urfa pepper, Greek sea salt), Kounoupithi (Roasted cauliflower florets, chili flake, Kefalograviera mousse, lemon juice, summer herbs), Lavraki (Mesquite-grilled Mediterranean branzino, sautéed early summer greens, herb-crusted lemony potatoes), Ntomatosoupa (Chilled sungold tomato soup, basils, green tomato and roasted garlic, charred eggplant puree), Elies (Marinated Kalamata olives, chili, rosemary)
Estiatorio Milos-New York: Lavraki and Petropsara soup (traditional fish soup from the island of Santorini), Vegetables (Grilled Zucchini, eggplant, asparagus, peppers, the famous Cypriot cheese, and yogurt with dill),  Fava (Cultivated on the volcanic earth of santorino, pureed, served with French shallots, olive oil) Sardines (Fresh Mediterranean sardines, charcoal-broiled and served with extra-virgin olive-oil, lemon, and oregano), Yogurt With Honey (Greek-style artisan-made goat's milk yogurt with Thyme Honey from kythera).
Greek Islands-Illinois: Fava (Traditional Greek spread from chick peas), Hot Lima Beans (Gigantes beans cooked in tomato sauce), Bamies (Baked okra in a light tomato sauce), Fresh artichokes served in homemade egg-lemon sauce, Lahanosalata (Cabbage Salad -Finely chopped cabbage with carrots, and celery in garlic vinaigrette)
Kefi-New York: Fasolada me praso, spanaki, tomata, kremidi fresko, lemoni (White Bean Soup, Leek, Spinach, Tomato, Scallion, Lemon), octapodi stin sxara, revithia, fasolia, tomates liastes (grilled octopus bean salad), mithia-gigantes-feta (mussels-gigantes beans-feta), melitzanokeftedes, tahini, pita (chickpea-eggplant-bulghur fritter), tzatziki-taramosalata- melintzanosalata-revithia (Spreads: Yogurt, "Caviar", Eggplant, Chickpea)
Kokkari Estiatorio-California: Karpouzi me Feta (watermelon & feta with pine nuts & Greek basil) ,Gigantes (oven-baked giant beans with tomato sauce, olive oil & herbed feta), Marithes Tiganites (crispy smelts with garlic-potato skordalia & lemon) , Fakes Soupa (lentil, vegetable soup with braised greens), Aginares Souvlaki (grilled artichokes & eggplant skewer with Greek yogurt)
Kyma-Georgia: Spanakopita (spinach and feta cheese triangle pies, baked in country filo), Whole sardines (herb grilled, Hawaiian sea beans, olive oil, fresh lemon), Eggplant stew (caramelized sweet onions, tomato), Braised Greens (warm greens, olive oil, lemon) , Baby Beets (olive oil, aged red wine vinegar with potato garlic spread)
Loi-New York: Gigantes me spanaki (Oven Baked Gigante Beans With Spinach, Cipollini Onions Topped With Parsley And Olive Oil), Papoutsakia (Baby Eggplant Stuffed With Tomatoes And Caramelized Onions, Topped With Smoked Feta Mousse), Sardeles Plaki (Baked Sardines In Tomato Sauce), Salata me rodi (Crispy Endive And Arugula Topped With Fresh Pomergrante Seeds), Saligaria Kokkinista (Braised Snails In Fresh Tomato Sauce)
Molyvos– New York: Revithia Hummus (Chick Peas, Tahini, Garlic, Extra Virgin Olive Oil), Patzaria me Gigantes ( Marinated Baby Beets, Giant White Beans, Skordalia), Dolmades Lahanikon (Grape Leaves Stuffed with Arborio Rice, Almonds,Currants and Mint, Skordalia, Fennel and Preserved Lemons), Piperies Yemistes (Stuffed Roasted Red Peppers,Arborio Rice, Eggplant, Zucchini, Tomato and Manouri Cheese), Lavraki Plaki (Mediterranean Sea Bass Baked in a Clay Pot, Horta, Onions Tomato, Kalamata Olives)
Pylos-New York: Spanakorizo (classic spinach-rice pilaf served with crumbled feta, lemon and cracked black pepper), Tsigarellia (chard and spinach cooked with celery, fennel, onions, tomatoes and crumbled feta),  Gigantes skordalia me psiti tomata (giant beans pureed with roasted garlic, extra virgin Greek olive oil and charred tomato), Sardeles skaras (sardelles scharas classic grilled fresh sardines served with chopped parsley, garlic and extra-virgin olive oil) , Patzaria psita ( olive-oil-rubbed roasted beets filled with mint-and feta mousse)
Photo Credits: Terry Wha, Olive Tomato