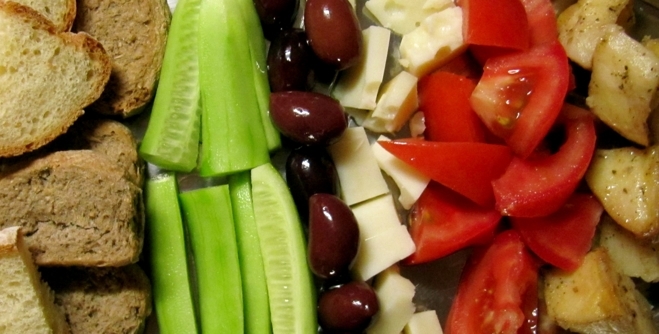 A Meze platter is a wonderful thing. A variety of tasty small bites of whatever you may have on hand to accompany your drink. Sometimes I'd rather just eat all these small tidbits rather than a complete meal. The meze is such an important part of the Greek culture. It's all about taking your time and sitting at a table for hours just snacking on little tasty things, talking and drinking. Even today with the fast and busy way of life, Greeks still spend plenty of time at the table and going out for an "ouzaki" is a common form of entertainment.
Traditionally Greeks never drink alcohol without eating something. That little something is called a meze. The concept of a meze exists in many countries particularly in the Middle East. For Greeks it could be something as simple as a few olives and bread, just something small so as to not drink on empty stomach. 
There are several places that cater to this practice of eating mezethes: you can go to a mezethopoleio-which basically translates place that sells mezethes, or you can go to an ouzeri-a place that serves ouzo with mezethes or a tsipourathiko– a place that serves tsipouro with mezethes. Of course you can also order wine or beer.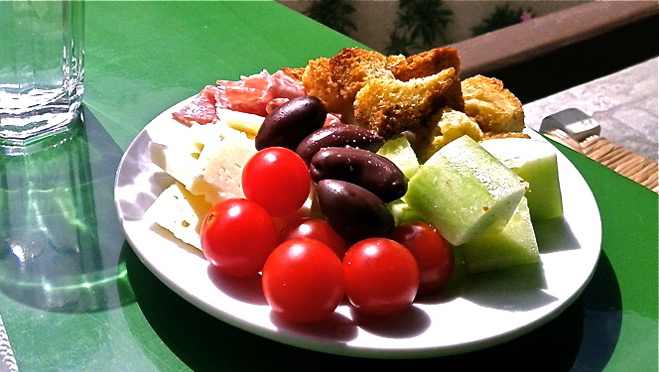 You can order a variety of little plates or what we call a pikilia, which translates into "a variety" and basically contains several little mezethes on one plate or platter. This can be a small 1-person pikilia.  I remember my grandfather ordering an ouzaki and it would be accompanied by a tiny plate with 1 olive, 1 slice of tomato, 1 piece of cheese and 1 little meatball (keftedaki)-just enough for him to drink his ouzo, but not too much as to ruin his appetite for dinner later.
If there are 2 or more people, you can order large pikilies that are meat based or seafood based. They can be extravagant with shrimp, octopus, squid, sausage, pork etc. or it can be with simple things like my grandfathers pikilia. I find the simpler, the better. Many times these tidbits are quite salty as that makes the ouzo and tsipouro go down easy. Common salty mezethes are cured sardines and anchovies.
How To Make a Greek Meze Platter
The photo above is a simple pikilia I put together, and we may have it for dinner with some ouzo or wine or beer especially in the summer. Basically just cheese, olives, tomatoes, bread, rusks and whatever leftovers I may have (in this case Greek oven baked potatoes). I sometimes add some carrot and zucchini sticks along with some tzatziki.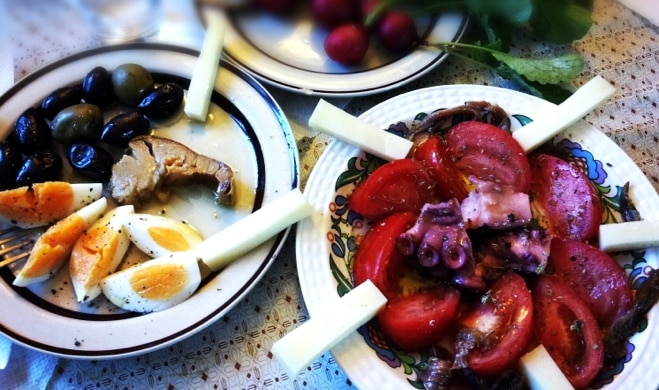 Keep it healthy by adding as many vegetables you can, you can avoid meat all together or you can add jut a small amount. Broad beans are also a common ingredient for pikilies.
Next time you're too tired to cook dinner-put together some mezethakia. And if it's warm enough, put a couple of chairs and table out on the porch, balcony, patio, yard or even in front of an open window, sit back and enjoy.
Photo 2 credit: Top Syntages
Photo 3 credit: Deborah Novak