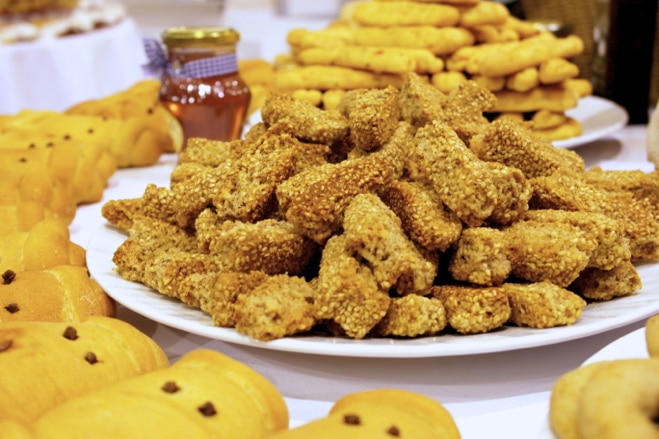 Last week I had the opportunity to attend HO.RE.CA. HORECA is the acronym for Hotels, Restaurants and Cafes. It is basically an exhibition with everything for people in the hotel, restaurant and café business.
I was lucky enough to meet up with some legendary Greek chefs. A common point in our discussions was the fact that Greek food needs to be a larger part of the hotel industry and to move away from the generic continental cuisine and that there was a need not only to promote Greek food but also local Greek food products.
Greek Breakfast
Promotion of local food products is one of goals of the initiative of the Hellenic Chamber of Hotels known as the Greek Breakfast, which was presented at the exhibition. The philosophy is that hotels around Greece can build their own traditional Greek breakfasts based on food products produced in the area. They believe that breakfast is the ideal way to introduce visitors to local Greek food and products.
Using local products does provide a unique Greek breakfast experience but it has more important implications; it can help the economy of the area, installing local pride for the products and perhaps an increased involvement with production and promotion of these products. I see it also as a way to lead many areas to greater self-sufficiency in terms of food. Greece, and particularly Crete was once almost entirely food self-sufficient. Today unfortunately, this is not the case. Greece and most countries for that matter, may never be self-sufficient again but hotels using food produced in Greece is a step in the right direction.
At the Exhibition
The breakfasts presented were based on traditional components of the Mediterranean diet: vegetables, fruit, olive oil, breads, olives, cheese and yogurt. There were 4 regions and 4 islands of Greece represented at the exhibition and each region had their own booth. Visiting the booth, I was able to see samples of suggested breakfasts under glass cases that could be served in a particular area using local products.
I came across some enthusiastic young chefs and cooks who explained in detail all these food items, many of which I had never heard of or tasted. It was a shame though that there were not really any foods to sample or available recipes for these dishes at the booths. I think it would have been useful for people in the hotel and restaurant business who would perhaps like to start serving these local breakfasts to get an idea of what these foods taste like and how to make them. After all this exhibition as I understood it, was to get the tourism industry to start serving local breakfasts in their hotels, and what best way to do that then by inviting people passing by your booth to sample while sharing the recipe? I would like to see next year more interactive and engaging, hands-on exposure at the exhibition booths rather then just "show and tell".
Presentations
If you really wanted to taste these breakfast food items you could wait for the live presentations of breakfasts. Each area was allotted a 1-hour presentation over the 3-day expo. If you were able to attend, you had the opportunity to taste all the goodies presented and also talk to local chefs and cooks about how to make them.
I was able to attend the breakfast presentation of the island of Kos. The Kos team (as I'm sure all the teams) did a wonderful job, their spread was quite impressive. I learned about their special goat cheese that is left to age in wine and I tasted 2 wonderful foods I will try to make as soon as I find the recipes: Tomato spoon sweets-something like tomato preserves. These preserves were served with strained (Greek-style) yogurt and it was wonderful. They also presented a traditional way of making/treating olives with orange peel; raisins and I believe sesame seeds.
There was true excitement and pride during the presentations and hopefully their fellow hoteliers will follow their example. Breakfast is an important meal in the Greek hotel world-all hotels and many rented rooms offer a free breakfast included in the price of the room, so this meal is really a way to introduce a visitor to the local delicacies. According to the president of the Hellenic Chamber of Hotels George Tsakiris, there will be 350 hotels in Greece serving a "Greek Breakfast" by the end of 2013.
This initiative has a website GreekBreakfast.gr which provides plenty of information including menus, local agreements, hotels that serve "Greek breakfasts" and a few recipes, although all in Greek, there is no English edition which I believe is necessary, particularly for foreign visitors who would like to find a hotel that serves a local Greek breakfast.