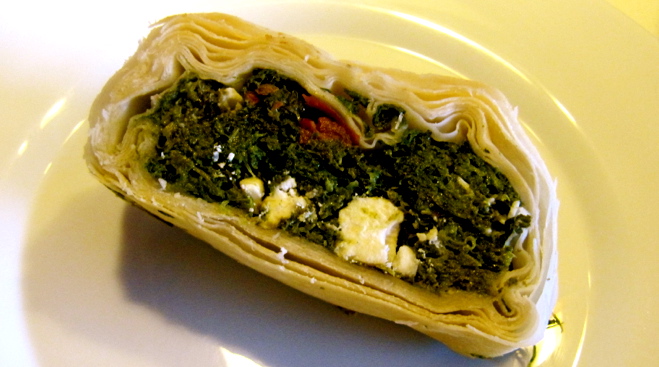 This week we started participating in Food Network's Healthy Eats, January Healthy Every Week Challenge. The goal for this week is to cook more at home. Cooking at home is one of the best steps you can take to get yourself to eat healthier "real" food.
The Mediterranean diet conjures images of long, time consuming, home cooked meals… and who has time for that? I don't, but did you know that there are plenty of Greek-Mediterranean recipes that are not only quick and easy to make, but they taste even better the next day?
As a dietitian, a busy mom of two little boys, and a avid supporter of the Greek diet, cooking healthy Mediterranean style dishes is a priority for me, but my time is limited. How do I do it? Here are my survival tips for quick Mediterranean cooking.
1. I always keep frozen vegetables, frozen herbs and canned tomatoes in my kitchen. With these 3 ingredients you can make the super healthy Greek vegetable one-pot dishes known as lathera which means "made with olive oil". These dishes are made with a combination of vegetables, herbs, tomatoes and olive oil. They are delicious, healthy, full of antioxidants, low calorie and one serving which is a medium plate can provide you with 3 servings of vegetables. And the best part: active preparation time is only 10 minutes and they cook for 30-40 minutes. Click here for 3 easy and healthy lathera recipes. These dishes last 2-3 days and we eat them with a piece of feta cheese and a slice of whole wheat bread. Perfect for Meatless Mondays.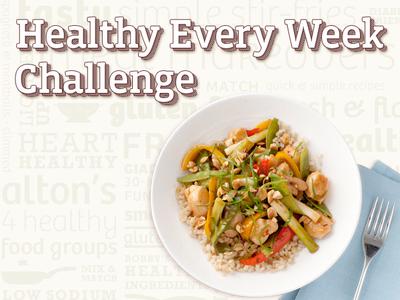 2. I make at least 2 no-cook meals a week with beans. Beans are a staple in The Greek-Mediterranean diet. Traditionally Greeks consume them at least twice a week cooked with some olive oil, lemon and sometimes tomato. Not only are they a great source of protein, fiber and antioxidants, they are cheap. I make Mediterranean inspired bean salads, and one of my favorite one is black eyed pea Mediterranean style salad.
Black-Eyed Pea Mediterranean Salad
INGREDIENTS
1 can black-eyed peas rinsed
2 tomatoes cut in cubes
1 spring onion sliced
2 carrots diced
½ cup fresh chopped parsley
1-2 chopped red bell peppers
For the dressing
¼ cup olive oil
1 ½ tablespoon lemon juice
1 tablespoon honey
Salt and Pepper
PREPARATION
For the salad mix all the ingredients well in a bowl. Make the dressing by mixing the ingredients in a jar or small bowl. Add the dressing to the salad. This salad tastes much better after a few hours covered in the refrigerator so that all the flavors are absorbed.
3. I make Greek savory pies, called pites on the weekend, freeze them and have a week's worth of lunches ready. They sound like a lot of work, but actually they are not. Greek savory pies, are the original traditional Greek fast food; they are easy to take with you and they can last several days. You probably are familiar with the spanakopita-spinach pie, but they can have other fillings such as leek, pepper, onion, mushroom and zucchini. They are very popular in Greece and they provide another way to eat vegetables packaged in tasty phyllo dough.
Basically you take some vegetables, sauté them, add some eggs and maybe some cheese, wrap them in phyllo dough and bake them. These are ideal for the busy cook because the active preparation time is less than 30 minutes, they last for days, and they freeze wonderfully.
I usually serve a large piece of spinach or leek or red pepper pita with a side salad, and they are ideal for kids, because the vegetables are hidden between the golden phyllo sheets. Nutritionally these pites are an excellent source of antioxidants due to the vegetables, olive oil and herbs and yes they are low carb, with only about 30% of calories coming from carbohydrates.  I use plenty of vegetables, olive oil and just a bit of cheese, and sometimes no cheese.
Spinach pie in a Roll-Spanakopita Rolo
INGREDIENTS
2 pounds frozen spinach defrosted
2-3 spring onions
4-5 eggs
Dill
½ cup olive oil
About 12 sheets of phyllo dough
½ cup feta cheese crumbled
1 teaspoon sugar
*You can also add some chopped sundried tomatoes.
PREPARATION
1. Preheat the oven at 375 degrees F (190 C).
2. Take the defrosted spinach and squeeze out all the water.
3. Sauté the spinach, the spring onion and the dill for a few minutes in 1-2 teaspoons olive oil.
4. Remove from heat. Let the mixture cool off in a bowl.
5. Once the spinach mixture has cooled a bit, add 4-5 eggs, ½ cup crumbled feta, 1-2 tablespoons olive oil, and 1 teaspoon salt and a bit of pepper.
6. Layer 6 sheets of phyllo on a pan or other working surface, brushing a bit of olive oil on each sheet.
7. Spread ½ of spinach mixture width-wise on the top part of the phyllo sheets and than start rolling the whole thing like a strudel. Repeat with the other ½ spinach mixture and the rest of the phyllo sheets so that you end up with 2 rolls.
8. Sprinkle with some water so that the phyllo won't puff up while baking, and cut in the phyllo (not all the way through) making small slashes about an inch apart.
9. Bake for about 40-50 minutes. Let it cool and cut slices all the way through.
Check back for some more pita recipes.