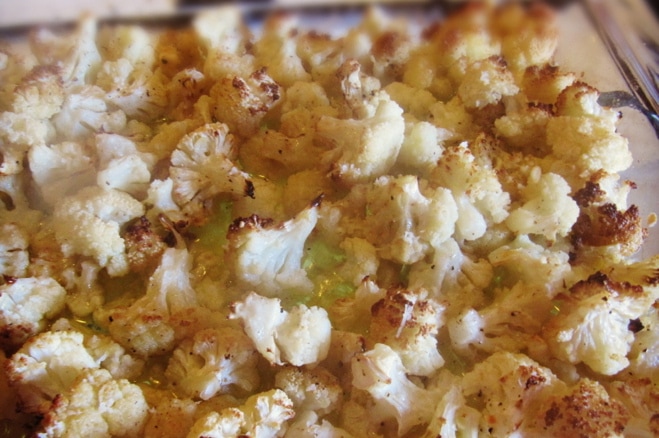 Yes we all know how great cauliflower is. What's so great about it? Besides the fact that it's low in calories and high in fiber, it has other properties that protect from chronic diseases. It contains several phytochemicals such as sulforaphane, which is a substance that is released when we chew the cut cauliflower and has anticancer properties. It also contains a substance called indole-3 carbinol, which appears to have anti-estrogenic activity and slows or even stops the growth of tumors in the breast.
In the US, I usually come across it raw and crunchy in salad bars or as an appetizer along with carrot sticks and ranch dressing. In my mom's Greek kitchen though, I had as a main course, and I liked it!
Cauliflower is generally consumed as a main course by Greeks and it was a common dish during fasting periods. My mom made it two ways: kokkinisto, cooked in tomato and olive oil or boiled and then adding olive oil and lemon. Both were accompanied with feta cheese (unless we were fasting) and bread. In the past few years I roast the cauliflower in the oven, since I don't really have to look over it all the time. The addition of olive oil to cauliflower and roasting it really makes the difference, giving it a nutty and sweet taste.
If you don't really care for cauliflower, try the roasted recipe and it will become a regular meal in your home. We make it at least once a week and we eat the whole thing in one day.
Nutritionally you have a meatless meal full of antioxidants as both the cauliflower and the olive oil contain these protective substances. If you make the kokkinisto you'll have the additional antioxidants from the tomato.
Roasted Cauliflower with Garlic
INGREDIENTS
1 medium head cauliflower
2 garlic cloves crushed
Salt/Pepper
Olive Oil
Crumbled feta or grated parmesan cheese
DIRECTIONS
1. Preheat the oven at 400 F (200 C).
2. Wash the cauliflower, take apart so you have small florets (the smaller-the quicker it cooks).
3. Mix with the crushed garlic add salt and pepper to taste.
4. Add olive oil. Starts with ¼ cup, making sure all florets are covered in oil, add a bit more if needed.
5. Cook in the oven for 30-40 minutes.
6. Sprinkle with some crumbled feta cheese or parmesan cheese. I add just a bit for taste, but it's really not necessary.
Cauliflower Cooked in Tomato
INGREDIENTS
1 medium head cauliflower
 15 oz (425 gr) crushed tomato
1 onion chopped
Salt/Pepper
½ cup olive oil
DIRECTIONS
1. Wash the cauliflower; take apart so you have small florets.
2. In a medium pot sauté the onions.
3. Add the tomatoes and let it come to a boil. Add 1-2 teaspoons salt and pepper.
4. Add the cauliflower, cover the pot and let it cook for about 30 minutes.