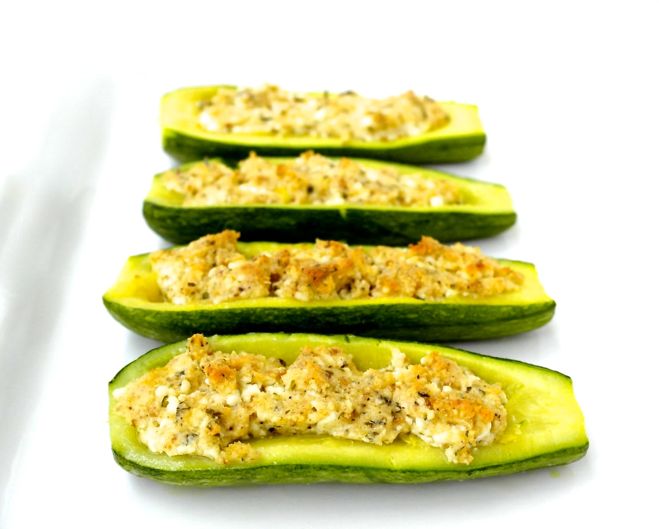 Zucchini is a vegetable I associate with the summer, so we have a constant supply the whole season. We'll typically use them in briami, or add them to lathera, or bake or fry them. As I mentioned Greeks love using zucchini in many ways. Here is a simple (and not so common)recipe that works very well as an appetizer or even as a side dish: cheese filled zucchini.
I was inspired by a Cretan recipe that uses Cretan mitzithra in the stuffing and staka a type of butter made from sheep's milk. This recipe is a bit lighter, it includes feta along with Greek yogurt, herbs and olive oil. I also added some barley breadcrumbs for a healthier version. The filling reminds a bit of a filling used for stuffed mushrooms you often see served as an hors d'oeuvre.
Stuffed Zucchini with Feta and Herbs
INSTRUCTIONS
3-4 medium sized zucchini
3 ounces feta
2 tablespoons Greek yogurt
2 tablespoons bread crumbs (I used barley or you can use whole wheat)
2 teaspoon chopped parsley
2 teaspoons chopped mint
½ teaspoon freshly ground pepper
1 garlic clove minced
1 tablespoon olive oil
1-2 teaspoons dry oregano
DIRECTIONS
1. Preheat the oven at 350 Fahrenheit (180 degrees Celsius).
2. Wash the zucchini and boil the zucchini whole for about 10 minutes. Remove from pot and let it cool.
3. In a bowl mash all the other ingredients together.
4. Cut the edges on each side and then cut the zucchini in the middle lengthwise.
5. With a small spoon remove the inside and seeds of the zucchini.
6. Fill each half with the cheese mixture and place in a pan.
7. Bake for about 30 minutes until the cheese has browned on the surface.
Photo by Elena Paravantes