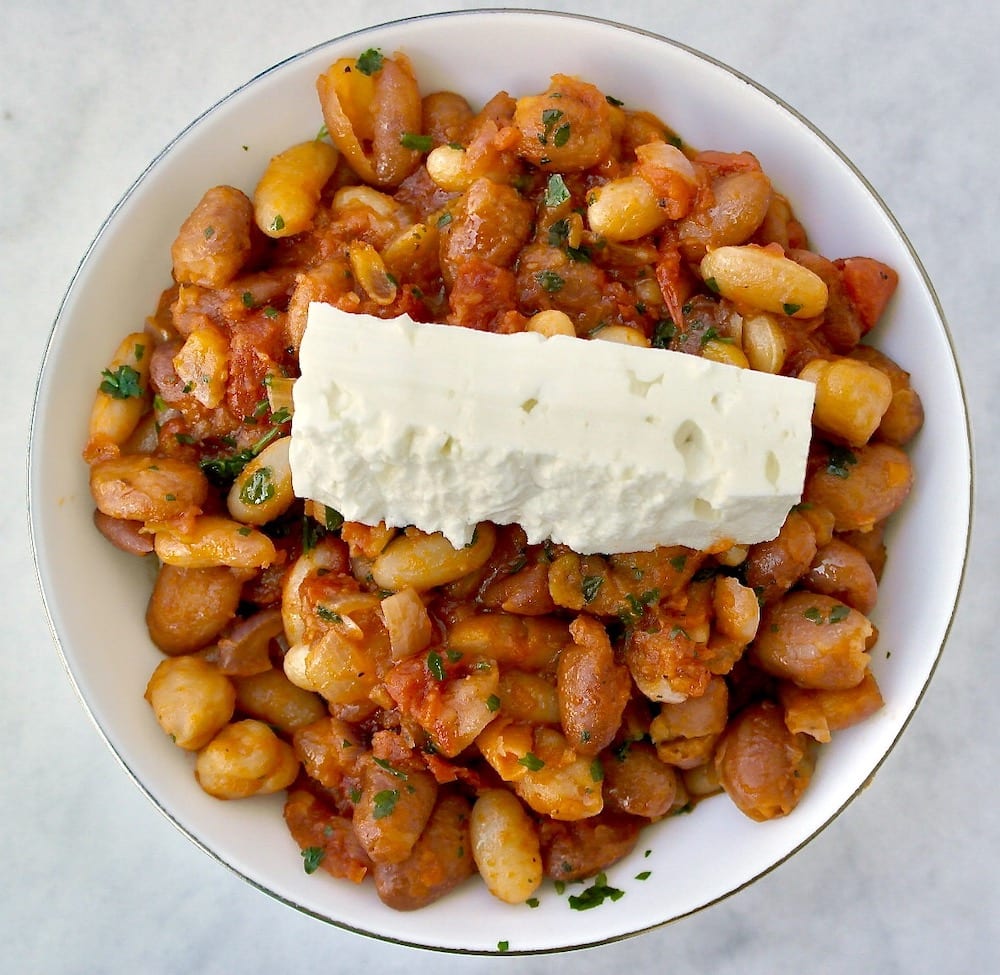 Beans, not the green kind but the ones also known as pulses or legumes are such an important part of the Greek diet. Whether they are used in soups. patties, roasted or stewed, the flavor is something that is highlighted along with the other ingredients. Greeks don't hide their beans in pasta sauce nor do they mix them in salads. Beans take center stage in the Greek cuisine.
For me the best and easiest way to enjoy beans is with the standard tomato preparation Greeks use for most of their vegetables. For this recipe I used a mixture of dry beans that included white beans, the yellow split pea (known as fava here in Greece), chickpeas and hantres or barbounia beans a type of bean that it is white with purple spots.
The process is simple, and if you do it from scratch it takes a bit of time, but the active cooking time is minimal. The result is nice soft beans with a rich tomato sauce. Of course you an also do this with canned beans, saving some time. However, generally in Greece you do not find much canned beans. There are some small cans of broad beans that have olive oil and tomato added to it and is meant to be consumed as is, but plain precooked canned beans are rarely used.
The nutritional value obviously is high, this dish is a good source of protein and antioxidants since all the ingredients are great sources of these powerful substances, good fats and fiber. Oh… and did I mention? Kids love them when they are cooked in this yummy sauce.
Add the feta for some tang and a rusk for some crunch.
GREEK WHITE BEANS WITH TOMATO SAUCE AND FETA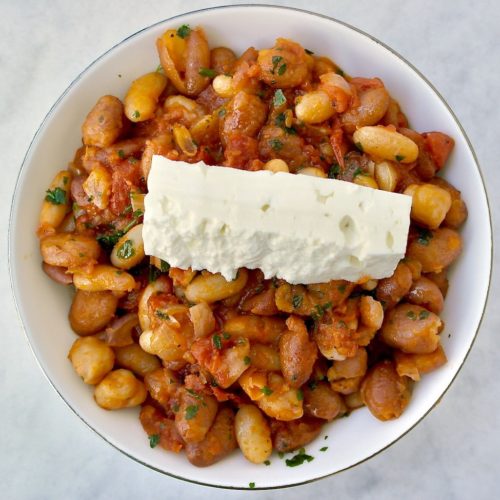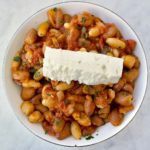 Soft and tender white beans cooked in a rich and flavorful tomato sauce.
Print Recipe
Pin Recipe
Ingredients
1

cup

of dry beans

1

large onion chopped

1

garlic clove minced

2-3

tablespoons

olive oil

salt/pepper

parsley
Instructions
Soak the beans overnight.

Rinse them and place them in a pot. Put enough water to cover them. Bring them to a boil, then change the water and cover the beans again with water and boil for about an 45 minutes to an hour.

Sauté the chopped onion in olive oil until translucent. Add the garlic and continue to sauté for about a minute. Add the beans and mix gently until they are covered with the olive oil.

Add the tomatoes and about

1/2

cup hot water. Add pepper and salt to taste. Bring to boil and lower heat and simmer for about 25 minutes, until beans are soft and liquids are absorbed. Check and add water as needed.

Remove from heat and let it cool. Serve with feta and bread or rusk.
DID YOU MAKE THIS RECIPE?
Leave a comment or share on instagram and mention @greekdiet
---
---
Photos by Elena Paravantes © All Rights Reserved