This hearty apple cake/crumble is made with olive oil, fresh apples and topped with a crunchy crumble.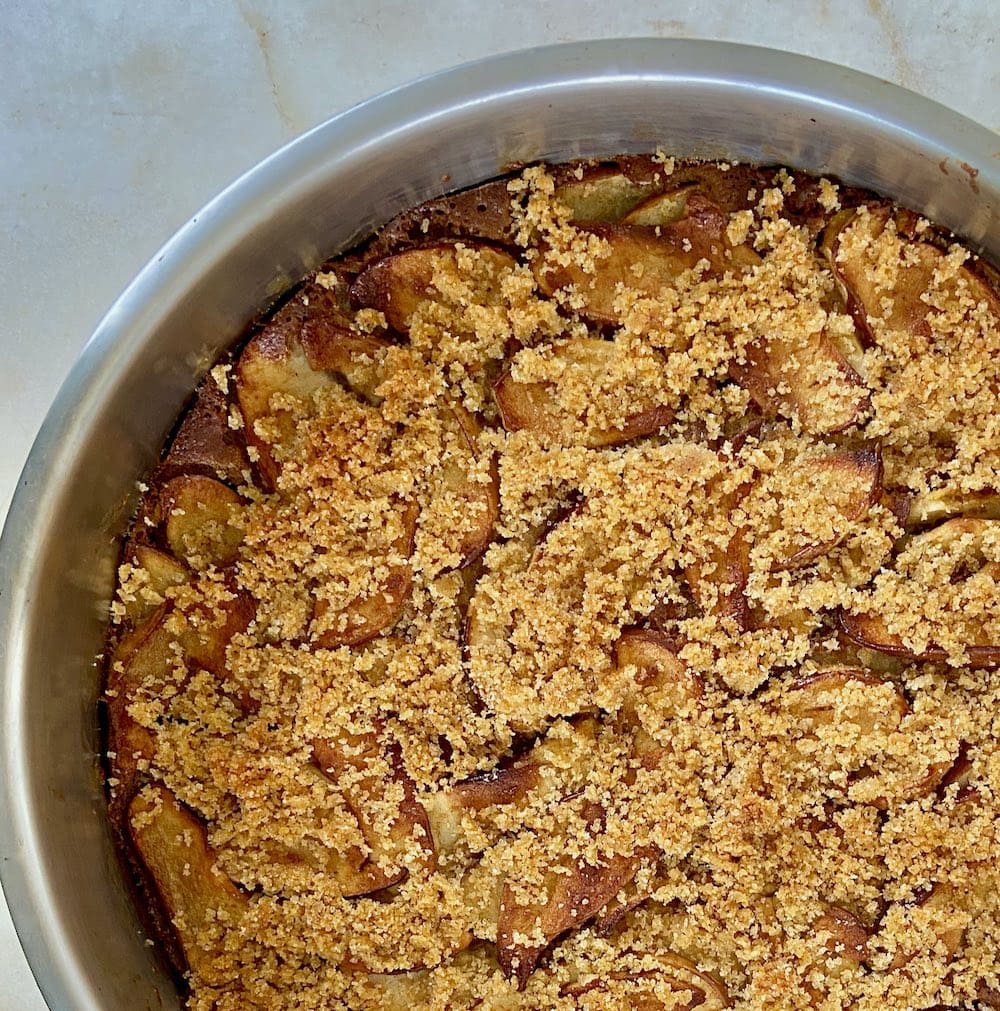 I love anything with apples. They are so versatile, and I think apple pie is probably on the top of the best dessert list for most of us, but it is a bit time consuming and all that crust does add up the calories. Having said that, I do enjoy a traditional apple pie here and there, but for a lighter dessert I usually will go to apple cake. For this recipe I have combined the best of both worlds: an apple cake made with very little batter (it is mostly apples) and then I added a crumble on top to get that crunch we all crave. It was delicious and gone by the end of the day. It's a great alternative to apple pie and so easy to make! I use olive oil of course and it pairs very well with fruit plus you get all those good fats and antioxidants.
Making an Olive Oil Apple Cake
I start with the crumble topping; you want to make sure it is grainy and that all breadcrumbs are wet. See below: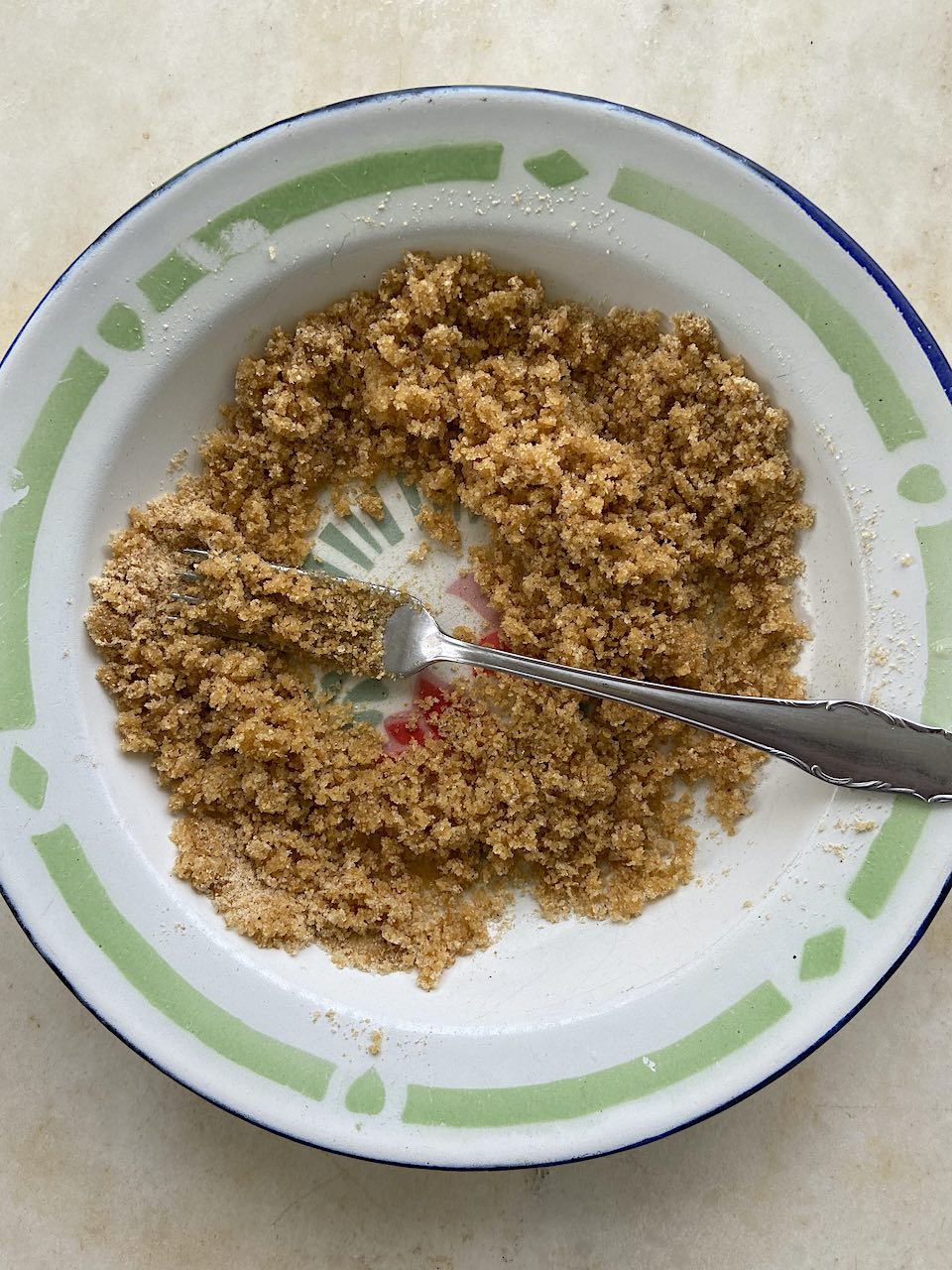 For the apples, I partially peel them, kind of in stripes, that way I keep some fiber and nutrients from the peel.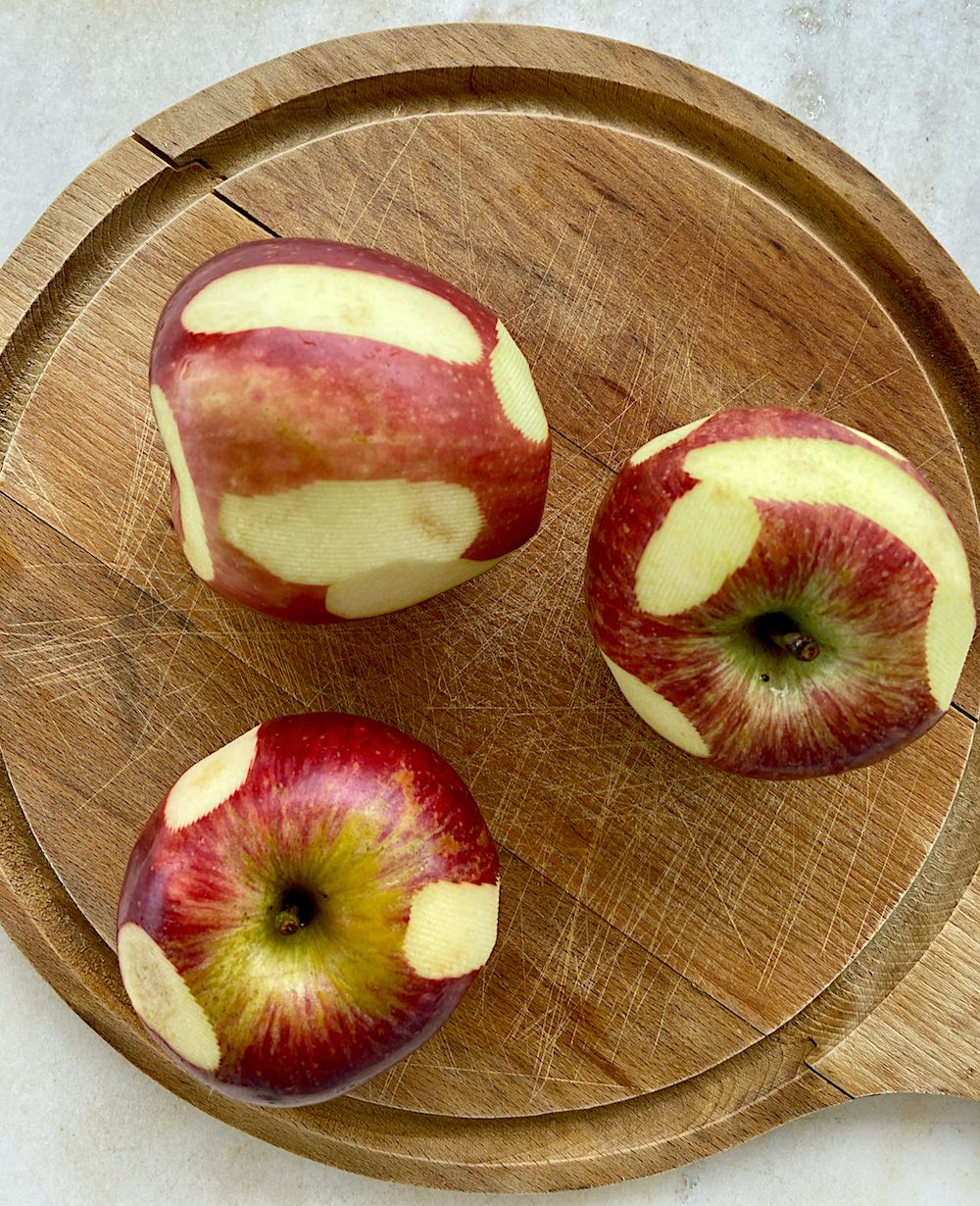 And I slice them thin. To get good slices, cut the apple in half and remove the core, then place the cut side of the apple flat on your cutting board, that will provide an even surface. I also add a few drops of lemon on the apple, so it won't brown.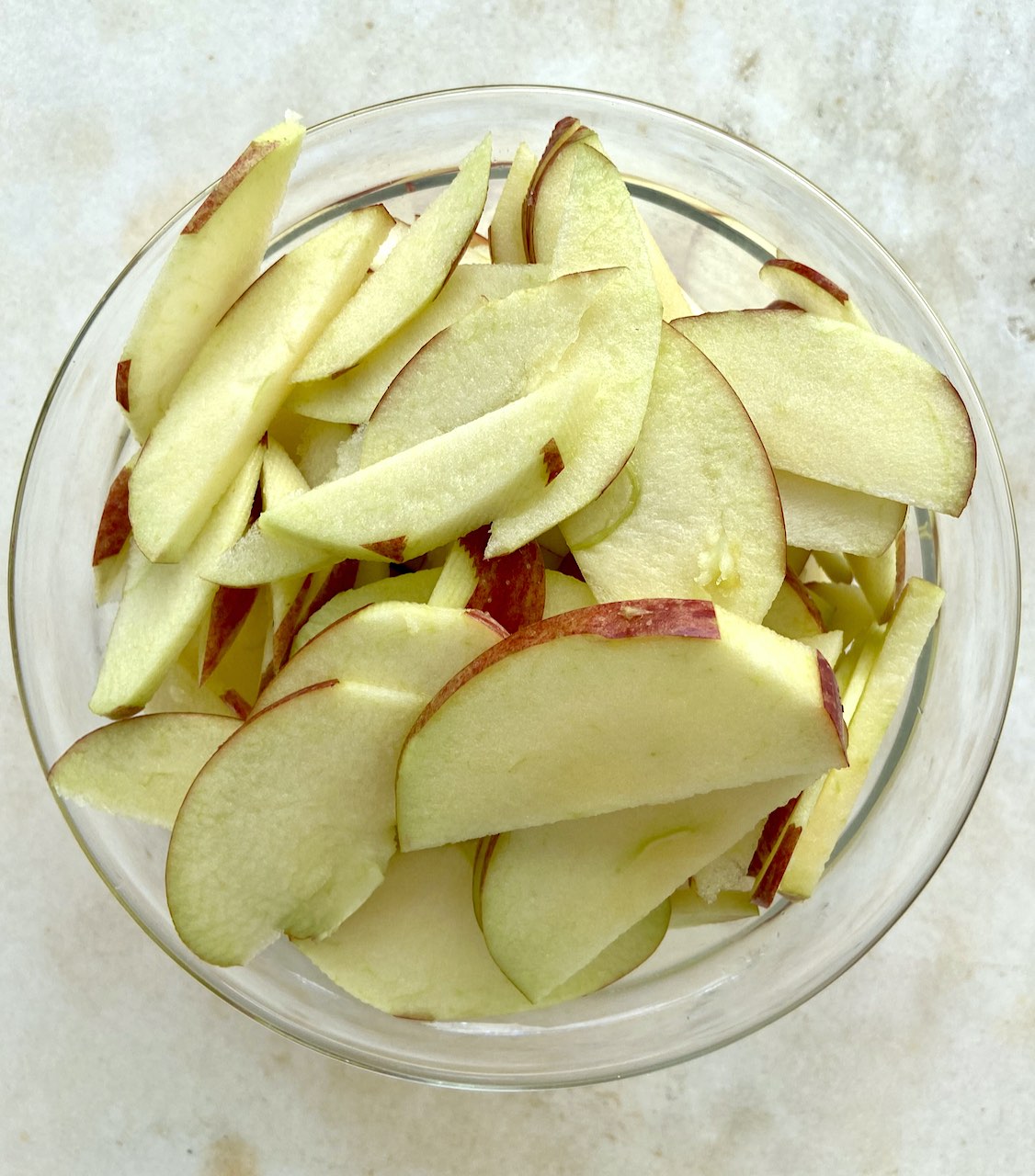 Once you add the apples to the batter, they won't be drowning in it. There is just enough batter to hold the apples together. It should look something like this: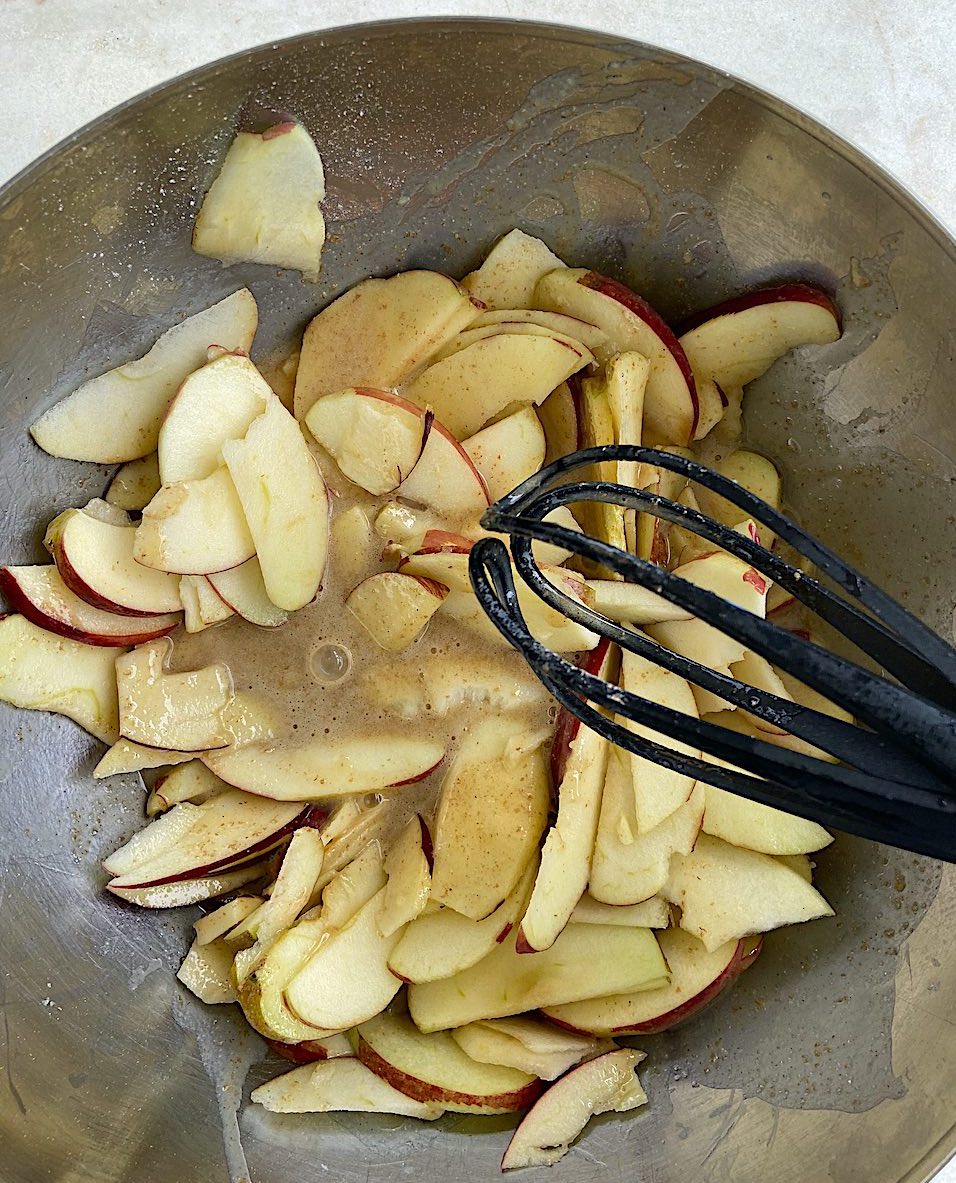 Remember to bake the cake enough. It should be brown in parts and pull away from the pan. Let the cake cool completely so that you can cut it without it falling apart. I enjoyed it with some Greek yogurt.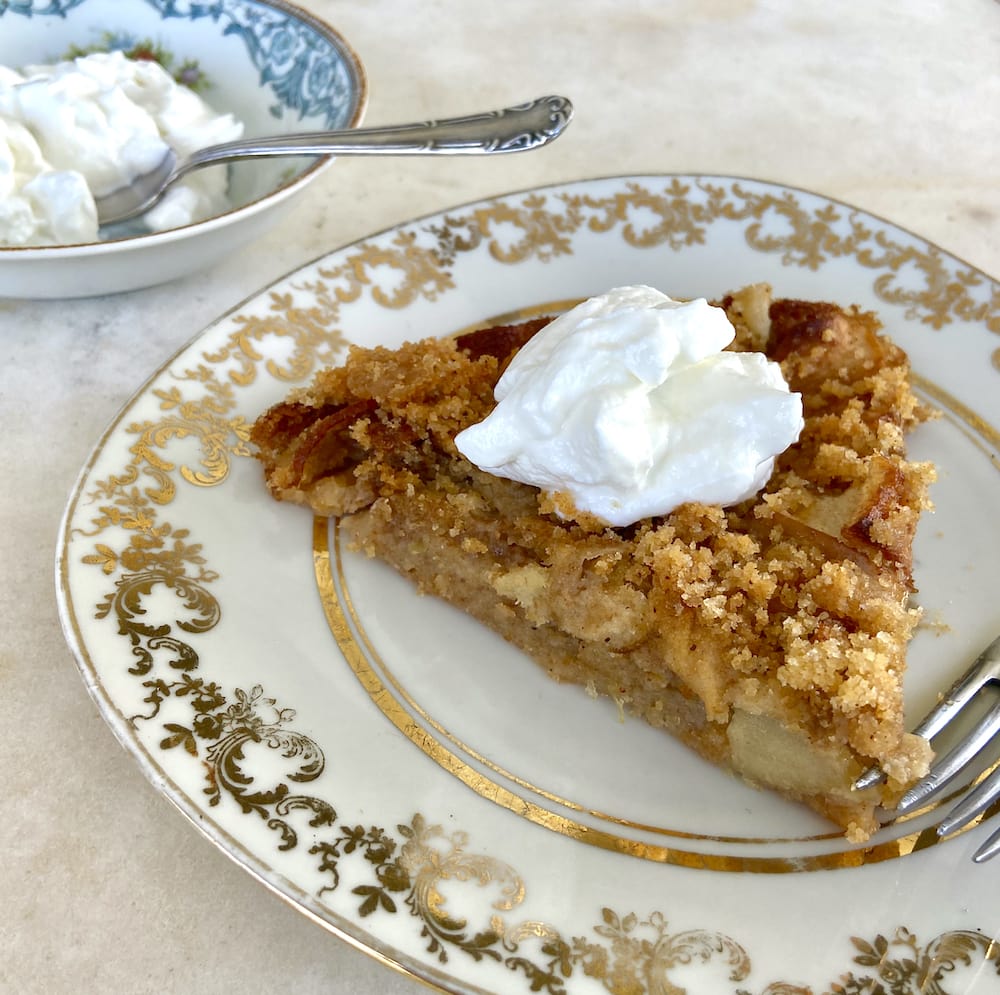 Hearty Apple Olive Oil Cake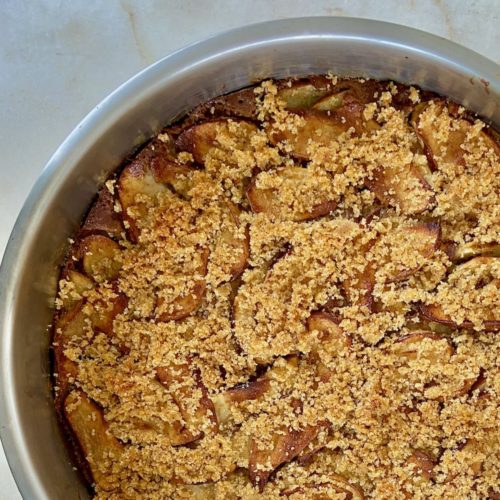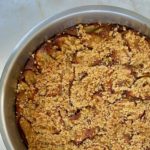 A hearty apple cake/crumble made with olive oil and fresh apples
Print Recipe
Pin Recipe
Ingredients
For the Cake
1

tsp

flour for coating the pan

½

cup

(55 gm) whole wheat flour

2

tsp

baking powder

½

tsp

ground cinnamon

¼

cup

(60 ml) olive oil

½

cup

(100 gm) sugar

2

large eggs

½

(120 ml) cup milk

1

tsp

vanilla
extract

3

apples partially peeled and thinly sliced
Instructions
Preheat oven to 350 F (175 C)

Grease a 9-inch (22 cm) pan with a bit of olive oil and sprinkle bit of flour.

Make the crumble: In a small bowl place the breadcrumbs and sugar and add olive oil gradually (do not add all of it at once) while pressing the mixture with a fork, until you have a crumbly texture and all the breadcrumbs are wet. Set aside.

In a medium bowl mix the dry ingredients (flour, baking powder and cinnamon) and set aside.

In a larger bowl, mix the olive oil with the sugar until smooth and then add the eggs one by one, vanilla and milk. Mix well. I used a whisk and mixed by hand.

Add the flour mixture to the wet mixture gradually mixing until combined.

Add the sliced apples and toss until they are coated with the batter and set aside.

Empty the mixture in the prepared pan and bake for 45 minutes. Remove from oven and sprinkle over the cake the crumble, bake for another 10-15 minutes until crumble is golden.

Cool for at least 30 minutes. Slice and serve as is or with a dollop of Greek yogurt.
DID YOU MAKE THIS RECIPE?
Leave a comment or share on instagram and mention @greekdiet
PIN IT AND SAVE FOR LATER!