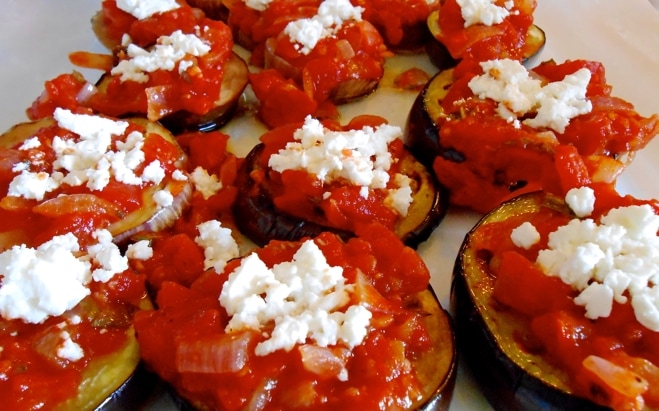 My personal favorite way of eating eggplant is baked, combined with tomato, olive oil and feta. It is a simple, but flavorful recipe and I managed to make it lighter by lightly sautéing the eggplant and letting the eggplant slices strain on paper towels. Yes, you need to sauté them a bit, otherwise the skin will be hard, but leaving them on paper towels will help get rid of the excess oil. I also did not use too much olive oil in the baking dish, I just drizzled some on top of each slice as opposed to having the whole baking dish full of oil. Read on for the recipe
Baked eggplant topped with feta cheese and tomato sauce
INGREDIENTS
3-4 eggplants (I used a combination of the regular dark purple ones and the Tsakoniki)
Olive Oil
2-3 fresh tomatoes chopped or a can of chopped tomatoes
1 chopped onion
Feta cheese
Salt and Pepper
1 teaspoon sugar
DIRECTIONS
1. Preheat the oven at 350 degrees Fahrenheit (180 degrees Celsius).
2. Wash the eggplant and cut into ½ inch slices (do not peel). Place in a colander, salt and let the eggplant sit for about an hour, this helps remove the bitterness but also to absorb less oil.
3. In a pan sauté 1 chopped onion, add the tomato a bit of salt and pepper and a teaspoon of sugar and simmer for about 20 minutes.
4. After an hour ,rinse the eggplant making sure to squeeze out the water.
5. Sauté the eggplant slices lightly in olive oil and place in on paper towels, covering both sides.
6. Grease a baking dish and place the eggplant slices in one layer.
7. Spoon the tomato sauce on top of each eggplant slice, covering it well.
8. Drizzle each slice with olive oil and then put about a teaspoon (or two) of crumbled feta on each slice.
9. Bake for about 25 minutes.
You can sprinkle some parsley on top.
This is considered a complete meal so all you need is some good bread to go with it. But it can also be served as a side dish.