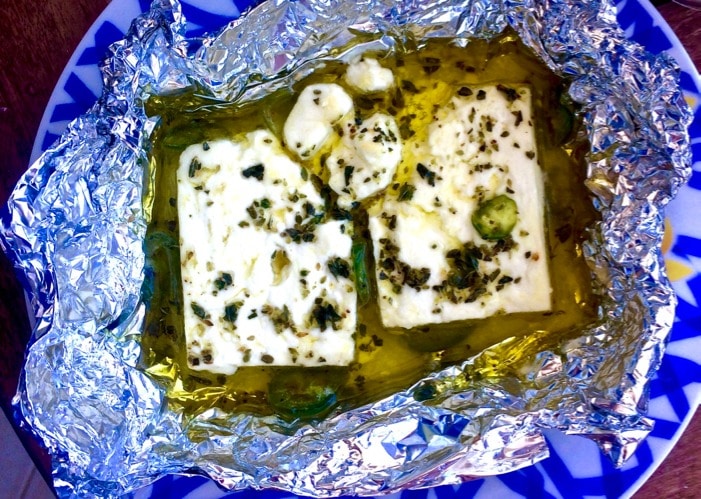 One of our favorite things we were eating during our vacation was baked feta. We've been on a quiet Greek island these past few weeks, and we prefer to stay in self-catered rooms rather than all inclusive hotels for the majority of our vacation. That way we experience all that the area has to offer rather than being isolated, plus we support local businesses.
One of the things we limit when on vacation is cooking. So breakfast and lunch were usually very simple: salads using local tomatoes and cucumbers, cheese, some bread from the neighboring bakery and fruit, while dinner was at local taverns (check my instagram account for photos of what we were eating).
My husband got into the habit of baking feta when he found some hot peppers at the local super market. This is a classic meze that you find in several taverns and it is so easy to make. When he first made it, it was so good that we had it almost every day. The feta absorbs some of the flavor and heat from the peppers and it was perfect with a little glass of ouzo. The nice thing is that feta does not melt resulting in a messy dish but just becomes soft, keeping its shape.
A word about feta
I've written about the importance of using real feta, in Europe feta is protected meaning that unless its made in Greece in a specific manner it cannot be called feta. In the U.S. and other places it is not protected which means that a cheese named feta, may not necessarily taste like real authentic feta. If you cannot find Greek feta, I would recommend that you at least use feta that is made with sheep's milk, there is no such thing as feta made from cows milk. For a detailed guide on how to buy good feta check this article.
Baked Feta with Hot Peppers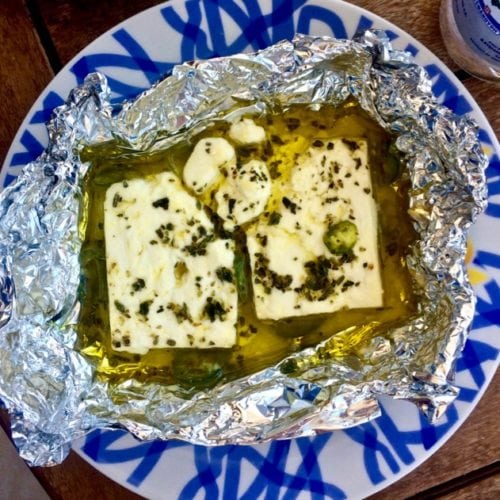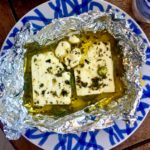 Easy appetizer with baked feta and hot peppers
Print Recipe
Pin Recipe
Instructions
Turn on the grill (or broiler) in the oven to medium (you can also put it on your outside grill). Or you can preheat the oven 400 F (200 C).

Place the feta in a large piece of aluminum foil, scrunch up the sides forming a little parcel.

Add the olive oil on top, scatter the pepper and sprinkle with the oregano.

Roast for about 10-15 minutes until the feta becomes soft.

Serve immediately
DID YOU MAKE THIS RECIPE?
Leave a comment or share on instagram and mention @greekdiet
Photo by Elena Paravantes © All Rights Reserved