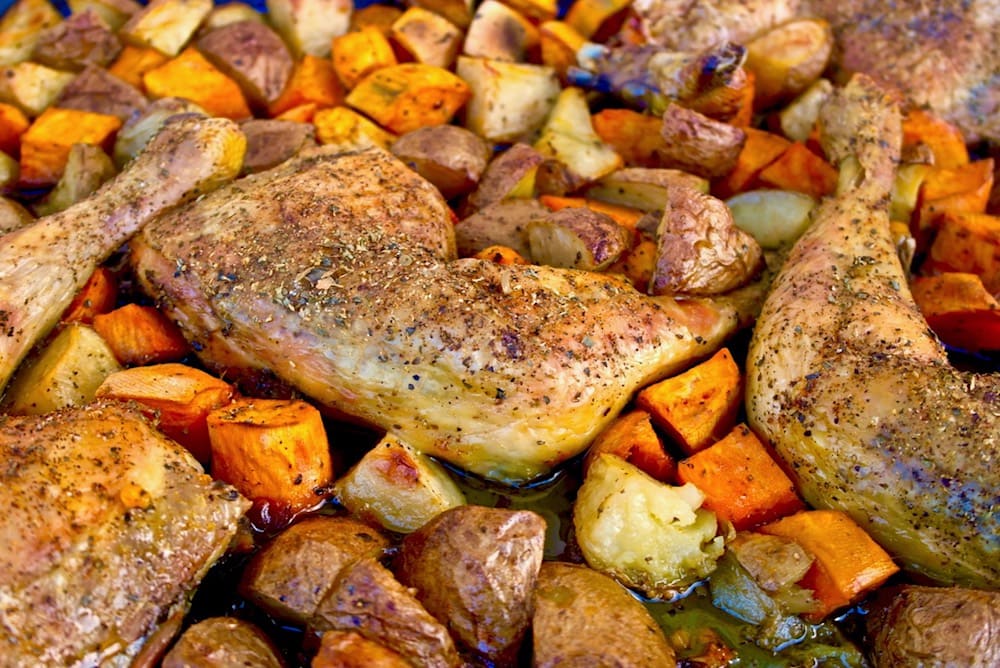 I've always been a big fan of sheet pan meals. Just put everything in a pan, throw it in the oven and you are done. Sheet pan dishes are a fairly common way of cooking in the Greek kitchen. The classic Sunday lunch recipe of Greek chicken and potatoes is a fine example. But there are numerous Greek vegetarian dishes such as the briami (a Greek version of ratatouille) and roasted zucchini, as well as many fish dishes such as roasted sardines that are baked in the oven. And they are so delicious! All the flavors meld together, plus you can make large amounts.
A fun fact: Several decades ago in many parts of Greece, sheet pan dishes were not baked at home. Not everyone had an oven at home, so you basically put together your sheet pan meal in a large round pan that had your last name written on the side and you took it to your local bakery (fourno), and they would bake it for you. When lunch time came around, you went to pick it up and it was all ready. When visiting my grandmother, I remember going to the bakery and picking up our lunch, and the bakery smelled so good! Not of bread, but of all the tasty things that they were roasting.
For this recipe, I modified the classic Greek chicken and potatoes recipes, adding some sweet potatoes and using a dry rub. The result? Tender chicken with crispy skin and crunchy and juicy potatoes.
Normally, I go straight for the potatoes (which are never enough), but the chicken had such a crispy skin, we all wanted more!
Chicken and Potato Roasting Tips
A dry rub results in very crispy chicken skin with tender and juicy meat. Just make sure you dry the chicken well, with paper towels before applying the rub. My rub was very basic, but very tasty-I used dry oregano, salt and pepper. You can add other herbs and spices such as paprika, garlic powder etc.
I used baby potatoes and did not peel them, for two reasons: I wanted to save time and secondly you get more fiber keeping the skin on, just make sure to scrub them well.
There is a generous dose of olive oil here, it makes the dish, especially the potatoes extra crispy.
Do not pour water over the potatoes or chicken as you want to get them crispy.
Serve with a simple salad: green salad in the winter or tomato/cucumber in the summer.
Cut both the white potatoes and sweet potatoes in a similar size.
I put the potatoes in the oven for a few minutes before while I am preparing the chicken, they often take a bit longer to roast.
Crispy Greek Sheet Pan Chicken with Sweet Potatoes and White Potatoes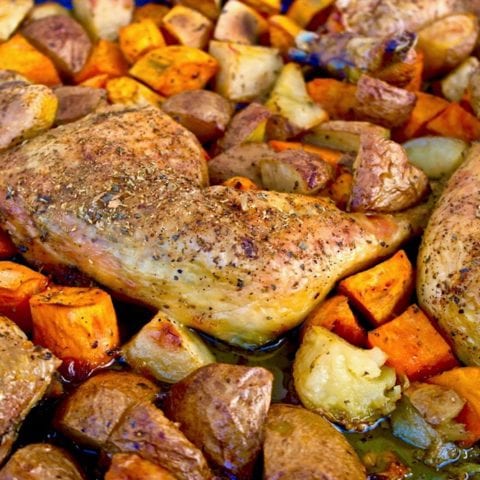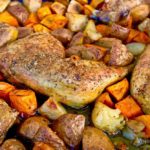 Print Recipe
Pin Recipe
Ingredients
1

pound

sweet potatoes cut in 1 ½ inch pieces

1

pound

white potatoes cut in 1 ½ inch pieces

3-4

tablespoons

dry oregano

½

cup

olive oil

2

tablespoon

lemon juice

2 ½

teaspoons

salt

1 ½

pound

chicken pieces

I use chicken leg quarters
Instructions
Preheat oven at 375F (190 C)

In a large bowl place the sweet potatoes and white potatoes, ½ cup olive oil to 2 lemon juice, ½-1 tablespoon oregano, pepper and ½ teaspoon salt. Mix well so that all the potatoes are coated with the oil.

Pour the potatoes in a pan, so that potatoes are all in one layer. Place in the oven.

Go on to prepare the chicken. Dry the chicken with paper towels. Rub with salt, than pepper than oregano both outside and under the skin.

Place chicken between potatoes.

Add about ¼ cup hot water in one corner of the pan and then tilt until the water has spread.

Roast for about 40 minutes until chicken has been roasted to a temperate of 165 F (75 C) and potatoes are soft
DID YOU MAKE THIS RECIPE?
Leave a comment or share on instagram and mention @greekdiet
SAVE FOR LATER AND PIN IT!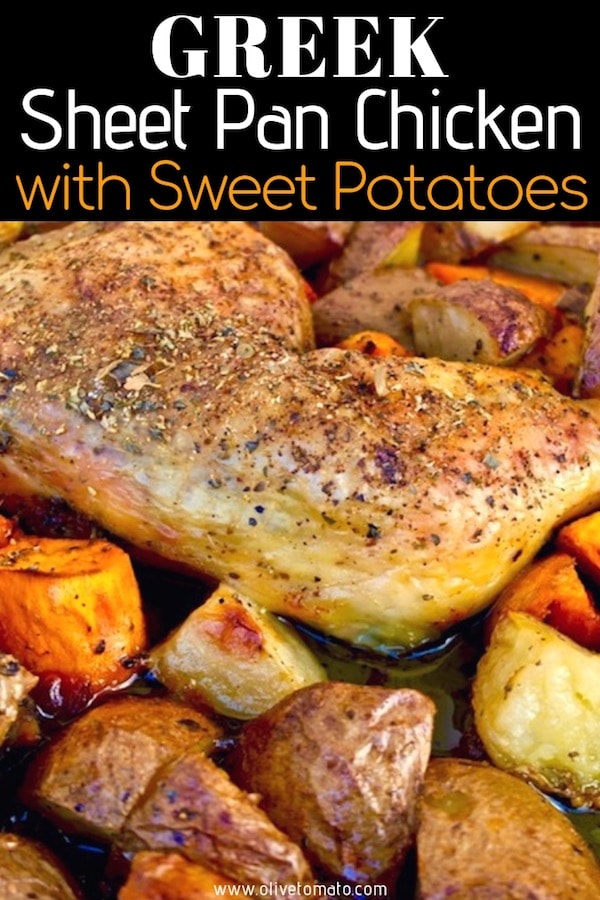 Photos by Elena Paravantes© All Rights Reserved