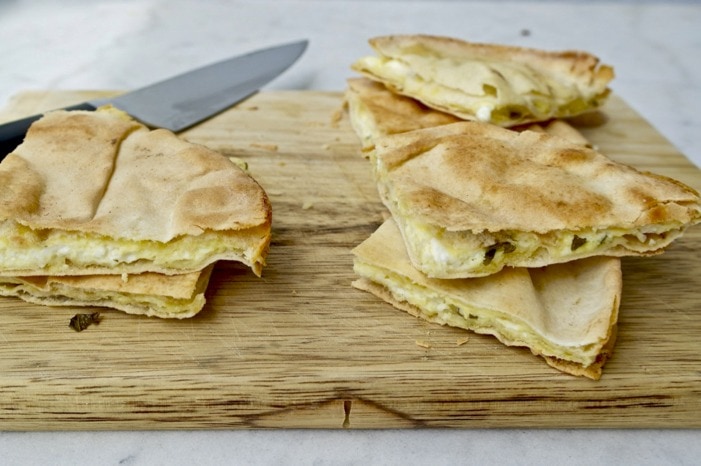 This is the easiest cheese pie you will ever make, 5 minutes to prep and another 20 minutes to bake.
Pies are a big part of our weekly menu, kids just love them and they can be a complete meal. Their favorite is the classic spinach pie which is made with phyllo, spinach, feta and some egg. I either use ready made phyllo dough which only contains flour and starch (no fats) or I may make my own thick phyllo (crust) made with olive oil using this easy recipe. When we have cheese pie (tiropita), I'll usually combine it with a salad and that's a complete meal.
I had a package of pita bread in the refrigerator that I had forgotten about, and needed to use up so I came about this recipe. Initially I was going to make an old recipe of mine using pita bread and making a kind of open faced pita, but today I needed something more substantial as the kids had no lunch. So why not put more filling in between 2 pita rounds and bake it?
Pita or Pita?
Before I go ahead describing this recipe, I want to clarify how we use the word 'pita' here in Greece. Pita usually means a savory pie like spanako-PITA (spinach pie) or tiro-PITA (cheese pie) but we also use it to describe this type of flat bread, also known as pita bread. So don't get confused when I use the word interchangeably.
So with this recipe, you basically top the pita bread with cheese-egg filling and cover with the other pita round.
Apart from the ease and the fact that the kids loved it, using pita bread as a crust is also healthier than other crusts. Pita bread is so versatile; it is perfect for a pizza crust, but I had not thought of using it to make a Greek style pie. The good kind only contains flour and salt, none of those palm oils or vegetable oils you see in other crusts, plus you can use whole grain versions. And you don't need to limit yourself to a cheese filling, you can put spinach, peppers, zucchini and basically make any filling you want.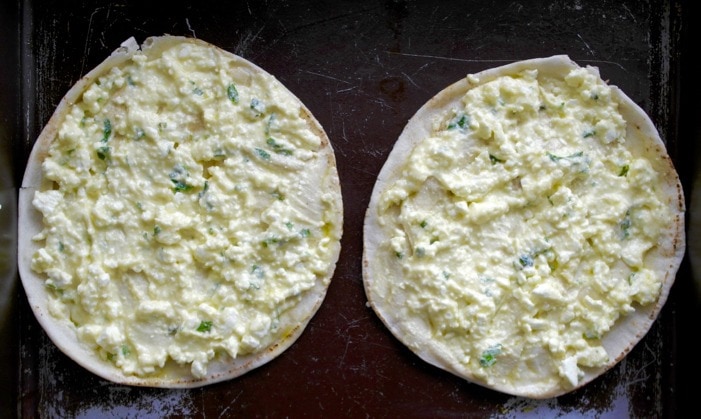 Also please note that pita bread can puff up when heated so when baking I cover (not wrap) the tiropita with aluminum foil and I flip to the other side mid-baking.
For a snack this can be served cut in wedges or for a complete meal you can serve it with a seasonal salad.
Easy Pita Bread Greek Cheese Pie- Tiropita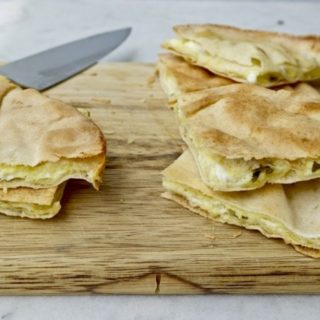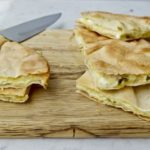 Print Recipe
Pin Recipe
Ingredients
8

pitas

pita bread

12

ounces

feta

2

eggs

2

tablespoons

chopped fresh mint

1

teaspoon

olive oil plus more for brushing.

Ground pepper
Instructions
Preheat oven at 350 degrees Fahrenheit (175 C).

In a large bowl mash the feta, eggs, a bit of fresh ground pepper and the mint and 1 teaspoon olive oil.

Brush a large pan with olive oil and place for pita rounds. Brush the pita with olive oil and spread with feta mixture on each pita bread. Cover with the other 4 pita breads.

Sprinkle the pita bread with water drops, brush with a bit of olive oil and pierce the top pita breads.

Cover (around each pita) with aluminum foil

Bake for 10 minutes and then turn over and bake for another 10-12 minutes.

Remove from oven and cut in wedges with a pizza cutter.
DID YOU MAKE THIS RECIPE?
Leave a comment or share on instagram and mention @greekdiet
Photos by Elena Paravantes © All Rights Reserved