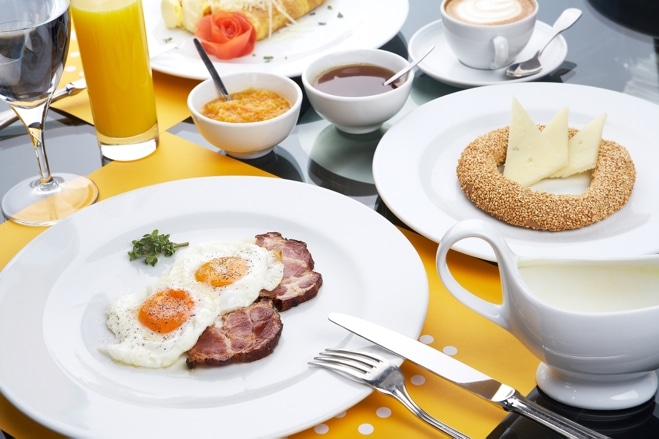 I was excited to hear that the restaurant at the state of the art, Acropolis museum located steps away from the Parthenon in Athens, has started serving a real Greek breakfast every Saturday and Sunday.
As I have mentioned in another post, a Greek breakfast is hard to find and even harder to identify. Although you will find several hotels offering Greek breakfast items, they are scattered among other western breakfast items, making it a bit difficult to find and choose them. In addition to that, there is no one Greek breakfast as each area of Greece has different breakfast foods.
The good news is that the restaurant at the Acropolis museum offers a good variety of Greek traditional breakfast items. It is worth a visit to try the galatopita (milk pie), tiganites (Greek pancakes) with tahini and petimezi (grape molasses), trahana (pellet shaped pasta made with milk) with feta cheese and the omelet with the famous graviera cheese from the island of Naxos, as well as the siglino (smoked pork) from Mani.
Nutritionally some of these choices for the most part are protein rich and starchy as they were based on traditional eating habits of the Greeks years ago, who needed a hearty breakfast to get them through a day of hard work. With that in mind, this type of breakfast can act more as brunch and keep you full until dinner. Or you can choose the lighter, smaller choices such as Kalamata olives served with paximadia (rusks) from the island of Kythira, koulouri (round bread covered with sesame seeds) accompanied with graviera cheese, and of course the famous Greek yogurt with Greek thyme honey. And don't forget to accompany these with a Greek coffee or traditional herbal teas.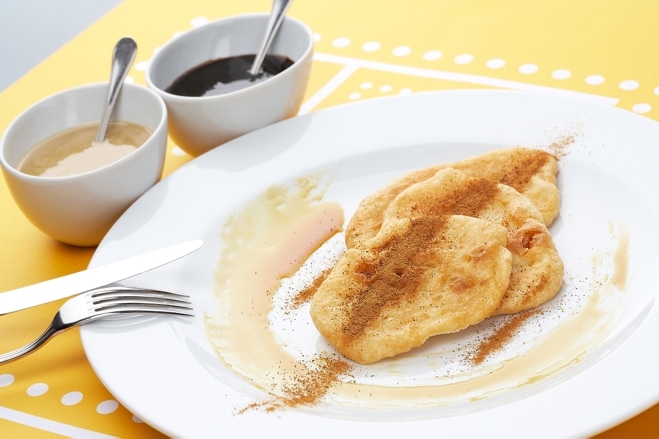 So if you are planning a visit to the Acropolis museum during your visit to Greece or if you live here in a Greece, visit the museum on the weekend and combine it with a real Greek breakfast.
Click here for the whole menu.
Photos: Copyright Acropolis Museum. Photography: Giorgos Vitsaropoulos